HollywoodTV

To visit HollywoodTV official website, click here.
About the Company
HollywoodTV is a live casino game provider based in Malta. The firm's claim to fame is the provenance of television quality casino game streams.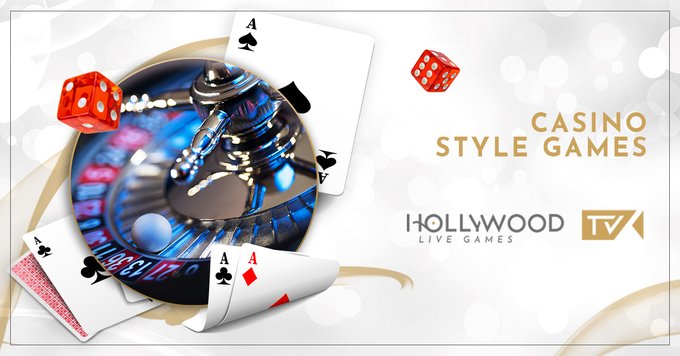 Co-founded in 2015 by the former Executive Producer of Malta's Channel4, and a London based business incubator & accelerator executive, the firm now employs over 100 game presenters on several continents.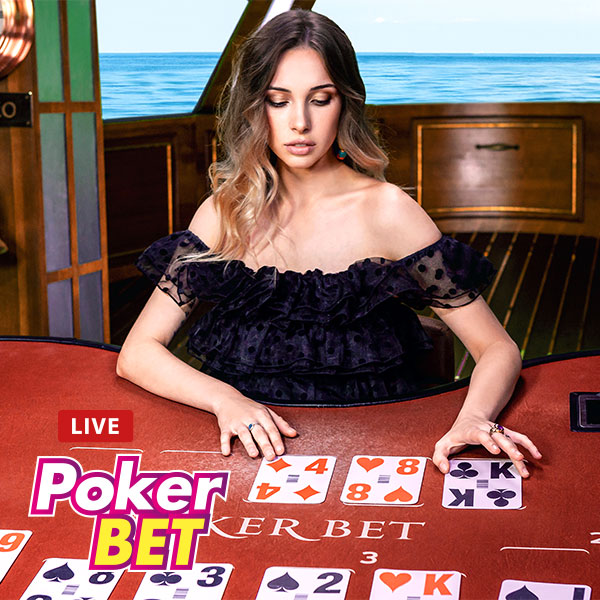 Prior to her work at Channel4, Stevie Kennedy also spent several years as head of production at TelecomsTV after leaving David Wainwright's Hi2.
Wainright founded that media company in 1998 before eventually launching and operating SuperCasino for over 6 years in the UK.
While he is still CTO at Hollywood, he also launched a blockchain company in 2017 called, "REAL", with its own Ethereum-based platform for real-time payment processing.
The company's games are found in at least a dozen exclusive online casinos including MonteCryptos, VIP Room, Play PFC, BOSS, and others.
Software and Games
The multichannel software is available for everything from retail shops to online platforms and home TV screens.
The games can be played in any web browser on mobile or desktop or delivered to terminals via a local server.
The game odds can be adjusted from venue to venue to attract customers with the highest RTP possible.
Operators can adapt the HTML5 game front-ends to their own brands by integrated their own color schemes and logos.
There is also an option for operators looking to expand their portfolios without focusing on a live dealer solution.
The "Virtually Live" games fill a suite of prerecorded screen action driven by random number generator results much like an animated roulette game or even a slot.
Al streams and games are broadcast with 4K equipment, live via satellite and internet/data streaming.
The staff of presenters includes over 100 beautiful hostesses of 30 different nationalities. Native language delivery is accommodated with 10 languages.
While we don't find the company in the Malta Gaming Authority licensee database under the HWTV working name, the website states: "Our games are regulated and designed in a way that is fully compliant with international gaming laws."

The Games
As mentioned, the company's portfolio comprises live games and "virtually" live titles.
Numbers games
The suite contains more game-show type games like live-draw keno, etc., than card games.
Including the Money Wheel type of games, numbers games account for a dozen of their titles.
Super 5, Keno, Keno Deluxe, Super 7, 1 Bet, 5 Bet, 7 Bet, Lucky 6, Mega 6, and Mega 7 are all lottery ball draw types of games presented live.
Let's take a look at just one numbers game first as most of them contain similar elements.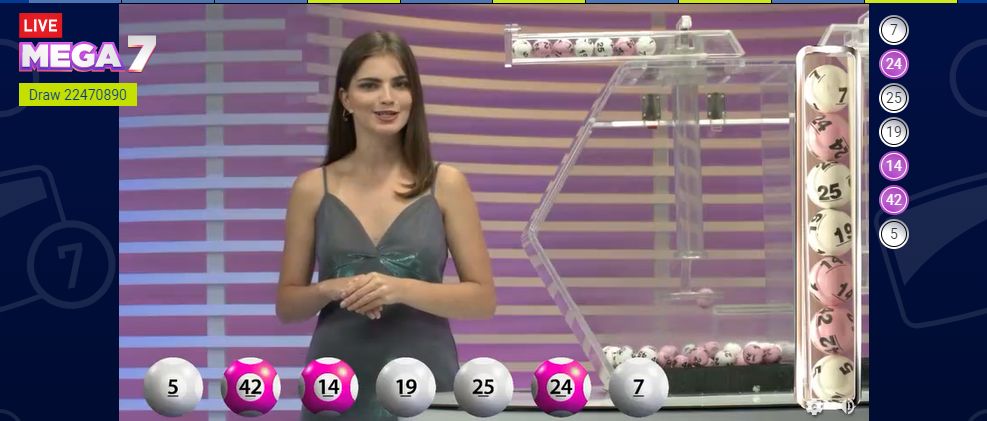 Mega 7 is an instant lottery game with 49 balls and a random draw of 7 of them.
Players choose six balls plus a bonus ball.
The oddity comes in how you place a bet. All players choose 7 numbers, but you bet specifically on how many of your numbers will hit.
This allows you to bet on a different set of numbers for each bet:
1 out of 7; 2 out of 7; 3 out of 7, etc. These bets can pay up to 10,000x bet.
Alternately, there are "All In" bets.
All in 1: Pick a single number and win 6x if it is among the 7 numbers drawn
All in 2: Pick two, catch both for a payout of 50x, etc. up to All in 7 for 10,000x payout
The last bets are:
"No drawn in 1" which pays 1.1:1 - Pick one number and win if it is not one of the seven drawn
"No Drawn in 7" which pays 3:1 - Pick seven numbers if none are drawn, win
Many additional bets are also possible based on:
Color - first ball, seventh ball, first and second, number of white or pink balls etc.
Sum - Under or over a certain amount, certain colored balls over or under set amounts, etc., the highest payout is for a sum over 235.5 which pays 21:1
Count - Total number of certain colored balls (over/under)
Even/Odd - More balls, first ball, seventh ball, etc.
Keno
The basic game has an 80-number betting slip. Pick from 1 to 8 numbers. In this game, as all keno games, you will be paid for 7 hits if you picked 8, etc.
8/8 pays 2,000x
7 x200
6 x50
5 x15
4 x5
According to the Wizard of Odds, the overall return to player percentage for an 8 number pick would be 84.12%
Five picks offer 86.08% RTP making keno here a sucker's game especially since you'll only hit the big payout on Pick 5 one in 1,550.57 plays
5/5 pays 150x
4 x20
3 x3
2 x1
Keno Deluxe Live offers up to 10 picks with a payout of up to 7,000x bet. The Pick 8 and Pick 5 paytables remain the same so this is the only keno game you really need to play.
The games offer a betting slip, paytables, stats, historic results, and a section on how to play.
Money Wheels
The studios offer a simple "big wheel" game with the attendant odds, as well as a game titled, "Spin 2 Wheels".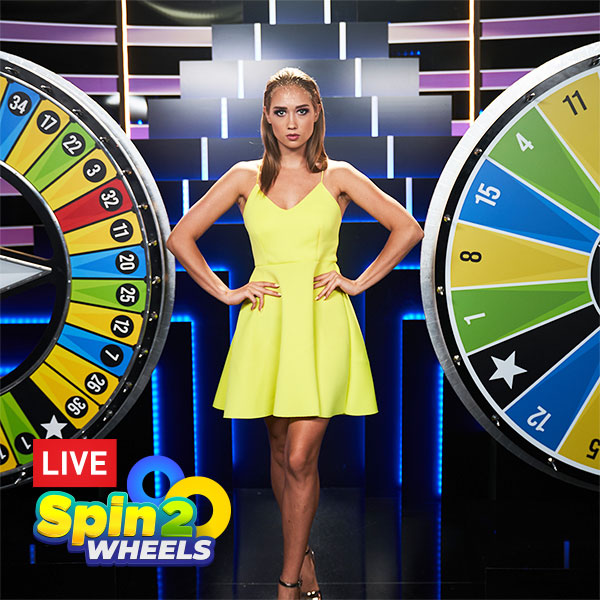 Bet on one, the other, or both. The attractive presenter spins them both at the same time.
Wheel One: 37 sectors and 4 colors
Wheel Two: 19 sectors and 3 colors
We were a little bit excited upon first blush but mistakenly thought the second wheel would be a multiplier wheel.
Casino-style games
Poker Bet
War of Elements
Joker Bet
Premium Euro Roulette
Backgammon
Poker Bet is based on the game of Texas Hold'em Poker. The posh studio atmosphere with an attractive and professional dealer adds an air of sophistication to the game.
Large, easy to read cards are dealt according to the regular rules of play with customers betting their chance of having the best poker hand.
War of Elements is an easy to play game with a variety of bets. The hostess uses an oversized deck of 52 cards, dealt around the clock in an atmospheric studio set.
Predict outcomes such as face card or no face card, over or under a certain number, the exact value of the next card, it's color, suit, or other options.
The tougher the odds, the higher the return to player.
Joker Bet is a unique original game that's as simple to learn as it is easy to play.
Every other deck of 54 cards is red or blue, so players get a sense for which cards have already been used in the continual stream.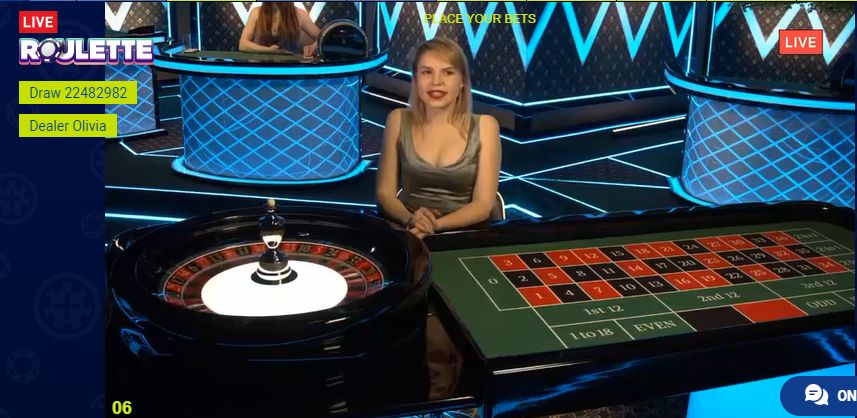 Live European Roulette features simple number bets and quick French bets. Your digital table is easy to use and the croupiers use Cammegh wheels, the finest in the world.
The camera moves from a wide screenshot of the croupier at the table and other dealers with other games in the background.
When we visited, the studio was accented in neon blue.
Stats, results, and how to play tabs are easily accessible at all times.
The streams are crisp and clear with studio-quality audio and a professional presentation.
Backgammon was not on the live demo menu when we visited and may or may not be available at gaming sites that carry the Hollywood brand.
Virtually live games
Random ball number games as well as recorded money wheel spins, baccarat, and roulette are available in this section.
The games use prerecorded live incidences. A random number generator (RNG) determines the outcome and then video footage that matches those results from previous games is displayed.
Demo games are not available on the company's website.
The Final Analysis
HollywoodTV offers superior HD video streaming of a variety of games. Most of the offerings are lottery-type draw games.
We were somewhat surprised to not find a blackjack offering but other providers seem to cover that space well.
The roulette game was quick and easy and the streaming video and sound were indeed TV studio quality.
HollywoodTV Games
Currently, we have

casino games

available to play and over

casino software developers

. Let's get started!
Casino Games
&nbsp
HollywoodTV powered online casinos
Loading...
There are no available casinos for requested criteria.

We're showing casinos that accept HollywoodTV restricted by your country. To remove that condition click here
Something went wrong. Please try again later.