Eurostar Studios

To visit Eurostar Studios official website, click here.
About the Company
Eurostar Studios is a boutique slot development studio located in San Fransisco, California. The firm first appeared on the world stage in 2020 with an exclusive slot for Microgaming as part of its Studios Partners program.
Co-founder and CEO, Tara Townsend as well as Chief Games Officer, Jerald Seelig both put some significant time in at Zynga in various capacities from game creation to strategic business development before they teamed up for this venture.
Seelig's gaming expertise dates much further back, beginning with his family's business, AC Coin & Slot (ACS), founded in 1978. ACS was licensed to provide slot machines in over 180 jurisdictions and he holds over 130 gaming patents on gaming devices. Game designs, methods of play, or patents include those on Slotto™, Bewitched™, and Bankroll™ to name a few. Atlantic City Slots was closely aligned with IGT.
Even if many readers aren't familiar with the slot machine company, they may recognize a larger concern where he served as Chief of Games, Scientific Games.
While we don't see many Microgaming Studio Partners break out into becoming prolific producers, the possibility can never be discounted.
The simple fact that the Godfather of slots has partnered with any studio might be a testament enough to their abilities and potential. If, as have many others, this studio only rolls out one game or even one game per year, they will still make an important contribution and add value to the player experience.
We'll take a look at the gamescape so far following one further mention of Seelig's prolific game provenance as well as a brief look at the business end of Tara Townsend's administrative, licensing, and marketing acuity.
The duo's experience includes well over a thousand games designed and more than 120 brands licensed for apps and games.
Townsend received a degree from the Wharton School of Business in 2004 - no mean fete - she went on to consult on player behavior analytics at Playnomics prior to her long tenure at Zynga. There she developed the brand and concept to help create the company's biggest game while partnering with the studio itself.
Most recently, she was a development head at a digital blockchain and goods company, Rare Bits, creating a white-label platform for Crunchyroll - all the while enjoying a weekend gig at a Monte Bello vineyard's tasting room.
Combining her business, marketing, and licensing acumen with Seelig's vast game experience - and realizing they may have shared several years as cohorts at the social gaming leader, we believe sets the stage for breakout potential - after all, if developing exclusive slots for Microgaming were all they plan to do, Seelig could run a "one-man shop". Or, so it might seem.
Let's look at the product!
Software and Games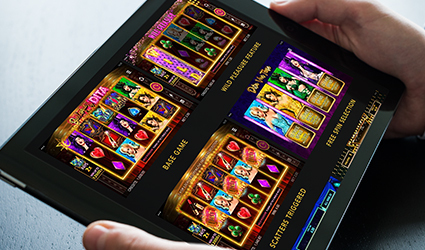 Just as Townsend's strategies need a team to carry them out, so do Seelig's game ideas. While his successes with Social Casino, Real Money Games, iGaming, and VLTs speak for themself, he still needs a team of artists and animators, audio engineers, and more to produce complete titles from design ideas.
The games are produced for mobile and desktop play and delivered in HTML5 format for use on any operating system with a modern web browser.
That fits the scheme of other Studio Partners who need to release games over the Microgaming network in the most technologically advanced and future-proof format possible.
The games
As we expected, the studio was announced with a single inaugural game rather than dropping a tranche of titles or announcing several works in progress 'coming soon'. This, of course, bodes well and suggests we'll be looking at something unique.
deadmau5
The game is called deadmau5 (pronounced like dead mouse). The musician of the same brand name, Joel Thomas Zimmerman is a Canadian electronic dance music producer. He also DJs.
His logo is the wild symbol in the game and it has many different powers to change the outcome of a single spin.
The soundscape is populated with original tracks from the iconic musician and sound effects are melded and married perfectly to visual events throughout the course of gameplay.
Listen for "Monophobia" during the base game and "4Ware" in the free spins bonus round from mau5trap Recordings Limited [Epic Publishing (BMI)].
As you may expect from a slot named after a progressive house musician, the visuals are stunning, electric, and colorful.
Keeping to a 5x3 format with 5 spinning reels showing three active positions each, the game explodes from there with features to draw you in and titillate for a win.
The 5x3 configuration with all ways paying from leftmost to right creates 243 virtual win lines.
Symbols include Hearts, Spades, Clubs, and Diamonds in neon outlines. The higher paying symbols are the faces of Club "babes".
The RTP is over 95% and the volatility is high. Free spins come in batches of 15, 20, and 25. Bets range from 0.20 to 100.00 per spin, but hitting Max Bet at some venues might kick you up to 120.00 per spin if you have the stomach for it. Alternately, use the stake slider rather than choosing among the bet levels listed to reach the ultimate risk level.
Features include Rolling Reels, Stacking Wilds, and a Drop the Wilds feature as well as Cube Scatters to trigger as many as 25 free spins with up to a 10x multiplier. The "cube" designation refers to his highly acclaimed Cube V3 tour.
Let's take a look at those mechanics...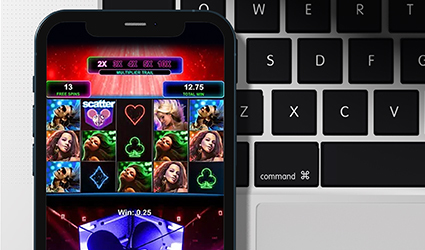 Rolling Reels are activated after a winning spin. The mechanic is a lot like cascading reels or tumbling reels, but it's the Microgaming take on the mechanic.
You are paid for any winning combination and then the winning symbols are removed. The new spaces are filled in with the symbols above them. If the new symbols create another win, it is repeated until a dead spin occurs. If Stacking Wilds participate in the win, those symbols can be replaced by more wild symbols on the rolling respin - and on most spins they are.
Each roll of the reels is covered by the initially staked spin so players can get several wins from a single paid-for spin.
Stacking Wilds can appear at any time during a spin and show a long section of the reel strip as wild symbols. The reel may or may not stop with 1, 2, or all 3 positions filled with substitutes.
Drop the Wild is a feature that can appear with the mau5head logo covering all nine positions on the three central reels. It can become one, two, or three wild reels covering 3, 6, or 9 positions - guaranteeing a win.
Stacking Wilds and Drop the Wild can occur on the same spin.
Rolling Reels are not activated during Drop the Wild. Stacking Wilds may not refill the reel with wild symbols during free games. Free spins can't be retriggered, but you can still win up to 250x your total stake for the triggering spin when you land them.
Cube Scatters - Three or more scatter symbols trigger free games. Each successive win triggers the Multiplier Trail, seen above the reel set. Go from 2x to 3x, 4x, 5x, and even 10x multipliers after five consecutive winning spins in a row with no dead spins in between.
Landing three or more scatters activates a modification of rolling reels so you might start with 3 that stick and gain one or two more. As well, during the base game, one or more scatters can remain on the reels and build up to 3 or more for a bonus trigger on a subsequent spin.
Add entirely wild reels to the multiplier mix and it's easy to imagine that the top possible prize is as high as 2100x.
The Final Analysis
EuroStar Studios came out of the gate in a blaze of glory and hit the ground running with deadmou5. The game has sophisticated simplicity to loosely borrow a term and packs enough mystery and surprise to make it a popular game.
The brand may not appeal to all sensibilities, but the artist maintains a strong following as one of the first EDM artists to become popular virally as well as for his strong production skills and polished dance message.
All of the other elements of a strong game are there, depending on how some of the maths shake out...
Is the hit frequency such that players will remain entertained?
Is 2100x really a top number for a high-volatility game?
Do scatters count on the multiplier table during bonus spins to make the real max win more like 300,000.00 or 250x a stake of 120.00 x10 again?
I think the game is well worth exploring further but I'm more anxious to see their follow-up titles. The feature mechanics in this game are by and large Microgaming staples. With "Drop the Wild" seeing its first light of day, it's unclear if it is a creation of the Isle of Man company or the San Francisco studio.
Either way, it's always nice to learn of new studios and to keep an eye out for new developments.
Ronica Holding Limited, All Rights Reserved. Designed by Eurostar Studios, Inc. All Rights Reserved.
Eurostar Studios Games
Currently, we have

casino games

available to play and over

casino software developers

. Let's get started!
Casino Games
&nbsp
Eurostar Studios powered online casinos
Loading...
There are no available casinos for requested criteria.

We're showing casinos that accept Eurostar Studios restricted by your country. To remove that condition click here
Something went wrong. Please try again later.