Alchemy Gaming

To visit Alchemy Gaming official website, click here.
About the Company
Alchemy Gaming is a specialty design studio which announced a partnership with Microgaming in late 2019. The studio is headed up by Rory Harpur and the tenth new independent game studio to join the Isle of Man casino software giant under their exclusive "Studios" program.
Each of the new studios has been announced with an air of intrigue around it, and that is also the case with Alchemy Gaming. While somewhat shrouded in mystery, we're usually given a few clues as to the leadership and sometimes the makeup of the teams. In this case, the clues are scant but sufficient to surmise at least some things.
Chief Product Officer (Head of Studios) is Rory Harpur…
The studio is "Driven by passion, but guided by data…"
The exclusive jackpot feature is called "WowPot"

Harpur spent several years with Derivco in their South Africa location. The software company is closely associated with Microgaming, PrimaNetworks, and Apricot Investments. The multinational software firm maintains labs, studios, and offices in South Africa, Isle of Man, Malta, Australia, and half a dozen other countries.

As head of analytics and maths for games at the Durbin branch of Derivco, where he worked for nearly a decade, Harpur created and headed up a new team with a focus on data-driven approaches to decision making through novel strategies.
Prior to that, he managed game design at Derivco (Microgaming) through leading teams tasked with maths, prototyping, and technical writing after working his way up through mathematics, game design and several other essential elements of slot creation and production.
Harpur left Derivco for his current position at Alchemy in February 2019, nearly a year before Microgaming announced the partnership. But like most, if not all of the ten known studio partners, there seem to be deep ties to Microgaming proper via the development company.
Derivco designs and develops games and other software applications for the Isle of Man company from a variety of locations. They are the development house that provides the content. In short, they are the game makers and have spawned many of the independent studios now providing exclusive content to Microgaming.
Design, development, illustration, and animation software from the company has been a cornerstone of Microgaming's success for two decades, so with new studios being borne of that incubator, players really have something to look forward to.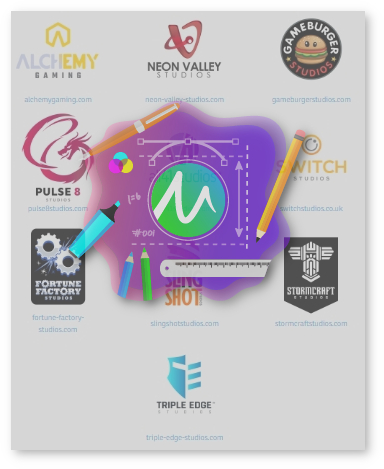 Games and Software
In addition to talent and skill, a host of cutting edge software, tech, and supporting frameworks go into the making of today's modern, player-driven internet gambling games. Just under the surface is HTML5, the markup language that lets players use a simple web browser to gamble on any game using any device.
High definition illustrations, animation, and sound effects load quickly and adjust the presentation to be optimized on any operating system and terminal end. Rich layers of blended colors, multiple levels of interactivity, and soundscapes from the soothing to the thrilling all fit together on the front end to deliver the desired effect.
Behind all of the "bells and whistles" is another element, that may be more important than all the glitz and glamour of a well-executed presentation - the mathematics determines a huge part of the player experience.
All the onscreen pageantry in the world would quickly become boring if the game engine did not use innovative and unique mechanics to tease and thrill in harmony with the aesthetic experience offered.
It's no mean fete to create a fresh gaming experience. Only so many combinations of existing bonus features and gameplay can be put together with new themes, color schemes, and audio/video. Today's game studios have to try much harder and be far more inventive than the "cloners" and "re-skinners" of the past.
It takes a team with amazing cinematic skills, able to create and convince with an engaging narrative, and at the heart of the experience, it takes brilliant maths.
"...we take a scientific approach to game development. Mathematics is at the core of our games."
The Games
The company's debut slot bears the title, Wheel Of Wishes (Q1 2020) or "WOW". Destined to become part of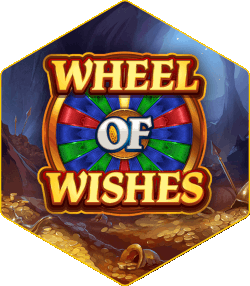 Microgaming's progressive jackpot network, the game features Alchemy's signature WowPot. The splash screen for the game shows a jackpot wheel, and they speak of anticipation and excitement, so we can suppose that during gameplay we will be tempted or teased by the wheel in some fashion other than imagining a three scatter trigger to activate it.
Microgaming released six games under three titles in the late 2000s with shared jackpots between the 3-reel and 5-reel versions. One of these titles was Wow! Pot. We can't draw a definitive line at this point but it may be interesting to note that Alchemy's lead person began work for Derivco the same year the slot was released.
That game had a symbol driven jackpot, and according to CasinoListings, it has paid out about 200 progressive jackpot wins in its lifetime with the average time being just under 3 weeks and average jackpot being a little over $13,000.
We make a note of the similarity in the new game title's acronym (WoW) and it's jackpot feature name with the decade-old progressive slot title mainly because another partner studio, Stormcraft, is credited with creating the famous Mega Moolah, among other well-known Microgaming titles long before the developers became a "studio" in their own right.
The Final Analysis
As a long-time online gambler and industry observer, as well as a participant on several diverse levels, optimism and cynicism can be two edges of the same sword as I attempt to cut the fog and find meaningful ways to convey my impressions of industry players. 
The cynic in me says, "Hey, this is just the same super powerhouse of software and game developers Microgaming has always used. The "studios" thing is just a marketing ploy as we peel away the layers."
The optimist on the other edge is more realistic. It slays the cynic with one fell swoop that sounds like "so what?".
We simply don't know how "independent" these studios are - they could be truly distinct and diverse businesses. While we do find that some legal elements seem to be in common among some of the studios, those could be down to shared patent attorneys, required representation needed for licensing the deals, regulatory requirements in the UK and Malta, etc.
We think the important thing here is that highly talented teams are producing extremely cool games, and they are getting the attention they deserve in a marketplace that is seething with potential like never before. If, as we imagine, Microgaming and Derivco are giving development members with successes in their histories, or great promise otherwise, opportunities to provide players with games that rise above the melee...
We're all for that!

Alchemy Gaming Games
Currently, we have

casino games

available to play and over

casino software developers

. Let's get started!
Casino Games
&nbsp
Alchemy Gaming powered online casinos
Loading...
There are no available casinos for requested criteria.

We're showing casinos that accept Alchemy Gaming restricted by your country. To remove that condition click here
Something went wrong. Please try again later.