Zelle Online Casinos

Introduction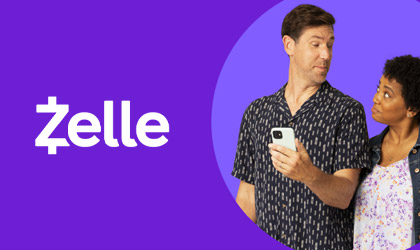 In a world that's shifting to digital as the years pass, the need for quick and hassle-free online payment solutions has grown immensely. People everywhere are looking for convenient and safe banking options that cut down processing times and offer an easy-to-use platform. We can't say that we blame them. These modern payment methods make things easier for everyone, and even though there are more of them around now, there's always room for new contenders with fresh ideas and concepts. Zelle was born from the growing demand for efficient online payment services that serve a specific niche. This relatively new service focuses on the US market, giving locals the chance to cut down on time and make purchases from the comfort of their own homes. If you're in the region and want to give this service a shot, here's all you need to know before going forward.
About Zelle
As we briefly mentioned, Zelle debuted with a specific purpose in mind. There's no shortage of excellent online transfer solutions in the US, but the ones that specifically cater to this market aren't as common. Debuting in 2017, its goal was to bring maximum convenience to users in the US region when transacting online. Despite its short time on the market, we can confidently say it's done pretty well for itself. Thanks to its curated offer, it's built up a loyal user base that loves its features. It's also garnered a positive reputation, hoisting it up as one of the better options available.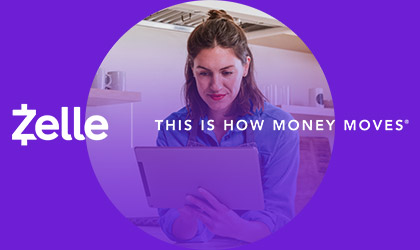 For those wondering what Zelle is, the answer is simple. Essentially, the solution is an intermediary between your bank account and the merchant on the other end. It acts as a middleman in the transfer processing, allowing users to send transfers directly from their bank account to their chosen online casino, retailer, or service provider. The magic behind this method is convenience. Instead of having to set up an account and bother with additional sign-up processes, forms, and verification, users can transfer money straight from their bank account by accessing their banking provider's online banking platform.
The method's convenience is a big step forward in its own right, but what might surprise some people is who's behind it. Zelle is operated by Early Warning Services. This private financial services company is backed by several big-name banks in the US, including Bank of America, Wells Fargo, US Bank, JPMorgan Chase, Capital One, and PNC Bank. Before it arrived at its current name, the solution was known as clearXchange. The previous version of the service debuted in 2011 but was sold to Early Warning Services in 2016. The company put its spin on it and rebranded for the better.
Before we list some of the pros and cons of this service, we should give you some insight into what you need to use it. As you can probably guess, having a valid bank account from a participating bank is a prerequisite. Since the solution is a link between your account and the service providers on the other end, a bank account is necessary to proceed. Being an online service, an internet connection is an obvious must. On top of that, you'll need a mobile device for the Zelle app or computer to reach the platform.
With that out of the way, it's time for a few words about the method's pros. As you can imagine, quick transactions and excellent security are a big part of this service. Other than the convenience, these are at the top of the list. When security is in question, it's good to remember that the company behind the service is operated by some of the biggest banks in North America. This means the solution uses high-end bank security, on top of other safety technology like monitoring features and authentication steps that keep players protected.
Thankfully, the perks of using Zelle don't stop at excellent security and convenience. Something all users are fond of is a lack of additional charges. Thankfully, this solution agrees! Fees aren't attached to the service, so you won't have to pay a dime extra to use it. While this is excellent news, it might be suppressed by the bad news about its reach. The service might foster countess transactions, but it's exclusively available in the US. Furthermore, its reach in the online gambling world is still growing, so it's not as widely available as other popular options.
How to Start Using Zelle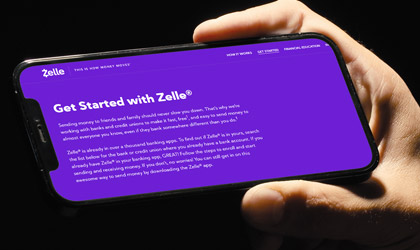 Convenience is key with Zelle, which is why using the method is one of the easiest things you'll encounter. To get started, you don't need to set up an account with the service. All you need is an active bank account with one of the banks or financial institutions supported by the service. Thankfully, finding one is easy. The solution collaborates with some of the most popular and respected banks in the US, so if you don't already have an account, you can set one up quickly by visiting them.
Since a valid bank account is essential to use the service, we must explain what it takes to open one. The first step in opening a bank account is visiting one of the supported banks in the Zelle network. This is pretty easy, as there are several high-profile banking institutions on the list. Once you find a bank to your liking, you can chat with a clerk and request to open an account. You'll be handed a form to fill out with some personal information. The questions will likely be personal and related to your finances, but don't worry, this information is used only to set up the account and check your eligibility.
After filling out the form, you'll need to hand it back to the clerk, along with a valid form of photo identification. For this identity verification step, you can use a passport, government-issued photo ID, driving license, etc. In some banks, you might need to provide additional documents, such as proof of residence or employment. That's all. The bank will go over the information and activate your account soon. When it does, make sure you request access to their online banking service if it isn't automatically activated.
With a valid bank account in tow, you can proceed to activate the method itself. Once you log in to your online banking profile, you should see an activation option for Zelle. Make sure to send in a request to enroll. These requests are reviewed quickly, so you should be able to start using the service almost immediately. When active, all you need to make a transfer is to enter the email address or phone number of the recipient. You'll also need to answer whether they're enrolled in Zelle. If they are, they'll receive the money instantly on their balance. If not, they'll receive instructions on how to do so. Alternatively, you can download the Zelle app and start the process there!
Depositing and Withdrawing With the Solution
Zelle is a pretty popular payment option among US players, so it stands to reason that it's available in many online casinos. This is partly true. The service is still new, so its reach is in the growth phase. Of course, it's already reached several top-tier operators, so users should have no trouble finding an excellent casino to try. Whatever the case may be, it's always best to check the operator's licenses and reviews before you proceed. You can do so easily by browsing their platform and reading expert reviews online. Once you settle on a venue, here's how to deposit:
Find the Zelle logo on the casino's Deposit/Cashier/Banking page and click or tap on it.
Login to your online banking system using your credentials.
Choose to deposit with the Zelle option and enter the casino's email address or US phone number.
Confirm the transaction.
If the operator is enrolled with the service, the money will arrive instantly. If not, they'll receive a notification with instructions on how to receive the payment. This can delay the transaction, but the money will arrive in your balance soon.
Withdrawing through the service is seemingly easy, but it can be a bit puzzling. To withdraw your winnings, you'll likely need to request a withdrawal through Customer Support. Provide them with your email address or phone number, along with the amount you wish to cash out. The Customer Service agent should respond promptly with updates on the withdrawal. Once approved, the money will arrive on your balance almost instantly. Of course, you'll also be notified via email or phone when the money is sent out, so you should have an idea of when it's arriving. 
Coverage and Restrictions
As we mentioned a few times throughout this text, Zelle was made to serve a US audience. Users in the country should have no issue using the service, especially if they have a bank account with one of the supported banks in its network. Unfortunately, users outside the USA don't have the privilege of joining the Zelle network. While hope for it going international isn't lost, there have been no official updates on this front. For now, if you're not in North America, finding a similar alternative is the best way to go.
Fees and Additional Charges
One of the biggest perks of using Zelle is the lack of fees attached to it. The service is completely free of charge, so you needn't worry about denting your planned gaming budget. While the service itself doesn't charge a fee, it's worth noting that your banking provider might. Since you need a bank account to use the service, transactions go through a traditional banking system. This means that potential charges from your banking provider may apply, but even if they do, they're generally on the small side. Still, remember this when choosing a bank.
Accepted Currencies
As you might have guessed by now, the only supported currency by Zelle is the US dollar. Since the solution is US-based and operates within its borders, this is only natural. The good news is that doesn't mean you can't transact in other currencies. Since many US banks support popular currency options like the euro and Canadian dollar, you can make transfers from your accounts in these options. Unfortunately, currency conversion fees will likely apply, so keep in mind that a conversion fee will be charged from the total sum.
Customer Support
Since Zelle collaborates with local US banks and financial institutions, you can expect top-tier Customer Support from these providers. Most of the banks in the Zelle network are trustworthy, respected, and high-performing. Naturally, this means their Customer Service representatives reflect these traits. In most cases, you can expect a professional and kind approach that gets to the root of the issue quickly and solves it efficiently. On top of this, you can also contact Zelle support if you need help with the app or enrolling in the service. You can do so through the email contact form or phone number listed on the solution's official webpage.
Conclusion
Zelle is a powerhouse payment solution that gives US players the chance to make quick transactions, without bothering with account setups, complicated transaction processes, and the need for too much personal information. It's a trusted method that collaborates with some of the most respected banks and financial institutions in the USA, leading to a safe platform that players can always rely on. The service is new and still growing, but its reach in the online gambling space is commendable. Still, it's good to remember that it only operates within the US, limiting users to regional services.
FAQs
Is Zelle safe?
Yes, the service is safe. It partners with some of the biggest banks in the US, ensuring top-tier security for every transaction made through its system.
Where does the service operate?
Zelle operates exclusively in the US. It accepts players within the region and requires the user and merchant to have a valid bank account in the country.
Is the service free?
Yes, Zelle is free to use. It doesn't charge any additional fees, but players should keep in mind that the banking provider they choose might charge some.
What currencies does it support?
Zelle only supports the US dollar. Transactions in other currencies will incur currency conversion fees.
Are Zelle withdrawals available?
Yes, they are. Users can withdraw through the service as long as both participants have a valid bank account with one of the supported US banks or financial institutions.
SHOW MORE
&nbsp
Online casinos accepting Zelle as a payment method
Loading...
There are no available casinos for requested criteria.

We're showing casinos that accept Zelle restricted by your country. To remove that condition click here
Something went wrong. Please try again later.