Todito Cash Online Casinos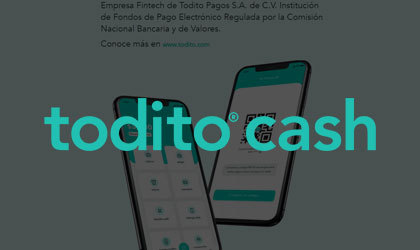 Online gambling is becoming increasingly popular by the day, and with its reach growing, it's entering markets with previously limited access to this type of entertainment. While these markets present excellent growth opportunities for the online gambling industry, a few issues set players back from joining the fray. The main one is limited payment options. Due to regulatory limitations, regions like Latin America have a hard time using popular payment options to play in online casinos. Thankfully, a few local services have stepped up their game to present a solution to this problem. In Mexico, Todito Cash is one of these services! The solution is one of the few ways Mexican players can join the exciting online casino scene, so if you're hoping to learn more about it, we'll cover its complete offer in this review.
About Todito Cash
Todito Cash is a niche service with a niche audience, but in Mexico, it's one of the best online banking options you'll run into. Todito Cash was launched due to the demand for a modern payment option in the region. Sure, classic services like bank cards are incredibly popular in Mexico, but sleek solutions intended for online use are lacking. This service solves that issue. Modelled after some of the best online payment methods on the market, this brand brings forth more than one solution players can take advantage of.
It doesn't stick to a single solution you can go for, instead, it offers several banking methods under its brand. The two most popular options of the bunch are its eWallet and prepaidcard. The first is a classic instant payment service similar to other popular brands. If you're familiar with PayPal and Skrill, you're pretty much familiar with this eWallet as well! The second option brings an old-school classic into the modern banking world. Its prepaid card option is available in over 26,000 POS locations region-wide. It can be reloaded through an app, making it insanely convenient. 
Using Todito Cash comes with countless perks. When the eWallet is in question, players get to experience the best this banking category has to offer. This includes incredibly quick transactions, around-the-clock access, and a nifty online platform that's easy to navigate. When the prepaid card comes into play, many of the same perks apply. On top of these, this particular payment solution makes it easier to manage your gambling budget. Prepaid cards need to be loaded with cash before use. You can load with a preset amount, ensuring you don't overspend on your next casino visit. 
All of these perks are excellent boosts to your overall online gambling experience, but we've saved the best for last. Of course, we're talking about anonymity! Unfortunately, the online gambling space isn't always the safest corner of the digital world. It's not uncommon for scammers and hackers to target online gamblers, abusing their private data for nefarious purposes. Thankfully, the anonymity of methods like Todito Cash lessens this risk immensely. The service's prepaid card and eWallet keep your private player data under wraps, upping your online safety by miles. 
We've covered many of the positives of using Todito Cash, but the service does come with a few cons too. One of the biggest downsides to this solution is its limited reach. The service is exclusively available in Mexico, so players outside this region don't have a chance to give it a shot. Another deal-breaking con attached to the service is its lack of support for casino withdrawals. Players can't cash out their winnings through any of Todito's payment options. They can make casual withdrawals through this service, ones that don't involve casinos, but they need the help of SPEI, another popular Mexican payment method.
How to Start Using Todito Cash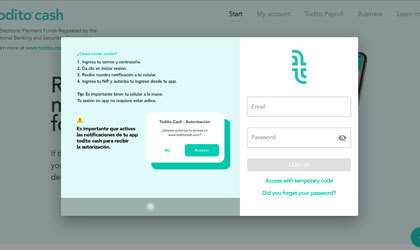 As we've mentioned before, several different services fall under the Todito Cash brand. In this text, we'll be focusing on two of them – the eWallet and prepaid card. Before we proceed, we should note that the getting-started process for these two options looks very different. One is much easier to obtain than the other, so if convenience is something you look forward to, keep this in mind.
The first Todito Cash service we'll cover is the eWallet. This is the more convenient option of the two. To get it, all you need is a stable internet connection and a few minutes of your time. First, visit the Todito Cash official website or download the dedicated app available on the Google Play Store and Apple App Store. When you complete this first step, click the 'Sign Up' button and proceed to fill out the corresponding registration form. This form requires users to share some of their private information, such as name, address, phone number, email, etc.
Up next, you'll need to verify your email address. To do this, simply visit your email inbox and find the message sent to you by Todito Cash. Open the mail and click the confirmationlink to finish up. On top of this, some users may need to undergo identity verification too. To complete this step, you'll need to provide a digital copy of a valid photo ID when prompted. A driving license, government-issued ID, or passport works well. When you're done, you'll be given a PIN to use as two-factor authentication for accessing your new account.
The second payment option is the prepaid card. Getting this card can be a bit of a hassle, as you need to do a bit of research beforehand. You can only purchase one from an authorized agent, so finding one nearby is a must. Of course, this also means visiting a physical location, which is additional work. Upon purchase, scratch off the back of the card to reveal the PIN. You'll need this for purchases. Another thing you need to do is top up your card. You can do so at various locations, including Kiosko, 7-eleven, and branches of Banco Azteca & HSBC. 
Now that you've obtained any of the two options available, it's time to explain how to use them. Both options work the same in this regard, so you can follow this guide for both. The first thing to do is select the item you wish to purchase and head to the checkout. Here, find Todito Cash in the list of payment options and select it. The next step will require your card/account number & PIN. Enter both in the corresponding fields and confirm the transaction. That's it! The transaction will go through in seconds. 
Depositing and Withdrawing With the Solution
Depositing with Todito Cash is an easy task. Since the payment option is popular in Mexico, it's a supported option in countless local gambling venues. While this makes finding an operator easy, we suggest taking things slow and researching the options available. Unfortunately, not all of the casinos that accept this service are premium sites. Some fall short in important aspects of the online gambling experience, so before you choose, it's best to check out some expert reviews. Once you land on a site, here's how to deposit:
Visit the operator's Payment Methods/Cashier/Deposit section and find the Todito Cash logo
Enter your desired deposit amount 
Fill out the payment form with the necessary information (card/account number and PIN)
Confirm the transaction
Your deposit should go through in a few seconds!
Unfortunately, Todito Cash casino withdrawalsaren't a viable option. This is true for the eWallet and prepaid card, so players will need to find alternative methods to cash out their winnings. This can be pretty daunting in regions like Mexico, which is why we suggest going for withdrawal options like cryptocurrencies. These options offer instant transactions and are a valid form of payment in many casinos worldwide. 
Coverage and Restrictions
As we've mentioned multiple times throughout this text, Todito Cash is a regional service that operates exclusively in Mexico. Players outside the region aren't privy to any of its payment options, so if you're in the US, Europe, Asia, Australia, or anywhere else, you'll have to settle for a different choice. Thankfully, we have good news for travellers heading to Mexico. You don't need to be a Mexican citizen to grab the paid card! If you're on a holiday in the region and want to visit one of the local online casinos, you can do so through the service.
Fees and Additional Charges
If you're hoping to save a few bucks on fees, we've got excellent news for you. Todito Cash doesn't charge a dime for its services. You won't incur any additional charges when making transactions, so you can go wild, no matter how big your deposits are! Something to note here is that while the service itself doesn't charge a fee, some casinos might. While it's rare for operators to charge a deposit fee nowadays, some venues do. Before you make a deposit, check the operator's terms & conditions for more information surrounding these charges.
Accepted Currencies
As you can probably guess, the Mexican peso is the only currency supported by Todito Cash. Since the service operates locally, there's no need to bother with other currencies. While this is true for the eWallet service, Todito's prepaid cardmight accept a few additional popular options like the USdollar and euro. Naturally, this depends on the shop you visit to top up your balance. If it accepts these forms of currency, you can use them without issue. As a small note, be mindful of conversion fees. Some of these shops might charge you a small fee if you use a currency other than the peso. 
Customer Support
We're happy to report it offers one of the best Customer Support options you'll find on the market. First, the Customer Support agents it employs are expertly trained, friendly, and always ready to lend a hand. Second, you can reach out to the team through several means. If you're in a hurry, you can use the Live Chat option through the brand's website/app or call their phone line. You should be in touch with a representative within minutes. If you're not in a big hurry, you can always send your query via email and receive a response within a day.
Conclusion
Todito Cash is one of the best payment services for Mexican casino fans. The brand offers several methods to choose from, each with a unique set of perks that makes the online gambling experience a blast. Its anonymity is one of its best features, but its short processing times and convenience are pretty up there as well. Despite being a top-tier option, it's worth noting that it does have a few downsides too. The service only operates in Mexico, and it lacks a casino withdrawal option. For some players, these can be deal-breakers.
FAQs
Is Todito Cash safe?
Yes, the service is safe. It uses high-end encryption tech to keep transfers secure. On top of this, it grants users anonymity, upping their safety in the digital world. 
Where is Todito Cash available?
Todito Cash is available exclusively in Mexico.
Does it have fees?
No, Todito Cash is free to use. It doesn't charge any additional fees for transfers. 
Are transfers instant?
Yes, they are. Since Todito Cash is an instant transfer service, transfers are incredibly speedy. 
Is it available on mobile?
Yes, the service is available on mobile. You can download the service's dedicated app through the Google Play Store or Apple App Store.
SHOW MORE
&nbsp
Online casinos accepting Todito Cash as a payment method
Loading...
There are no available casinos for requested criteria.

We're showing casinos that accept Todito Cash restricted by your country. To remove that condition click here
Something went wrong. Please try again later.