Swish Online Casinos

About the Company
Swish is a mobile payment solution for online casinos and other merchants that currently serves players in Sweden. It was launched in 2012 by the Central Bank of Sweden and six large banks in the country.
The service is similar to Vipps in Norway and MobilePay in Denmark.
Swish Payments Ltd is licensed by the MFSA and is a regulated Financial Institution. The solution is powered by Finastra which also powers real-time payment solutions in Australia, the US, UK, Singapore, and throughout Europe.
As of early 2019, the service was still free, but there have been rumblings about some of the banks adding fees in the near future. Casinos and other web-based merchants and service providers are not allowed to charge their customers for the service. You can find Swish access at LeoVegas and Casumo among other Swedish facing sites.
The method started out as a C2C method as a means for individuals to transfer money to each other. However, by 2014 flea markets, sporting clubs, and even church collections began using it because the fees were much lower than those charged by credit card companies.
Medium.com reports that fully half the population uses Swish. By 2016 the number of users had reached 5 million and about 100,000 new users sign up each month. As of early 2019, when the newly licensed Sweden-facing casinos began offering Swish, the number of all Swedes who used Swish at least once each week was 6.7 million, or 63% of all Swedes.
How does it work?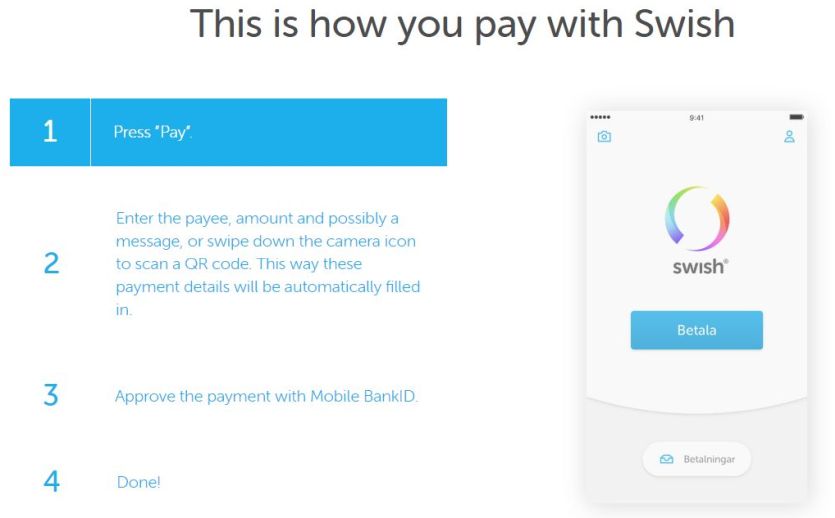 In essence, all you need to do is download an app for your smartphone and link your bank account. More specifically, you need a mobile phone, Swedish bank account, Mobile BankID, and the Swish app to use the service.
BankID is required and the service only works with SEK. Your Mobile BankID app has to be on the same device as Swish. This requirement is for security reasons.
You can see if your bank connects to the service by going HERE.


You can get Swish at the App Store or on Google Play.
Download the Swish app
Connect your account
Activate
Now you are ready to Swish!
Go to the casino cashier system and press the Swish logo and "Pay"
Enter the payee if not already filled in, and enter an amount. Use the QR code on the cashier page to have the app fill in the merchant details for you
Approve the payment with your Mobile BankID
Play!
Primary benefits
Transfers are instant and have no charges or fees associated with them. The merchant will pay anywhere from 1 to 2 SEK for each transaction ($0.11 - $0.22) - much lower than many other payment processing fees. It never costs users to send or receive money via Swish.
Transfers are easy. It only requires a few quick steps to complete a transaction. You can even use Touch ID or Face ID if your bank has approved them as security solutions.
Transfers are extremely secure. Your Mobile BankID is used for authentication. As long as nobody else knows your security code, all transactions are 100% safe. You can even use someone else's phone number as long as it is linked to your bank account. Your bank will determine if you can use a foreign registered number in order to Swish.
Transaction records are saved so you can stay aware of payments you have sent or received. This is especially important for Swedes now that the government is licensing online casinos and betting sites. The gaming property will alert you about your spending patterns at regular intervals. With Swish, you can easily compare your records to theirs.
SHOW MORE
&nbsp
Online casinos accepting Swish as a payment method
Loading...
There are no available casinos for requested criteria.

We're showing casinos that accept Swish restricted by your country. To remove that condition click here
Something went wrong. Please try again later.