SimplePlay

To visit SimplePlay official website, click here.
About the Company
SimplePlay is an online slots developer that seems to have come onto the scene in late 2019 with an announcement they would be attending ICE London 2020 the next February.
They made themselves known to the industry in a big splash there.
It didn't take long after the trade show closed for news to start popping up in the industry media. The firm inked a deal with GrooveGaming to board their platform. This put them into the mix, so to speak and opened a lot of doors for distribution.
To jump right into the games, please click.
The content is most popular in the Asian markets, primarily because that is where the marketing focus has been to date. One place players in most jurisdictions can find the games is at BetterDice Casino.
The following link will take you to a review of the venue at our sister-site (sorry, no US).
So...
We can tell in one broad stroke that the games are very well made, they possess great Asia-centric features and bonus games, and they're simply fun to play.
But...
How do we know they are fair?
The game RNG (random number generator) is certified by BMM Test Labs - a premiere audit and testing laboratory for the Asian and European markets.
We can also assume they are licensed by one of the authorities in the Philipines, given their relationship to the much larger SA Gaming which we'll explore in a moment.
Beyond the claim of BMM test labs certification, not much is actually known about the ownership or management of the company which keeps a very scant footprint on the web.
We do know they teamed up with SA Gaming to sponsor an industry event and the two companies have redundant content in their portfolios. One title is Fishermen's Gold, a seemingly skill-based shooting game with fixed odds components.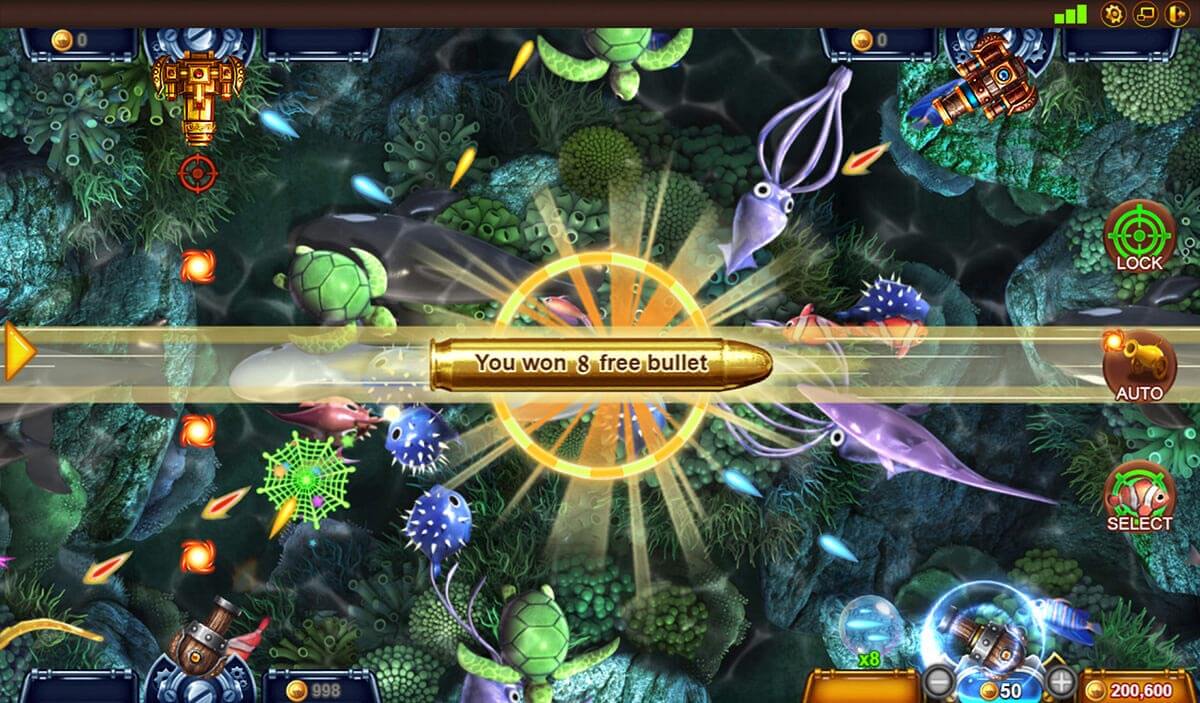 A good portion of the studio's games are Asian themed, so we might assume they are located in Manila as is SA Gaming, but that is as yet not perfectly clear. It could be assumed with a high level of confidence that the newer entity now carries all of the slots formerly deployed by SA Gaming and will continue to develop new titles under the SimplePlay brand.
Here, we see Fortune Cat reviewed as a product of the SA entity prior to the creation of SimplePlay which now claims the title. 
The game's creation date is also prior in time to the creation of the SimplePlay website that carries it.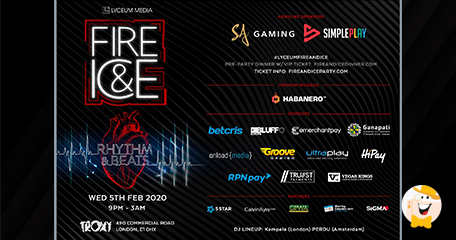 You'll also find links to all of the games we have reviewed here so far at the end of this article.
That said, we may not know precisely what we're looking at in regard to ownership and management but we do know the two companies either work closely together or have at least executed some sort of licensing agreement.
Software and Games
All of the games we tested were in the state-of-the-art HTML5 format. This simply means that they are 'device agnostic' - they don't "care" what sort of mobile phone, tablet, laptop, or desktop device you are using to play - they work on anything from an Android handset to an iPad or Windows PC because they play right in your browser.
The game code is highly evolved. We say this because each title we tested loaded very quickly over a fairly slow connection. While game info doesn't provide total load weight, they are all rich in graphics, animations sounds, and features.
Themes and maths models vary widely with a little bit of something for everyone.
Well, almost for everyone...
We find quite a few "hot models" titles with attractive photo renditions of real women, all very attractive - but - we didn't find any "hunk" games for the ladies.
Seriously, how hard would it be to copy a firemen's calendar? Okay, so Asian men would not like it and we won't impose our sense of gender fairness on something as simple as slots games, but, really?
Narrative and themes
Some of the games offer mindless spinning fun while others invite the player to understand or at least acknowledge important historical and cultural events and characters.
The game mechanics and narratives are intricately woven together on many titles to accentuate important elements of culture, while others simply create a tapestry of gambling enjoyment by being mathematically and thematically meaningful.
A quick glance at the variety found in a handful of randomly selected titles indicates that the concepts are unbound and far-reaching.
Angels & Demons
Cage Fight
Cai Shen Dao
Dragon Slayer
Innocent Classmates
Lucky Fa
Tropical Treasure
North South Lions
Fantasy Goddess
World Cup Fever
Red Chamber
Zombie Hunter
Let's take a look at Cage Fight!
The narrative takes you into the ring of pugilism with a chance to dominate this highly volatile 5x3, 30-line slot. The RTP is high at over 97%, which helps in the long run for a game with extreme highs and lows like this one.
Features include:
Bonus Games
Power Spins
Power Climbs
Power Prizes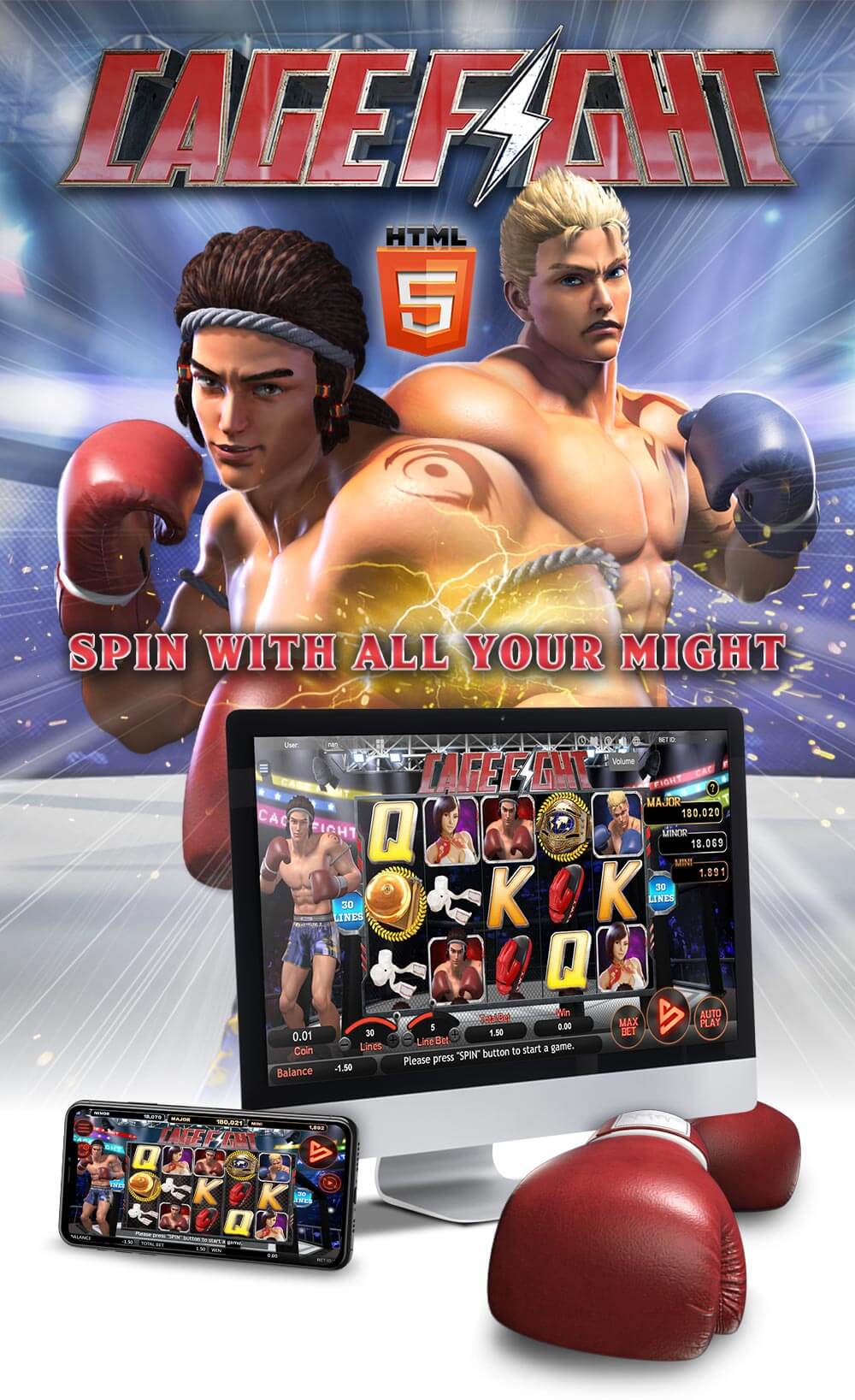 The game starts out with a showreel of sorts, introducing the man characters and tempting your adrenal glands to kick into high gear. It's a winner take all sort of game after all with maths like that.
On a mobile device, both landscape and portrait modes are supported.
Game elements load in the background the first time you watch the intro. If you come back to the game in a few minutes or an hour it should still be cached in your browser memory and ready to play.
The game music is rock-steady and nearly frenetic and win animations keep you on the edge of your seat.
Wild symbols appear on all reels except the first one for smashing win potential.
Three or more scatters trigger the bonus game feature. Here you must beat your opponent to win the Power Reel feature during the free games. Multiply wins by up to 6x doing pullups in the gym with the Power Climb feature and collect super wins with extra wild reels. Finally, work out on the punching bag to win up to 100x your total bet.
Now, that is an action-packed slot if we ever saw one, ad the volatility - all or nothing - maths model makes it a winner in our book.
Dragon Slayers is a 5x3 slot with 243 ways to win. Collect symbols to expand the game to four positions on each of the five reels... or even 5x5! Whereas once there were paylines, and then there were none, now we have 3125 ways to win when this game has five visible positions in play on every reel.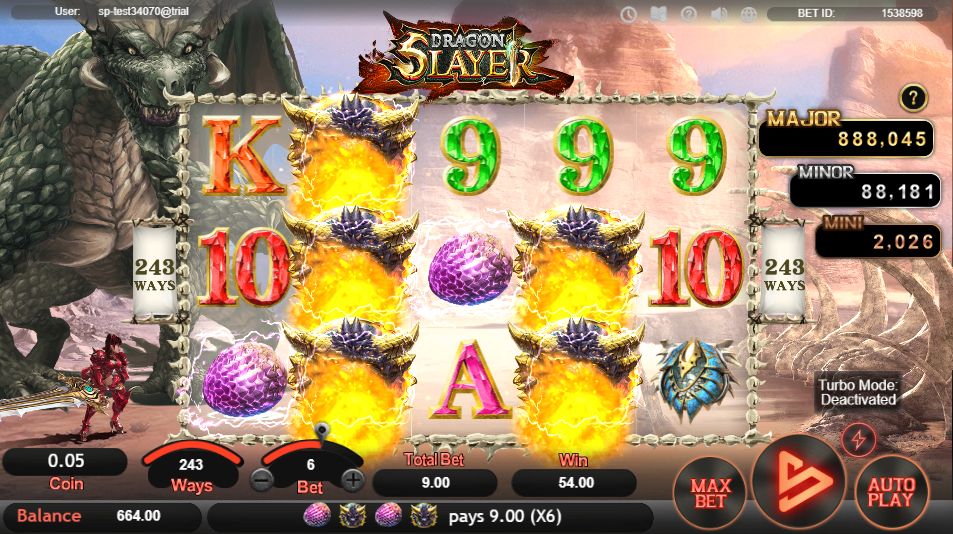 The RTP is a tad over 96% and the volatility is extremely high.
How high?
Let's just say you are likely to enjoy this game if your motto is "go big or stay home".
The artwork on the game speaks for itself, so we'll break into the inner workings of this masterpiece of maths, mechanics, and immersive engagement.
The animated backdrop will capture your attention, but the three progressive jackpot should catch your eye as well.
After each non-winning spin, the mean old dragon will stomp on our heroine but score a win and the tables are turned and he gets a nice smack across the face with her sword.
Stacked dragon wilds appearing on reels 2, 3, and 4 can create decent wins along with high paying symbols in the base game, but they really come into play during the feature with so many more ways to win.
Three or more scatters will trigger the game feature. Now, your job is to collect scatter symbols to expand the games space creating first... 1024 ways and then 3125 ways to win if you are fortunate.
ni fact, since the game is so volatile, you will probably have to trigger a full-screen feature and find three stacks of wild symbols to make up for a lot of spins. Max bet is 15.00 per spin so be careful, but ohhhh the thrill if you trigger the bonus betting big!
Unfortunately, the paytables and other info are virtual wastelands when it comes to gathering specific information, but the game description offers a few insights, and the gameplay is intuitive with no important decisions to make beyond how much you are going to bet.
While high-risk games like this one can sink your bankroll in little or no time if you bet too big, you have as much chance to hit a massive win on the first spin as on any other.
Caution should be taken not to chase the progressive random jackpots. While betting higher does increase your chances to win one, the jackpot amounts are not commensurate to your total bet.
Other games
Fishermen Gold is the only game we find aside from slots.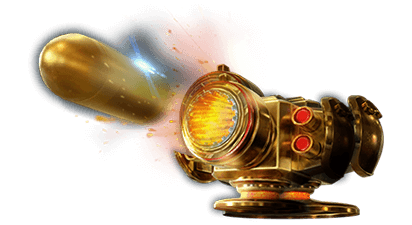 This is a shooting game where skill could play a role in how much you can win, but it doesn't. The opportunity for big paying targets is still controlled by a random number generator or on a fixed-odds model.
We don't find any details on how those opportunities are generated aside from a statement that it is a "fixed odds game of chance".
The description goes on to say that in games of fate, the player's ability does not influence the outcome in any way. This differs from the way the game was presented when originally launched by SA Games who suggested that developing strategies could affect outcomes.
The Final Analysis
SimplePlay is most likely either a vertical or wholly-owned subsidiary of SA Gaming. It makes sense to compartmentalize the offering since the original company is deeply invested in systems and live gaming.
We like the games, very much, and find them on par with SkyWind's offering. Since so little is known about the company, it would come as no surprise if someday Playtech "decided to buy it".
The important thing for players now though, is that GrooveGaming has picked up the portfolio and that means the slots will be available to players all over the world. We like that.
You can never get too much of a good thing when it comes to improving the overall game universe with high-quality titles. If it pushes and pulls other makers to increase the caliber of their games, all the better. If not, at least players have a wider choice of premium options to choose from.
SimplePlay Games
Currently, we have

casino games

available to play and over

casino software developers

. Let's get started!
Casino Games
&nbsp
SimplePlay powered online casinos
Loading...
There are no available casinos for requested criteria.

We're showing casinos that accept SimplePlay restricted by your country. To remove that condition click here
Something went wrong. Please try again later.