Siirto Online Casinos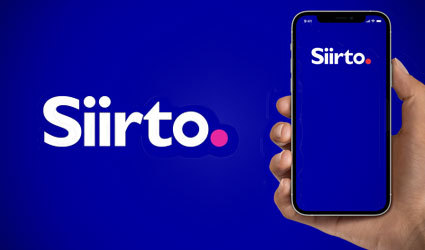 With so many Finnish players playing across international online casino sites, operators are continuously adding new methods to their lists to accommodate these players the best way possible, and Siirto is one such method, a solution that is suited for all players from Finland. This is a mobile payment method that connects you, your bank and your online casino via a mobile device, so it cannot get more convenient than that. What is Siirto actually and why choose it as your payment method?
About Siirto
Siirto, as introduced, is a mobile payment solution that comes from Finland. It was established by OP Bank and Nordea not so long ago, in 2016, with the aim to enable real-time money transfers using a mobile device, more precisely, a mobile phone number. Even though designed by these two banks, two others have joined it, S-Bank and Bank of Åland. The solution runs on a system designed by Automatia, which maintains the popular Otto ATMs, meaning it has the backup it needs to allow for instant transactions truly.
It was designed with the aim of allowing Finnish users to get the easiest, fastest and most convenient online transactions, with a few taps on their mobile devices. And it has delivered exactly that, becoming the connection that links bank accounts and users via a smartphone device.
Not only are transactions with it instant…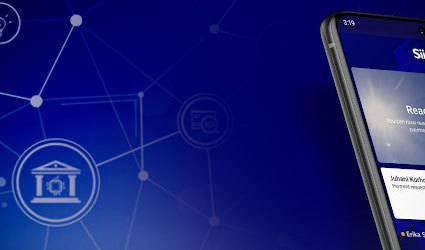 …but they are really cost-effective. To actually use it, you'd have to meet two pre-conditions, to have an active account with one of the four banks mentioned earlier, and to have an active mobile phone number. The system it uses, powered by Automatia, allows for the banks to offer separate apps that would allow for the transactions to go from one mobile device to another, hence, from the sender's bank account to the receiver's bank account.
Considering how smooth this process goes, and how little you're bothered with it, the solution is one of the safest and most convenient to use as a Finnish player. The top Finnish banks are offering it, meaning you have the banking system behind it, to guarantee the safety of your money.
Having that in mind, it is worth mentioning that you can use it across shopping centres, shops, cafes and restaurants, different online platforms and, of course, online casinos, on a daily basis! The online gambling industry has embraced it, sites targeting and accepting Finnish players in particular. Therefore, if you're a player from Finland, interested in using it across online casinos, stay with us and we'll take you over the details.
How to Start Using Siirto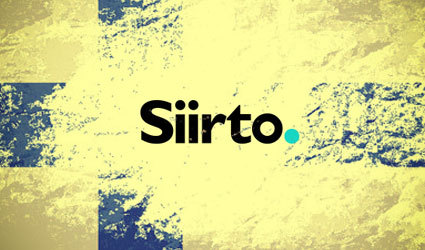 The strongest suit is the fact that it is extremely easy to use, as all you need to do to get started with it is to download an app on your mobile device. Then, you'd need to connect the app to your bank account and in an instant, you'll be transacting with it, with just a few taps on your mobile device! We did mention, though, that you'd need to have an active phone number and an active bank account with one of the four banks, so you still do have to meet those pre-conditions to start using it.
Let's review the steps in detail. So, first, go to Google Play Store, if you have an Android device, or Apple App Store if you have an iOS device, and download the Siirto app. You'd need to download the Nordea Siirto app, the Pivo or OP-Mobile app.
Considering Nordea is basically the most popular of all, and the easiest to use, let's take it as an example to further explain the steps. You would need to visit its official website to find out more about the use and implementation of the app, but in short, it is perfect to download because you can use Siirto's service even if you have a bank account with one of the other partnered banks. So, after you download the app, specify your phone number, and confirm it. Select whether you want to use your Nordea bank account or the account you have with any of the other partnered banks. With that, your account has been successfully set up.
To start using it, you would only need the receiver's phone number! That's right, you'll avoid filling out millions of fields with the receiver's banking or personal information; all you need is their phone number. If the receiver is already registered to the Siirto service, they will receive the transfer in an instant. The money will be processed in real-time since the service will locate the receiver through their phone number and send them the money instantly. So, before you confirm any transaction, make sure you double or triple-check the phone number and the name it appears. There's no limit as to how much the receiver can receive in a day, but the sender can send only €1,700 in a day.
We must mention another thing here. Nordea uses Codes, which are credentials which verify your identity. So, when you download its app, you would need to use your Nordea Codes which apply to your bank account, and this is the identification tool the bank uses as an added layer of protection. The transaction cannot be completed unless you provide these Codes.
Depositing and Withdrawing with the Solution
As you could see, the getting started procedure with this solution was relatively easy and straightforward. But wait until you see how easy it is to deposit with it! Considering Finland is a regulated online gambling market, continuously regulating and imposing new restrictions on the market to make it safer, there are so many safe Finnish casinos to explore. And, let us tell you that the solution is getting accepted across more and more of these casinos. When you try to search for one, you will get several options to explore.
So, just decide on the casino to join which accepts it, and to make a deposit with Sirrto, you'd need to do the following:
Go to the casino's Banking/Cashier/Deposits page.
Locate Siirto's logo or the Mobile Payment logo and tap on it.
Specify how much you'd like to deposit.
Confirm the transaction via your mobile device.
Watch the money arrive on your balance in real time!
Online casinos that have registered to Siirto's system have their phone numbers pre-set when you're depositing, for further convenience. But in case the number is missing, consult with the casino's Customer Support or find its mobile number on its homepage and enter it. The system will recognize the casino and send the money right away.
Withdrawal-wise, even though you may have expected otherwise, Siirto is an option. Even though a mobile payment solution, since it is connected to four major banks, you can actually request a withdrawal with it. It works both ways mainly because the money transfer is not made by mobile service providers but by the banks involved. So, as long as you go through a similar procedure as the one described for deposits just now, and you request a withdrawal, your winnings will arrive directly to your bank account in an instant! Yes, even withdrawals are processed in real time with this solution!
Coverage and Restrictions
We've only been mentioning Finland as a country where Siirto is available, and Finnish banks. That's because the solution is, indeed, only available to Finnish users with an active bank account with one of the four banks.
So, if a player from any other country, you won't be able to use its services, as you won't be able to meet the pre-conditions to using it.
Fees and Additional Charges
Siirto tself does not charge any fees for transacting via its system. However, depending on the bank you have an account with, or the mobile service provider you're using, some fees might apply.
Nordea, for instance, does not charge fees for using the service at the moment, however, it warns users that depending on the tariff and any other factors, it deserves the right to charge monthly fees in relation to the app usage if any revisions are needed. Therefore, before you start using the service, make sure you find out all about any fees involved.
Accepted Currencies
Since the solution is only functioning in Finland, and the official currency in the country is the euro, the default currency and the only currency you can use to transact with Siirto is the euro.
You cannot use any foreign currencies for free, but if you consult with your bank, and you have an account that supports such currencies, you can use them for a currency conversion fee.
Customer Support
Considering the solution exists thanks to the four partnered banks in collaboration with mobile service providers, if you have any questions about its service, you'd need to contact your bank.
The partnered banks also offer detailed instructions about the service on their official website, so you could try exploring their sites to find out more about the solution.
Conclusion
Without a doubt, Siirto is a solution worth considering if a player from Finland. The fact that you can use it not only across online casinos but for everyday payments across other industries, too, is what makes it incredibly convenient to be used on a daily basis. In these modern times, when everyone has a mobile device and a bank account, this is the perfect solution to use for mobile payments.
It is backed up by the top banks in Finland, so you probably already have an account with one of them. Plus, due to this fact, you can rest assured that the money you transact will be perfectly safe and processed in the most secure way possible.
But as an online casino player, you'll love it mostly due to its capability to process both deposits and withdrawals instantly, and in just a few taps on your device. So, make sure you download the app and try the solution right away, and you'll see that this will become the go-to payment method that you'll use every day!
FAQs
Does Siirto have an official website I could explore?
There is, actually, an official Siirto website, you could explore, but most of the information available is in Finnish. Some pages are translated into English, and as a Contact Information, links to OP Bank and Nordea are provided. So, technically, this is not an official website you could use to start using its service, so you'd still need to visit your chosen bank's site to download the app and get started with this mobile payment method.
Can I connect more than one bank account to the service?
Not really, no. Only one bank account can be connected to one phone number, to eliminate any possible complications. When the transfer occurs, the system is able to instantly recognize the sender's mobile number and bank account and deduct the funds from that particular account to be sent to the receiver's bank account with the mobile number listed.
Can I change my phone number?
Sure. In case you've changed the mobile number you're using, you would need to go to the Siirto app and delete your old phone number. Deactivate the current account you have, and go through the registration procedure again, entering your new phone number.
Do I have insight into my bank account transactions when using the solution?
With the Nordea Siirto app, yes. In real-time, as long as your device is connected to the internet, you can check your transactions by entering the app. The other banks' apps do not have this functionality, so you'd have to go to your online banking profile to check your transactions.
If I decide to use the Nordea app, will I need to download any other software?
In addition to the app itself, you'd need to download the Nordea Codes app. Via this app, you'd be able to authenticate your account and identify yourself before you can make an actual transaction using the solution.
SHOW MORE
&nbsp
Online casinos accepting Siirto as a payment method
Loading...
There are no available casinos for requested criteria.

We're showing casinos that accept Siirto restricted by your country. To remove that condition click here
Something went wrong. Please try again later.