Qora Games

To visit Qora Games official website, click here.
About the Company
QORA Games is an online casino slot developer that has also made a few table games. Not a lot is known about the company's history, management, or even location but you may be familiar with a few of its games under different titles.
The games first appeared at sites like Bovada, Slots.lv, and Ignition a few years ago and now have been picked up by another group of casinos under different management.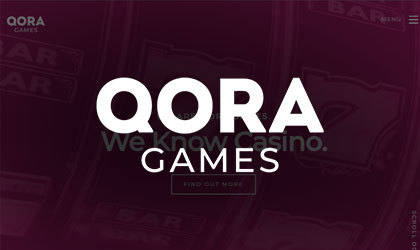 The official Qora website only holds a few of the slots known to be made by them, but the entire list is available at This is Vegas, Paradise 8, Davincis Gold, and Cocoa, as well as Sports and Casino and sister site, DuckyLuck.
While S&C lists the games as QORA titles, the official website uses slightly different names, not the titles we have become accustomed to over the years. It's not clear whether the company plans to retitle the games or if the website is outdated. The Wayback Machine doesn't offer any help on the matter.
Be that as it may, the games on the official website comprise the following: A Night on the Nile (A Night with Cleo), Ancient Warriors (Bulletproof Babes), Gold Mine (Gold Rush Gus), Girl Racers (Fast and Sexy), and Lucky 777 (777 Deluxe).
One final note about the company...
We simply find nothing in the public domain to illustrate the producer any further than we have above - from location to testing and certification, it's all a mystery. What we are left with to review are the games themselves, some insights based on the pay tables, and some news accounts throughout the years.
Software and Games
Like most games today, these are all delivered to players right in their native web browser for instant play on any device. This is great for desktop PC players, Mac users, iPhone, and Android users because the gaming software simply doesn't discriminate any longer, everyone can play the same games!
The titles all load quickly and have a decent user interface. There's no chance of accidentally hitting the max bet button or inadvertently lowering the number of lines bet to a low number without realizing it before remapping your click and hitting the spin button - only to see five of a kind on an unstaked line.
The graphical user interface (GUI) works as sweetly on a desktop as it does on a handheld device with the annoying bits tucked nicely away under a line menu.
That said, with minimalism comes sacrifice in most cases, and this GUI is no exception. While a critic may say it's more of a pet peeve than a valid critique - I personally want as much player control hiding behind every button as reasonably possible.
If I can click you once to make you spin - I want to click you again and have you stop spinning, and right now, please. When the spin is completed, I don't want to sit around like a slack-jawed fool staring at a win celebration, especially a minor one, or for any tally to be completed before I can spin the reels again and right now please, if you don't mind, and thank you very much.
If I want to hammer said button as fast as I can, I want those reels to spin and stop and stop and spin at my command, I did pay for that spin, after all, I'd like to do it my way.
While that may, indeed, sound like a pointless annoyance, I think it's simply a courtesy too often overlooked by developers nowadays, especially those who wish to control the speed of gameplay for a reason, such as expanding playtime whether that is what a player wants or not.
Another UX (user experience) element that can be annoying to an experienced player, is the lack of ability to choose your own volatility by selecting the number of lines staked.
While it's understandable in the mathematical scheme of things that not all bonus mechanics will work properly when fewer lines are selected, it's mostly a matter of lazy maths, isn't it? I think so especially when no features are affected by the number of lines staked and the jackpot is awarded at random as it is on most of these games.
If those minor "drawbacks" don't bother you, and they probably shouldn't because they are found in games from almost every maker, then there's really nothing to complain about in the interface or experience with slots from this studio and lab. They are really well designed with decent, unique, and captivating art and animation, great sound effects, and a fairly immersive gaming experience.
Now, we'll look more closely at some of the themes, games, maths, and mechanics...
The games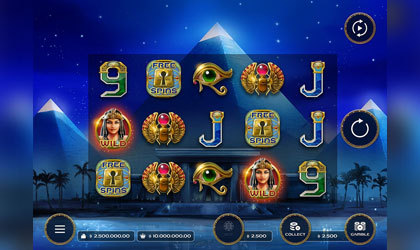 Cleopatra (Nile) is a jackpot game featuring the lovely Cleopatra, Queen of Egypt. We're not sure if the game is available with the double-up round at all casinos, but you may or may not want to check it out, depending on your personal feelings about soft and supple olive-colored skin...
Okay, it's like this, when the double-up game is provided, each time you predict correctly you will not only double your money, the Queen will remove an item of clothing.
err.. hem...
The game has five reels with twenty invariable paylines. The transparent background reels are set against an ancient Egyptian landscape. Land the scatter combination for free spins and you'll get a set of 15 games with all line pays tripled. The progressive jackpot is awarded at random.
Back in 2017, a lucky player at Bovada had $179,697.27 drop into his lap on his sixth spin, ever, at the casino after depositing $50 and taking a $50 match bonus. I don't suppose "Juan" had any trouble making the playthrough on that bonus!


Note to newbies: Even if it's mathematically impossible to not clear a bonus, like after a big win like that, please DO keep your bets under the maximum stake allowed or you will most likely not collect your winnings (shhh... that's the voice of experience speaking).
Bulletproof Babes (Ancient Warriors) is an anime-themed slot with characters that pop out to illustrate the narrative at certain times during gameplay. The artwork is "manga-esque" with a real comic book feel to you. You might just fall in love with this game after a few spins. The simplicity is augmented by having certain actionable figures only appear on certain reels.
Look for the Wild Mistress to stack up on the first, third, and or fifth reel to tie wins together.
Look for a Moon on reel #1 and a Temple on reel #5 to trigger the free games. Expect random multipliers between 1x and 10x to spice things up.
The black and white Fist symbols will bring up a bulletproof babe from each side to clash in the middle.
The Final Analysis
All told, the studio has produced over 24 games to date, including simple-screen table and card games like roulette and blackjack. While we have no indication that they are, the game diversity is fairly vast so this reviewer wouldn't be surprised if many of the titles came from third-party studio collaborations - there's nothing wrong with that! Some of the best games on the planet were made by a once-unknown studio called Lightning Box and they bear the brands of other long-known kings of the industry.
Qora Games Games
Currently, we have

casino games

available to play and over

casino software developers

. Let's get started!
Casino Games
&nbsp
Qora Games powered online casinos
Loading...
There are no available casinos for requested criteria.

We're showing casinos that accept Qora Games restricted by your country. To remove that condition click here
Something went wrong. Please try again later.