Screenshots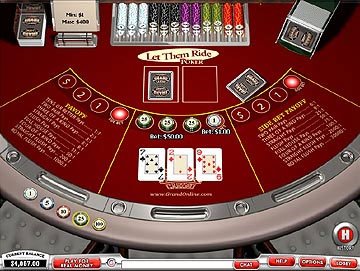 Let Them Ride (Let it Ride)
by Playtech

Let them ride is Playtech's version of the popular land based casino game Let it Ride. Playtech's Let them Ride has a house edge of around 3.5%.
In addition online casino players playing the popular Playtech Let them Ride have the option of placing a side bet for $1. The side bet gives players additional winnings on certain combinations, and has a house edge of 13.8%.
To place your side bets, click the "Side Bet" option on the screen before clicking the "Deal" button.