Screenshots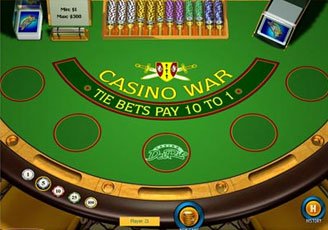 Casino War
by Playtech

Take a trip back to your childhood with Playtechs Casino War game. Remember War as a kid? Maybe with a group of friends? Well here it is again!
Playtech has done a great job with their version of the childhood favorite, War. Even if you didn't play War as a child, if you can count, you can play this online casino table game.
The rules for this game are pretty much the same as they were when we were kids, however the possible benefits of winning, are much greater!
Playtechs version of WAR, called Casino War, offers a Tie Bet option that you won't find just anywhere online, get lucky on this one, and you will receive a nice 10 to 1 payout! Played on six decks.