Felt Gaming

To visit Felt Gaming official website, click here.
About the Company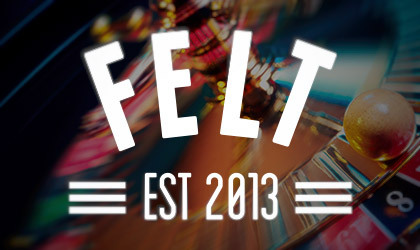 Felt Gaming (Felt Limited) is an online casino table game developer established in 2013. The company is headquartered in London with software licenses from the Gambling Commission there as well as from the Malta Gaming Authority.
It's a small company with a very specific focus on table gaming, rather than any and all types of virtual gambling contrivances.
The founder and CEO, John Parsonage brings a reverence for games like blackjack and bonus poker to his work and ensures all products maintain an origin story feel to them. It wouldn't be too far out there to use words like "sacred" when referring to his relationship with the games.
He keeps his cards very close to his chest when it comes to the company's own origin story, instead, focusing on building and distributing the games rather than crafting a public persona for the company. The devotion seems to have paid off as online players will see the games almost everywhere these days.
His gaming history is best summed up in his own words, as found in a "Get your kicks" interview with LCB in 2016:
"My first job in the industry was for a company that ran the Harrods online casino and also launched the World's first 24-hour live streaming greyhound racing channel called GoBarkingMad. Since then I've worked for a number of gambling operations including; Sportingbet, Ladbrokes and Sky Betting, and Gaming where I launched Skyvegas.com."
We'll add a stint to that casual CV as a product management group director at Scientific Games in Middlesex beginning in 2011. We'll also mention one of their big breaks came in early 2016 when the giant Betsson picked up a number of their proprietary games. We saw deployment balloon further that year including deals with LeoVegas and others. Relax Gaming, Sci-Games, and Leander all carry the games to operators.
The company has at least a licensing relationship, but possibly more involved dealings with Games Marketing Ltd., the purported owner of some very important intellectual property rights that the casual observer would assume belong to Scientific Games via their Shuffle Master acquisition.
World-famous games made by FELT and owned by GML include Caribbean Stud, Texas Hold'em Bonus Poker, Lucky Ladies Blackjack, 21+3 Blackjack, and BJ Lucky Lucky to name a few.
The innovative 3 Card Hold'em is a game I have never played, or even heard of, but one that the Wizard of Odds reviewed and analyzed it in 2012 or 2013, crediting the now-defunct Gaming Network with its distribution.
The point here is not so much any question of game origins or licensing, rather it is to point out that FELT is stone-cold serious about bringing authentic Las Vegas-style gambling games to players online - some that may have nearly been relegated to the dustbin of history without their efforts.
We applaud that devotion.
History buffs who enjoy the game, or anyone wishing to master a strategy may find the following links of interest:
Three Card Hold'Em @ Golden Nugget, Las Vegas
Wizard of Odds - 3 Card Hold 'Em
Software and Games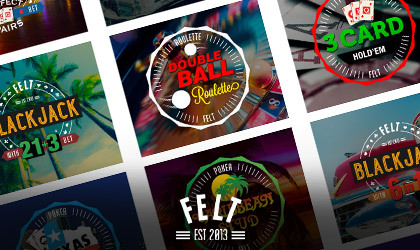 As of the time of this review, the company had about 16 games listed on the website and five of them were marked as "coming soon".
All of the games are developed and deployed in HTML5 so they can be played on mobile or desktop as they deploy right in your web browser.
In addition to maintaining the feel and action of a Las Vegas table experience online, they also focus on the excitement inherent in side bets.
Nobody will ever claim that playing with side bets on blackjack and other games will ever let you maintain the lowest possible house edge. They don't fit into an optimal strategy to get the highest RTP you can get.
But...
They do introduce a new level of excitement via volatility and finally allow table players the possibility of cashing in big on a small bet.
Placing a $1 side bet on the progressive jackpot game of Caribbean Stud could have a variety of large payouts, including 100% of the pot.
In order to maintain a high RTP you would have to bet very heavily on your regular hand to water down the loss of overall RTP that comes with that bet in all but one in about six-hundred and fifty-thousand hands.
The mix of games along with a wide range of betting limits makes them ideal for lowballers, high rollers, and anyone in between who simply likes to play Vegas games online.
For the casual player, there is now a good variety of games that allow you to play a solid strategy in the base game, an adjusted strategy for a side bet, or simply switch bets around to achieve the volatility you want with any given hand.
The best execution of one of these games online to date is FELT's Blackjack with 6-in-1 bets and the novel Blackjack Plus.
Blackjack 6in1™ gives players a chance to place up to six different side bets per hand.
Place any combination of the six side-bets on any hand or simply push the "BET ALL" button to make every possible bet. Play a regular game, play one hand, and play as many hands as you like against the dealer.
The rules are fair with 99.63% RTP for an optimal strategy on the base game and all of the side bets offer higher than 93% RTP except the 21+3 bet which comes in at 92.86%
Bets and specific RTPs include
Base Game - 99.63%
Perfect Pairs - 93.89%
21+3 - 92.86%
Lucky Lucky - 96.10%
Lucky Ladies - 93.78%
Suit'em Up - 95.35%
Buster Blackjack - 93.80%
Blackjack+ is a very similar game mechanically, but the user interface is simply spectacular and the game menu offers more options. It has an autoplay feature based on optimal strategy.
It's truly a thing of beauty.
The Buster Blackjack side bet pays 2000x when you have a blackjack and the dealer busts with 8 or more cards.
Additional games include but are not limited to:
Blackjack Lucky Lucky
21+3 Blackjack
Lucky Ladies Blackjack
Perfect Pairs Blackjack
Suit'em Up Blackjack
Buster Blackjack
Texas Hold'em Bonus Poker
3 Card Hold'em
Caribbean Stud
Game rules, strategy cards, tips and tricks, RTP, and more are all provided in an easy-to-use menu.
A quick glance is all it would take to identify any of the games as FELT creations once you become accustomed to the art, user interface, and mechanics. The user experience flows from there.
I'll admit that the first time I saw one of the games I was on a smartphone. I didn't get it. For some reason, I expected a 3D rendering with palm trees swaying in the background and Caribbean steel drums on the soundtrack.
My second thought was...
"Hey, that wasn't promised. Why would I expect an online game to poorly mimic a casino in Aruba - I was only promised a Las Vegas table game experience, I'll withhold judgment and give it a try."
The layout was beyond "sensible" and the term minimalistic doesn't even properly capture what's going on here. The two words that come to mind now are straightforward and perfect.
After about a dozen hands I opened the help file. The payout for Royal Flush on the Ante bet is 250x. The return for the rest of the top nine hands delivers an impressive 98.37% RTP in the base game.
Using optimal strategy, that number would normally be 97.445% when arrived at via element of risk calculation rather than straight RTP which would make the number an abysmal 94.776%, according to the Wizard of Odds. Click the image for more statistics on the standard game's U.S. Raise Pay Table.


The RTP on FELT's Caribbean Stud jackpot bet is 78.00%. We can assume that is based on a seed of $50,000 and the maths of the progressive paytable. We have not broken down the exact maths on that number though but we can state that the house edge on this bet should evaporate totally by the time the jackpot grows to somewhere north of $250,000.
The Final Analysis
FELT LTD produces the best interactive table games from the player's perspective if you are looking for a highly evolved and refined user interface, solid maths, and high volatility options to go along with your steady base game.
The games are "self-teaching" and present slot players a chance to experience classic Las Vegas table games with some special big jackpot sauce on the side.
We normally like to spend a little more time placing dots in the iGaming universe and connecting those stars, but in this case, the games themselves are too exciting to spend our time pouring over regulatory findings, massive reams of financial documents, etc., to determine what Gaming Marketing means when they say they "own" over 50 table games including Hold'em and Caribbean Stud. 
As FELT draws from the massive IP library of GM and continues innovating such as they have with their Caribbean Stud paytable, Blackjack+, and Blackjack 6in1, we see these games finding a home in an ever-increasing number of online casinos.
Will FELT become a "household name" among online gamblers? It may have done so already.
Felt Gaming Games
Currently, we have

casino games

available to play and over

casino software developers

. Let's get started!
Casino Games
&nbsp
Felt Gaming powered online casinos
Loading...
There are no available casinos for requested criteria.

We're showing casinos that accept Felt Gaming restricted by your country. To remove that condition click here
Something went wrong. Please try again later.