Online casinos accepting players from the Falkland Islands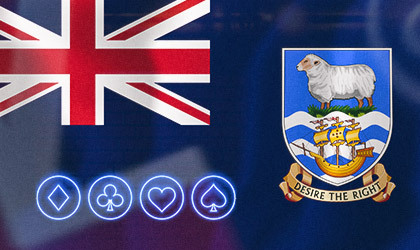 Islas Malvinas or the Falkland Islands is an archipelago situated in the South Atlantic Ocean on the Patagonian Shelf. Being a British overseas territory, this area has internal self-governance, but the United Kingdom takes responsibility for its defense and foreign affairs.
What comes as quite unusual is that despite having a high internet penetration rate (99% based on January 2022 stats), the Islands have a poorly regulated, that is, completely unregulated online casino industry. As a matter of fact, the situation is not better with the land-based sector either.
Yet, having in mind that the Falkland Islands are under the jurisdiction of the UK, it is expected that its gambling laws could rely on United Kingdom's iGaming regulations. As of this moment, the UK Gambling Act is not yet adopted, but as the industry itself grows and develops, some changes are imminent.
Laws and Regulations
The only documents which mention any forms of gambling in the Falkland Islands, such as games of chance, raffle, or anything similar date back to the 1940s. Therefore, land-based gambling in the form which exists today has never actually been regulated or legalized.
Online casinos are unregulated as well, so people are neither permitted nor strictly prohibited to gamble on the internet. There are no fines or any other sorts of punishments for those who visit gambling premises, be they brick and mortar or digital.
What we do know is that all British Overseas Territories have their own government, as well as localized laws, which means complete freedom to regulate the iGaming industry all by themselves. The Falkland Islands aside, these Territories include Anguilla, Bermuda, British Antarctic Territory, British Indian Ocean Territory, British Virgin Islands, Cayman Islands, Gibraltar, Montserrat, Pitcairn Islands, Saint Helena, Ascension, and Tristan da Cunha, South Georgia and the South Sandwich Islands and Turks and Caicos Islands.
As mentioned earlier, the Falkland Islands could use UK's framework, as it turned out to work quite fine. Its regulatory system is very stringent, and licensees are required to abide by numerous rules. Otherwise, they risk getting penalized or having their license revoked.
Best Casinos in the Falkland Islands
Casino
Highlights
Cashout
Bonus
View Details
Loading...
There are no available casinos for requested criteria.
Something went wrong. Please try again later.
Player Protection and Responsible Gambling Measures
If the industry itself is not regulated at all, it doesn't come as a surprise that there are no player protection measures in place. Some countries/ territories have rules related to gambling advertisements, some have national self-exclusion registers- the Falkland Islands don't have anything like that.
For that reason, players must be well-educated on how to act responsibly while gambling online so as not to end up dealing with issues. If they choose UK-licensed casinos or those approved by Malta or Gibraltar, they can be sure that they will gamble in a well-organized environment that operates in accordance with the highest standards. But, what happens with platforms certified by other regulators?
In that case, players are advised to look for the "Responsible Gambling" page on the operator's official website. This section usually explains what are the signs of problematic gambling and a questionnaire which can help consumers evaluate their habits. It also displays a variety of handy tools players can use, such as deposit, wager or loss limits, cool-off, reality check, and self-exclusion.
Although this certainly doesn't guarantee no problems will occur at all, it does indicate that such an environment is player-centric and the one which promotes responsibility. That's undoubtedly a good sign.
Casino
Slots
Roulette
Blackjack
Video Poker
Rating
Loading...
There are no available casinos for requested criteria.
Something went wrong. Please try again later.
Payment Methods and Banking
The official currency of the Falkland Islands is the pound (FKP), and its value has always been pegged to sterling at par. In addition to this, Bank of England coins and notes are accepted in the Islands at full value.
As for crypto, this territory holds the reputation of a "haven" for those looking to trade Bitcoin and other cryptocurrencies. At the time being, the government allows for the market to develop by itself, meaning there are no regulations in place. Yet, some predict quite a bright future for cryptocurrencies in the Islands, as they could help the Islands become more economically independent from the UK.
When gambling online, people mainly opt for casinos that accept GBP, or those where USD and EUR are supported. They can also use crypto, but only if visiting trustworthy casinos with a good reputation among players.
Knowing that most common issues with casinos have to do with payments, players should always pay special attention to banking policy. If one is informed of all the rules in advance, chances to end up in a problematic situation are minimized.
First of all, take a look at the available payment methods and supported currencies. Nowadays, operators strive to include as many different options as possible, to encompass as many different needs and preferences as possible. The offer ranges from credit cards, e-wallets, and crypto all the way to bank transfers and vouchers.
The next in line is max and min amounts for deposits and withdrawals, as well as the potential fees on transactions. Also, some banking methods require ID verification so make sure to complete this process on time.
The Best Live Casinos in the
Best Reviewed
Casino
Rating
Interesting Games
Highlights
Casino Bonus
Loading...
There are no available casinos for requested criteria.
Something went wrong. Please try again later.
What Should Players from the Falkland Islands Pay Attention to When Selecting a Casino?
Some gamblers don't bother at all, and they just decide to make a deposit at the first casino they spot and start playing games ASAP. As the withdrawal approaches, they realize that they will have to deal with a complicated KYC process, insanely high wagering requirements, and other obstacles.
No player likes ending up in such a scenario, and there's a way to avoid it. How so? We already mentioned how important is to examine payment policy and responsible gambling section, but here are a couple of more directions that you can follow:
Stick with licensed casinos only- gambling at an unlicensed platform is a

 

risky business
Check out the selection of studios and games featured in the operator's lobby
Take a look at the bonuses, promotions, and accompanying rules
See which channels of communication with the customer support department are offered
Access the site on a mobile device, to see how it performs on different platforms
All in all, an investigation like this requires 10-15 minutes of your time. That's not much knowing that in return you will deposit and play games at a casino that perfectly fits your demands. Have fun and gamble responsibly!
FAQ
Is it legal to gamble online in the Falkland Islands?
The Falkland Islands haven't regulated their gambling industry yet, so gambling is neither legal nor illegal. As there are no locally licensed sites, people usually visit foreign betting platforms.
Is demo play available in Falkland Islands-friendly online casinos?
Players from the Falkland Islands can use demo mode to explore versatile casino games. Do mind that some operators require registration to be able to access demo mode, while others allow it to both visitors and existing clients.
What kind of online casino bonuses can Falklanders claim?
Most popular bonuses include welcome offers, no-deposit bonuses, cashback offers and reload bonuses. Operators often offer boosts on newly added games, giving players sets of free spins or bonus cash to explore them.
Can Falkland Islanders gamble on mobile devices?
Gambling on mobile devices is popular everywhere around the world, including the Falkland Islands. Almost all releases and bonuses found on the desktop version are available on smartphones and tablets, providing the finest casino experience on the go.
What are the most popular online casino games in the Falkland Islands?
Falklanders like slot games, but they also play table games, poker, and live games.