Evoplay Entertainment

To visit Evoplay Entertainment official website, click here.
About the Company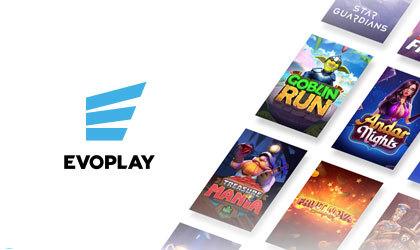 Evoplay Entertainment is a fairly young online gambling game development studio that launched its current iteration in 2017. We do see company activity going back quite a bit further though - as far back as 2003.
With development labs in Kyiv, Ukraine, and an office in Malta, the firm has launched about 100 slots as of late 2020.
While awaiting their UKGC license the company was able to attain certification by eCOGRA for their random number generator (RNG).
The studio's origin story isn't widely known, but the "Evo" in Evoplay is short for "evolution" which tells us a lot about the direction the company is going, forward.
The tagline is simply "Evolutionary Gaming Experience" and to make it true they set out to revolutionize the iGaming experience for players.
This was proved at ICE 2018 when the first purpose-built 3D/VR slot games in the industry were unveiled.
They proved it again with the release of Dungeon: Immortal Evil 
Markets continue to grow with partnerships and distribution deals with near-global deployment online in Asia, the former Soviet states, and Europe as a whole.
The ship's captain is Ivan Kravchuck and the lead game designer is Evhenii Bal. The Chief Business Development Officer since the summer of 2020 is Vladimir Malakchi, a startup expert with plenty of experience in development and expansion including blockchain company development.
There are more than 60 team members including 2D and 3D artists and animators along with the contingent backend developers to support their work. Some of the companies that Java, TypeScript, and Unity specialists have contributed to include BOSS, Another Games, iSoftBet, and Digicode to name a few.
Tie-ups to expand the firm's global footprint include Slotegrator, Ously Games, Mr. Gamble, SixSlots, Nektan, SoftGamings, and SlotsMillion to name a few.
In addition to ICE events in London, they have also presented in Johannesburg, and have representation at Sigma and other important industry events.
It's not usually long after such appearances that we see announcements in the media of new partnerships being secured with the company's footprint expanding accordingly.
Software and Games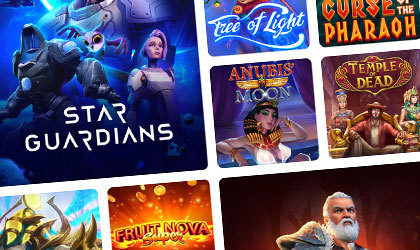 Whatever magic goes into the creation and delivery of the games, they end up able to be played in any web browser on any device - tablets, smartphones, (iOS or Android), laptops, Mac or Windows PC.
The games have an adaptive design that allows them to recognize your device through your browser so the package is delivered in an optimized manner specifically for your device. The game software adjusts to you, so you don't have to tweak anything, download or activate any plugins, or worry about the security of your personal system.
If you run an old monitor at 720p the games will adjust but they are also capable of stunning 1080 HD which can bring the animations and visual effects to a level never seen in the older download or Flash games.
The development team doesn't rest on its present success and tries to stay ahead of the curve with constant innovation.
In mid-2020 they announced the launch of a new game engine they have dubbed, "Spinential".
The new engine allows developers to integrate all of their unique mechanics into a single dynamic tool. Creating the ability to produce 3D and traditional games on the same engine will help them deliver titles to the market much more quickly.
Fluffy Rangers was the title they chose to debut the new engine. We'll take a look at the game's qualities a little later on this page.
While operators and the accounting office will enjoy the benefits of games with multi-dimensional visual effects arriving in-game portfolios sooner, players will also enjoy faster load times and higher quality games - the bottlenecks have been removed.
The games
Many developers nowadays stick strictly to slots, but Evo also makes table games and instant games. We'll take a look at the oft-times overlooked instant games first.
Mafia Syndicate
We looked first at what appeared to be the most rudimentary instant game with a flat but colorful splash screen - Mafia Syndicate.
The title sits right next to a deeply rendered 3D title, Bomb Squad, in their portfolio so the contrast was intriguing.
However, when the game opened it was anything but a drab, two-dimensional, colorless "scratch card".
In the left column are cards that are "on the table" each hidden under one of eight 3D Sheriff badges. The target cards are shown along with a number of iterations of some characters.
The goal is to find the Boss and open as many paying cards as possible before finding the Killer.
Choose cards (badges) one at a time or hit the "random" button to have the game do it for you. Finding a Boss will award a bet multiplier which increases with each of the five-game levels ending up with 150x bet.
It's not simply the odds of finding a "killer" that increases with each choice, but the possibility does too - making each progressive level much harder to win.
Cash out at any level or go for the gold - but you may want to think twice before taking a risk to win 150x when you already have 50x.
Provably Fair
Players can use any sort of SHA-256 hash generator to check the game's fairness. The History tab in settings will show the results of all historic games.
Bomb Squad
As expected, this animated game was rendered in 3D. A bomb with 4, 6, or 8 wires is presented while your hands hover over the device with a pair of wire cutters.
The music is tense and the graphics and sizzling sound effects are spot on.
Like any gambling game, the higher the risk, the higher reward. Prior to starting the game, choose easy, normal, or hard.
The easy game has 4 wires - one of them is neutral, two will award a prize, and one will end the game. The configuration becomes more difficult as you advance on the spectrum of volatility with the hard version comprising 8 wires but half of them will kill you, two of them are neutral, and two of them will pay you. Get it on your first two snips and the 2.52x multiplier will become 3x instead.
In a word, brilliant. In two words, simply brilliant.
Table games
The studio has developed a nice selection of table games to date, just under a dozen.
Texas Hold'Em 
Texas Hold'Em Bonus
French Roulette
American Roulette 3D
Euro Roulette
Baccarat
Blackjack Lucky Sevens
Oasis Poker
Oasis Poker Classic
Teen Patti
Russian Poker
While the house edge is twice as fierce on the American Double Zero version of roulette, the title including "3D" helped us choose this game first.
As expected, all of the odds and rules are standard and the RNG is certified by eCOGRA, so it's as good a game as any to play if you don't mind giving up a bit in return to spin the American version (never).
Our game loaded fairly quickly, but the presentation was somewhat disappointing. Yes, "3D" and a moving camera, but more like a video game than a realistic endeavor.
To be fair, the title didn't read, "Realistic American Roulette 3D" so we can't complain. The physics were good but the animations were a little jumpy when it came to a closeup of the bouncing and landing ball.
That said, it would have to be a VR or AR title with a great immersive experience before we would buy that second zero on every spin.
Texas Hold'em
The splash screen for this game looked rich, so it was the next choice.
The theme music was a whiskey-slow twisted banjo and steel guitar riff. The mood music is spot on with your pocket watch, cowboy hat, six-shooter, and holster sitting on the table to either side of the betting area.
The gameplay intensifies properly with the camera zooming in on the deal, flop, turn, and river. The cards are stylized for the era and the overall cartoonish or more aptly video-gamish experience works well for the game.
Slots
Great variety here from simple three-reel spinners to multi-line video bonus slots with advanced feature mechanics. We'll take a look at two fo them here and you can find links to more in-depth reviews of other games below.
Alternatively, you can follow the links to Sprinkle and Book of Rest.

Fluffy Rangers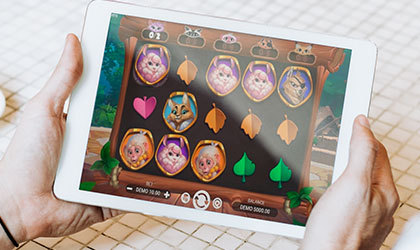 Always working toward player engagement and enjoyment while making their name known further and wider, players can now download an Instagram face filter to help get into the mood of one of the game's lovable characters.
Five characters compete for the title of "Knight of Rabbitland".
Drago the coyote, Katara the sheep, Lin the monkey, Shu Shu the raccoon, and Shadi the lynx participate in the game.
By the numbers, the title has an RTP of 96% and low to medium volatility. That should give players plenty of time to fall in love with it. It's a 5x3 with 20 paylines, a hit frequency of 26% (one in four spins pays something on average), and a free game bonus every 144 rounds.
Game celebrations include Big Wins (14x), Huge (25x), Mega (50x), and Super Wins (100x) occurring from 1 in 76 to one in 2,632 spins.
Dungeon Immortal Evil
This game was released in FULL HD (16:9) in February 2020. It has an RTP of 96.3% and "High Medium" volatility. Free games come around once in 175 spins rather than more often in the previously mentioned game, but the hit frequency is a little higher at 30%.
Rather than spinning reels, you will launch your character into a world of troubles and enemies.
There are two bonus features
While it is mathematically exactly the same as playing a spinning reels game, the events that occur on the screen couldn't be more different from that experience.
Imagine a slot spin that returns nothing... now imagine that math being illustrated in an animated game where you achieve nothing for that "spin".
Now imagine a once-in-a-lifetime jackpot spin. Instead of lining up 5 expanding wild jokers, or whatever slots display might go along with it, you see your character slay the top Boss in a rousing battle.
As for the maths and mechanics...
The win celebrations come along far less frequently, but unfortunately, we don't have enough information to say just how much you'll win (xbet) every 4371 times on average that you hit the big one.
We can tell you that the highest payout is BOSS at 5,000x
The game itself
They've done an excellent job here of creating a role-playing game with a variety of events that may make it feel as if skill is involved in the outcome.
Alas, it's 100% RTP-driven and no matter how craftily you choose your options, you won't be able to increase your chances of winning.
Your best bet is to know the volatility, hit frequency, and how often certain events occur so you can adjust your bet size to your bankroll and enjoy the game as long as possible on your current budget.
The max payout is 300x more likely to occur in the "free spins" bonus than in the base game, and the Mimic Bonus will occur at a frequency of about 1.5x more pattern than the main game jackpot.
There seem to be five levels you will need to fight through in order to reach the Boss. Play during each level can unlock bonus achievements.
Each level has a randomly determined award (payout) and when you complete the level you will find a chest that contains a health potion (your health deteriorates in each battle), an armor upgrade so you can withstand more abuse on the next level, and a new weapon (you'll need it because the battles get tougher and tougher before you meet the Boss.
The Final Analysis
We haven't had a chance to try their AR or VR titles, but with what we have seen it's easy to say there's some EVOLUTION going on here.
There's a lot of tech behind this final iteration of the company as we see in a historic overview of their earlier acquisitions of everything IT and beyond.
Now, with a creation and deployment force of at least 70 known team members, a portfolio approaching 100 games, and a business development plan headed up by a seasoned scaler - we think the games will become far more well-known soon.
While hash/BTC-oriented concerns can achieve broad coverage globally, most of the operators in the crypto realm are smallish. Securing a software/games license from the Gambling Commission in Great Britain may be just the door that needs to open.
In the meantime and afterward, we'd be very excited to see more non-spinning slot maths model games come out of their foundry and especially excited to see them developed in VR and especially augmented reality.
This is Evoplay, this is an Evolution.
Evoplay Entertainment Games
Currently, we have

casino games

available to play and over

casino software developers

. Let's get started!
Casino Games
&nbsp
Evoplay Entertainment powered online casinos
Loading...
There are no available casinos for requested criteria.

We're showing casinos that accept Evoplay Entertainment restricted by your country. To remove that condition click here
Something went wrong. Please try again later.