Dragon Gaming

To visit Dragon Gaming official website, click here.
About the Company
Dragon Gaming launched to the online gambling world in 2019. The company is based in the Philippines and produces content in 25 languages supported by dozens of currencies including Bitcoin and other cryptos.
While you might expect a Manilla-based studio to focus on Asian markets first, one of this firm's initial forays into widespread distribution came with a Caribbean-based sports and casino group, Commission King.
The group's main focus is in Europe and the Americas, but they do have one Asian-centric site in TigerGaming.
Along the same lines of marketing their games through BetOnline.ag, SportsBetting.ag, SuperSlots.ag, and WildCasino.ag we see them appear at the highly popular Sports and Casino alongside slots from Rival, Betsoft, Saucify, and Arrow's Edge in most markets (US/CA/AU) as well as Fugaso, Felix, and Tom Horn in the regulated European markets.
Dragon Gaming slots are available to players in the USA.
We don't currently have access to individual artist's portfolios or the bonafides of any of the technical team aside from the CTO and marketing manager so we'll have to explore the elements of the games from a layman's perspective in maths models to a consumer perspective in aesthetics and then see how it all fits together in the final product.
We do know that the team has over 15 years of experience in producing online games, either as an in-house team or a third-party developer for a well-known brand.
While the direction is laser-focused on creating and making available their own proprietary content, the studio will still take on the occasional bespoke game project for another studio. But again, their overarching mission is to create their own games and provide them to operators under licensing agreements.
Expect to see more distribution and aggregation deals as the games catch on with players. There more available the games become, the greater the demand should be.
The Software
The site states that their proprietary random number generator is fully tested and independently certified. While we don't find a link to their RNG certification, that could be due to using the algorithm of their former studio, but that is just speculation. If the site is updated with a link to that document we will update this section.
The games are built and delivered in HTML5. This means that all of the games can be played in a regular web browser with no special downloads or plugins needed.
The sound effects and music studio is located in-house so all of the audio is under direct control of managers to ensure the highest quality integration into the game worlds.
The games
First, we'll look at some of the elements all of the games have in common. Then we'll look at variety in terms of theme, maths, and bonus mechanics. The user interface, game volatility, and innovative bonus mechanics are the focus.
The first thing we find that all games are multiplatform. While developing in HTML5 makes that possible it's not "automatic". A 16:9 aspect ratio would indicate at first glance that the resolution is 1920 pixels by 1080 (or 1280x720). However, we find High Definition at play here with a full 2560x1440 display.
That sort of resolution means your handheld device will sparkle with clarity, but it also means your HD desktop monitor will lack nothing as the game will be optimized for whatever device you are using.
The games load with an introductory screen, giving players a chance to get a feel for the elements involved.
The artwork and soundscapes are reminiscent of RTG slots with some elements such as the bubbling green cauldron with a bone sticking out (slot lever) on Wicked Witches highly similar - of course, that could have been arrived at independently because as clever as it is, it is also "obvious"
The interface itself is minimalistic without ignoring any special features. In short, look for a bog-standard layout to include a max bet button, spin/stop, and autoplay along with sound control on the right and game info on the left. Activating max bet does not spin the reels, but requires an actual spin.
Extra animations such as lotus flowers floating over the reels like a dragon swimming through air accent important events and embellish regular gameplay at judicious and well-placed intervals.
Many bonus features are multidimensional with several stages of enhancements possible. Look for bonus within a bonus action including all of the usual suspects such as extra or increasing multipliers; moving, expanding, and sticky wilds; additional free spins, and more.
Basic win celebrations are reward-appropriate and won't waste your time or tie up the screen for minor wins. However, the spin button is not immediately available after any win. Big wins are celebrated as they should be, with fanfare and requisite pageantry relevant to the particular theme.
Reel layout, etc.
The first four games we tested were played on 3x5 reel sets and each had 10 fixed pay lines. The fifth game, Fruity Feast Slots had six reels with five positions each and paid in clusters. During free spins, we triggered sticky cluster respins and spawning wilds for a very high payout.
One of the newer games as of review time had five reels and two rows with 27 fixed pay lines. While that may seem like an "odd" number because it is, since pay line counts begin with line #1, the total count must be "odd" in order to have symmetry. So odd becomes even.
Other 3x5 games had 20 or other fixed pay lines but only one title we tested allowed the player to choose the number of lines in play - Mythical Creatures. This may be down to the fairly complicated bonus mechanics and the difficulty in applying them to user-selected pay lines.
While it may not be much of a reach for a quality maths lab to accomplish, player understanding would likely suffer and be more trouble than it's worth. That, in addition to the potential for operator exposure to the occasionally lucky high-risk player, seems like reason enough to withhold that element of player control with such advanced feature mechanics in play.
Empire of Riches uses a 5 reel set with 3x4x5x4x3 rows and 57 fixed pay lines.
Maths
The game volatility was medium to high and very high on all of the games we explored. That's not to say that there aren't any purely low volatility games in the library as we didn't test every title.
The models used are very interesting to curious slots players. While we played several games with medium volatility, a few of them couldn't have played more different from each other if one was low and one was high variance.
The hit frequency as well as the feature trigger frequency, along with what percentage of the RTP (theoretical return to player percentage) is awarded in base game and bonus rounds can allow games with similar layouts, RTP, and volatility indexes to provide entirely different gaming experiences.
One example of this is in the medium-risk game, Empire of Riches. In hundreds of spins and respins we never landed a high paying symbol combination until triggering the bonus round where the respin mechanic carries over but also provides an incrementally higher multiplier with each subsequent respin win. Hitting nearly a screenful of high-value symbols made the game feel like very high variance after all the tiny wins during the base game.
Bonus mechanics
For the most part, bonus features are triggered by three scatters. Some of the titles have active features during the base game as well such as random wilds, sticky wild respins, and simple respins of all but the winning symbols.
Some games, such as Winning Vegas are stuffed full of bonus features for those who like to hear the bells rig and the whistles toot often. Random Wilds, Random Multipliers, a Matching feature, and a Mega Symbol feature keep the game popping between free spins rounds. Trigger that feature to spin a fortune reel to determine how many spins you'll get and play a mini-feature on each bonus spin.
Some of the mechanics seem to be carried over from game to game and with less than ten games tested we happened upon what appeared to a be at least one instance of cloning. Wilderness Wins appears to be built on the same engine as Empire of Riches.
All known elements except the eye and ear candy seem to be the same down to the unique 57 pay lines left to right (rather than 720 both ways we'd expect to see on this configuration) to the RTP.
Of course, as mentioned above, there are many unknown elements such as hit frequency, number of lower or higher paying symbols on the reel strips, and the percentage of RTP derived from base play and bonus rounds. But - the paytable and every knowable element are identical.
The Final Analysis
We look forward to exploring more of the games with an eye toward determining a favorite or two. If pressed for a favorite game today it would be Mythical Creatures.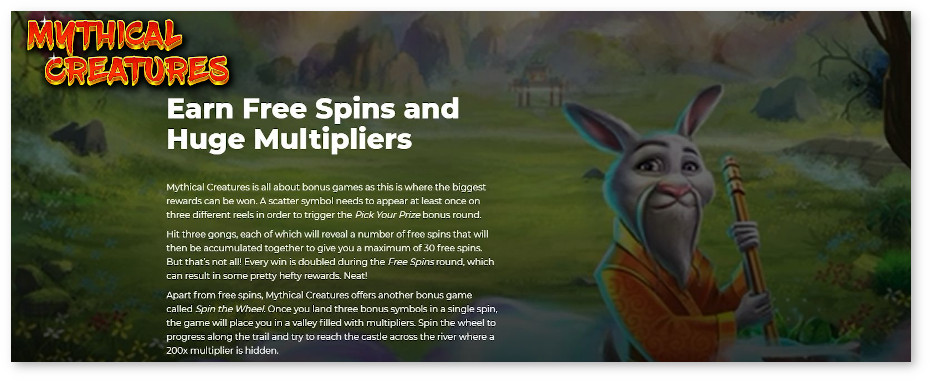 All in all, the package so far is far better than "pretty good". The art and animations are totally decent and the audio is well produced and executed in a way that adds to the gaming experience.
While it was disappointing to find two games with such similar-looking components under the hood, we don't know if one is turbocharged for certain kinds of wins or not. We did have more luck in the base game than the feature in one versus the other, but that would be down to luck even if they were completely different.
It's not often that players in the US and Australia have a chance to try new titles from such an accomplished provider in a new skin, and we will be sure to play at Sports and Casino from this desk again soon.
Our Canadian desk has many more options but these games may be added as a favorite with more gameplay - and of course, a few big wins to seal the deal. I for one, only have a few love/hate favorites with the rest of the slots out there cherished or ignored.
Dragon Gaming Games
Currently, we have

casino games

available to play and over

casino software developers

. Let's get started!
Casino Games
&nbsp
Dragon Gaming powered online casinos
Loading...
There are no available casinos for requested criteria.

We're showing casinos that accept Dragon Gaming restricted by your country. To remove that condition click here
Something went wrong. Please try again later.