Black Pudding Games

To visit Black Pudding Games official website, click here.
About the Company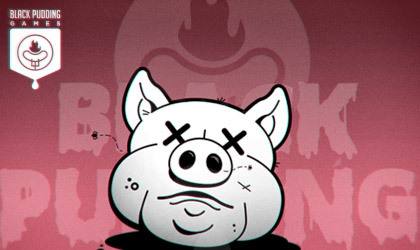 Black Pudding Games (BPG) is a young online slot developer comprising the talents of dedicated industry veterans.
Nathan Howes, Dan Nyman, and Luke Taylor founded the Norwich, Norfolk, UK company in 2018 with a dedicated common eye toward abandoning existing constraints and creating the games of tomorrow.
The trio brings an accumulation of over three decades of experience in gaming with firms like Castle Keep Gaming LTD, Probability Jones, Kerching, and Stan James to their credit.
Howes' main thrust throughout the years was in marketing, a necessary component of a successful game developer. It may have been his expertise that landed his company a partnership with the 1X2 Network.
It not only opened the door to operators already carrying 1x2 subsidiary Iron Dog Studio games, but it also gave the team access to "...one of the most sophisticated and well-established remote game servers in the industry."
Nyman's previous work includes the founding of Probability Jones in 2012, where he carried on until the most recent venture. Probability Jones developed unique original games for single and multi-play use in land casinos as well as online venues.
His architecture and development sense saw over a dozen distinct games go out the doors to be deployed by some of the biggest names in the industry. Some titles to his credit include Super Expanding Scratchcards (Lucky Gems, Pots O' Luck, etc., PJ), The Everlasting Scratchcard (PJ), Six Shooter (1x2), and Blackjack Players' Choice (1x2), among many others.
Taylor is a graphic designer and media expert who worked at Tournament.com as well as going on to be a Director at Castle Keep Gaming, also located in Norwich.
If you know what black pudding is, it might be a favorite charcuterie treat. If you aren't familiar with the firm's traditional namesake counterpart, we'll just say BPG is "not just another bloody sausage factory".
Software and Games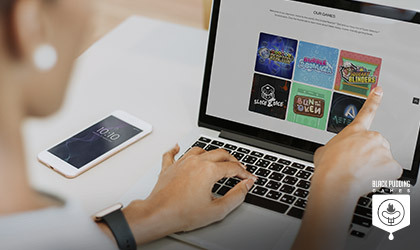 The firm's website doesn't go into any detail on 'what goes into the pudding'. However, since all of the games are "instant play" titles that can be spun using any web browser, we'll go out on a limb and say the final coding is in HTML5 with some javascript behind the scenes.
The Games so far...
As we saw the deconstruction of the traditional online scratchcard model at Probability Jones, it's no wonder that this "slot machine" is another animal altogether.
Aeterna is an Orbital Reactor™ game - in fact, it is the world's first such beast. Rather than simple reactions seen in games released previously, this critter offers an orbital paypath with cascading reactions.
Say, what..?
The payout potential is theoretically unlimited but infinity cubed is not a probability we want to try to tackle, so we'll just stick with words on this one.
The game has an orbital paypath. When you match three or more symbols on it adjacently, a reward is won and a chain reaction has begun. Each subsequent win is augmented with an escalating multiplier and the only whammy is the mathematical near-certainty that the chain of events can't go on forever.
Or can it..?
There's also a "Twin Win Booster" Bonus. This is an Interactive element that randomly upgrades a couple of different three-of-a-kind wins to become a single six-of-a-kind win for a bigger payout.
Okay, awesome, what else..?
Bonus spins of course, but not your run-of-the-mill "free spins". The outer ring changes from displaying reaction multipliers into a wheel of fortune with anywhere from 5 to 30 bonus spins. Unlimited retriggers are theoretically possible and all wins are doubled.
Okay, that's it, they can retire now with one of the coolest not-slot-slots out there, but I sure hope they don't!
Being a fan of well-executed futuristic games, it seems like the very best of them come from little-known providers.
Scratchcards
Yes, they launched three "scratchcards" within their first four games. But as we'll soon see, these are anything but ordinary scratchers too.
Bun in the Oven
This is one of their Super Selector™ Scratchcards. It's a Match 3 game with a theoretical return to player percentage (RTP) of 96%. The max payout is 1,000x bet and the betting range is 0.10 to 10.00 per play.
The "Super Selector" Bonus functions in the reverse of a boobie prize. The fewer picks used to reveal the win, the higher the reward. That's rich for a bakery game that can go up in flames.
The autoplay facility also includes custom patterns so you can pick your own way to win when you set the game free for a designated number of plays. The game has a hit rate of 25% so, on average you'll win something on one out of every four plays. That should keep the interest up as long as it is paying.
Slice & Dice
Another Super Selector Bonus game but with a humorous, if dark, theme. The game parameters are the same as Bun in the Oven but the imagery is, well, twisted.
Actually, aside from the theme, the actual gameplay, and whatnot - it's a mathematical clone of the other games, but that's scratchers for you!
Three Blind Mice
The game puts you in the persona of the spouse of the baker in Bun in the Oven. Your job is to hunt down and get rid of the pesky vermin that are wreaking havoc in your family bakery.
Take aim with your trusty shotgun that miraculously shatters the plate and leaves the mice in one piece so you can see their colors. Plus, nobody wants to hurt the little mice, just get them out of the kitchen.
Match 3 of the same mice among the 9 that are hiding behind the plates to win the round.
The Super Selector Bonus still pays more for winning in as few turns as possible, so hurry up and win already!
Bet big or small, the fun is the same for players with any sized bankroll. Win up to 1,000x your bet no matter how large or small.
The Final Analysis
We were extremely pleased to see the company broach the realm of slots and were not at all disappointed in their inaugural offering. The scratch games are fun in their own right and stand alone as an accomplishment.
The maverick mindset here is just what is needed to boost the quality of games online overall. But the rising tide can only lift all ships and encourage other developers to think outside of the box if the games become popular enough. That's no mean feat for a developer when the competition is unrelenting and prolific.
1x2 Networks should help spread the cheer.
Black Pudding Games Games
Currently, we have

casino games

available to play and over

casino software developers

. Let's get started!
Casino Games
&nbsp
Black Pudding Games powered online casinos
Loading...
There are no available casinos for requested criteria.

We're showing casinos that accept Black Pudding Games restricted by your country. To remove that condition click here
Something went wrong. Please try again later.