Aurum Signature Studios

To visit Aurum Signature Studios official website, click here.
About the Company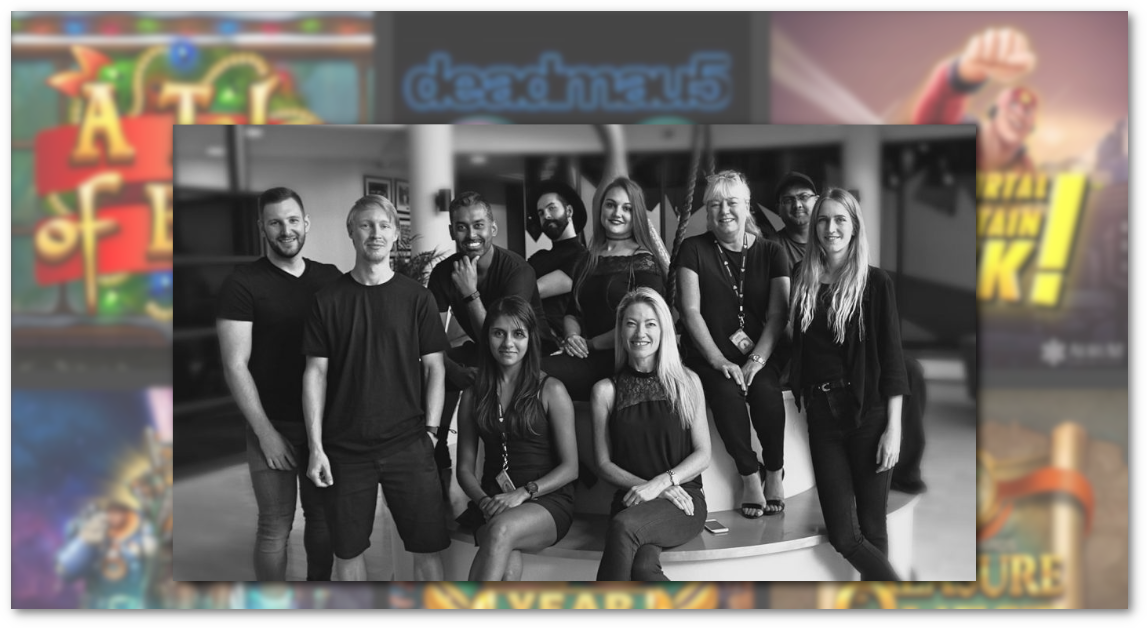 Aurum Signature Studios is a bespoke game creation studio working with Microgaming to create content exclusively for the Isle of Man company's operators.
Headed up by Madelein Ozok in Johannesburg, the studio would appear to be a subsidiary of Derivco South Africa. Derivco is the software arm of Microgaming with headquarters in the Isle of Man and offices around the world.
The firm was launched and began developing games in early 2019. The team seems to comprise 10 members, however, we do not currently have access to their CVs.
Ozok's career, however, can be parsed well enough to see that she is a lettered and accomplished manager and director with about two decades of experience in the South African casino market beginning with Aristocrat Technologies Africa in 2003, followed by a long and award-winning tenure with Sun International, as well as a top position at SA's DR Gaming Technology (DRGT) prior to signing on to head up Aurum.
Software and Games
Visitors to any of the Casino Rewards properties may have seen one or two of their bespoke creations such as the branded title Casino Rewards 20 Year Celebration slot or Treasure Quest.
Another branded title created by the studio is The Immortal Captain Rizk! They also worked with Eurostar Studios on deadmou5, the electronic dance music slot debut announced along with the Eurostar/Microgaming Studios partnership.
While we find many of the nascent studio partners have ties to Microgaming proper or Derivco in particular, the management of the studios tends to draw talent from diverse geographic areas with a focus on quality and new content over forming teams completely from the internal ethers of the giant company which employs over 2,000 people.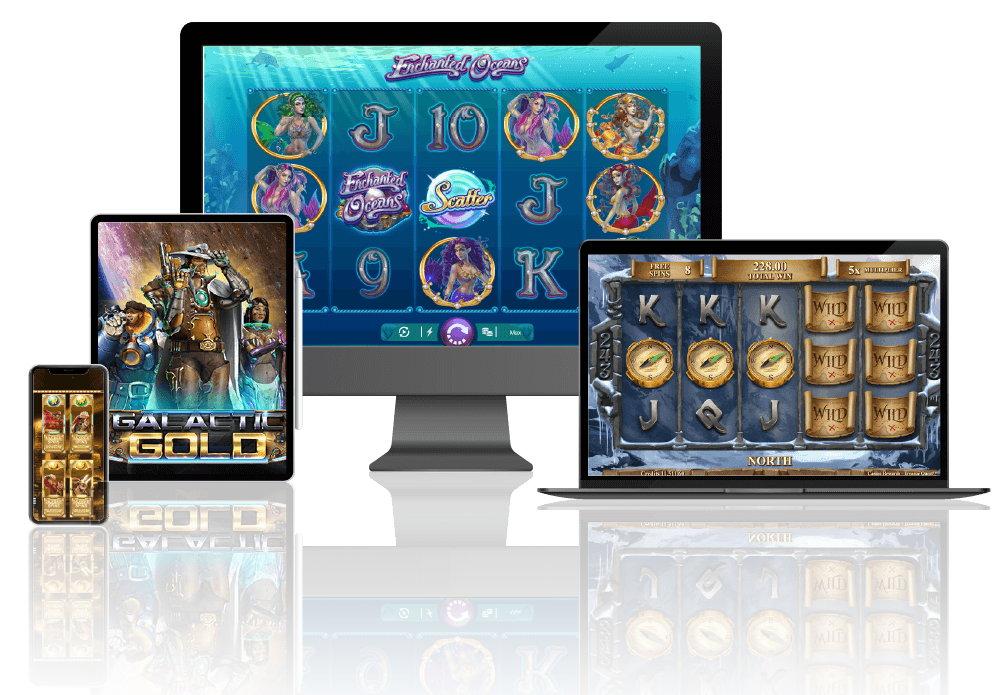 What separates this studio from the dozen or so others in the partnership, is that their forte is in creating bespoke titles for specific properties and brands - "exclusively for individual operators".
However, the team has not limited itself to that singular proposition. They have also created several other games such as Enchanted Oceans, Galactic Gold, and A Tale of Elves with no particular casino branding.
Some of the basic, bonus, and feature mechanics used on the games include Bonus Progression, Progressives, Rolling Reels™, Stacked Symbols, Lines, and Ways.
Each game draws from the list with yet to be released titles sure to include more and newer features.
Let's take a look at some of these mechanics and features and how they are used in the current portfolio of games.
Bonus Progression: Captain Rizk, Casino Rewards 20 Year Celebration
These two games couldn't be more different in some ways. While they both use bonus progression and offer 243 ways to win - One is medium volatility with an RTP of 94.12% while the other (Rizk) is extremely volatile and has an RTP of 96.68%.
So...
What is Bonus Progression?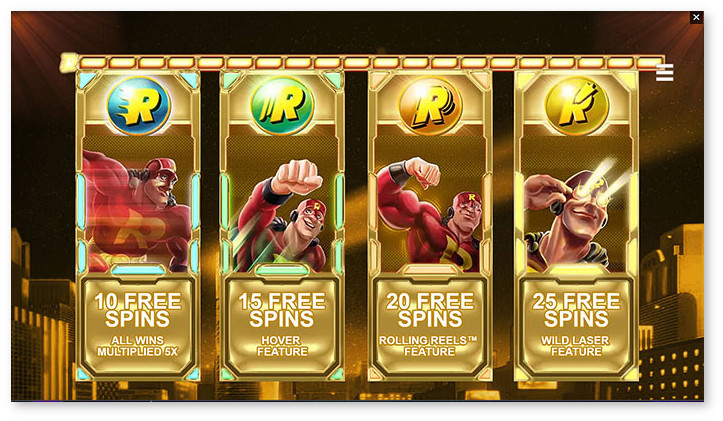 It's simply a method of offering potentially more lucrative bonus rounds with subsequent bonus triggers. In The Immortal Captain Rizk, we see the progression become available on the 5th trigger, the 10th trigger, and the 15th trigger.
Various enhancements are added with each bonus progression. Each progression adds various multipliers, Rolling Reels, and additional wild features.
Play the game long enough to trigger the Wild Lazer free spins and you'll get 25 spins with the laser turning symbols on the central reel wild. Landing more scatters awards more free spins.
Progressives - Galactic Gold
This low volatility index, low RTP (88.12%) game features four different progressive jackpots that can be won during the bonus game. Trigger the bonus round to spin a fortune wheel for prizes ranging from small to large.
Rolling Reels appear so far on three games - deadmou5, Captain Rizk, and CR 20 Year. This feature can come with or without a multiplier trail.
In essence, it's simply a matter of paying a winning line and then removing the participating symbols and refilling the reels with new symbols from above.
When part of a multiplier trail, each subsequent win on Rolling Reels without a dead spin in between can be worth 5x, 10x, etc.
Stacked symbols can be regular, high-paying, or wild symbols. They can take on other magical powers depending on the configuration but it's basically just stacks of the same symbol on a reel.
A Tale of Elves, CR Treasure Quest, and the Eurostar/Aurum collaboration deadmou5 all feature stacked symbols.
Ways or Lines - The games will either have virtual pay lines such as 243 ways to win, or traditional pay lines. On a 3x5 reel set, there are 243 ways to form a winning combination as long as all wins start on the leftmost reel and it takes three matching symbols on adjacent reels. Symbols can land anywhere on the reel as long as they are adjacent and begin on the first reel.
Bespoke game spotlight
The company states that they can create a unique game just for the players at any given casino. The games can be delivered in 4-6 months.
The games include bespoke themes, features, and designs specifically for a gaming site along with known successful maths models.
The Immortal Captain Rizk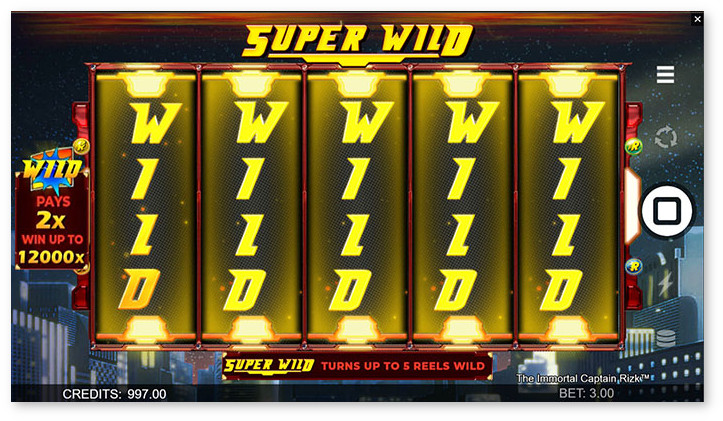 This is not the first time the Rizk Casino mascot has been modeled into a game. The first venture into bespoke gaming for the Immortal Captain was the release of Captain Rizk Megaways by Red Tiger Gaming. The studio secured one of the first outside licenses to use Big Time Gaming's Megaways mechanic. It too was a highly volatile game.
This version uses Microgaming feature mechanics that are popular across several other slots such as Immortal Romance (IR) - in fact, it's arguably a clone of the vampire game.
I say 'arguably' because the company data on the Rizk slot states that the RTP is 96.68% whereas one known baseline RTP for Immortal Romance transposes the decimal numbers as 96.86%.
We're not so sure this is actually a differentiation since Microgaming states a range of RTP for IR of 96.01% to 96.86%. This is likely down to the bonus progression feature with one of the choices providing better returns and another providing worse, with the other two possibly somewhere else within that range.
All of that said, it's a phenomenal game, but not designed for the faint of heart. It can eat you alive and spit you out or give you the thrill of a lifetime.
It's not just the volatility, it's the magic of the other feature potentials coming to bear, sometimes together.
Super Wild - The Cap'n flies over the reels turning them wild
Random Wild
Rolling Reels
Multiplier Trail
Wild Laser
Bonus Progression
The conclusion is that if you don't like vampires and romance but you do like smiling superheroes, well, play this one!
Off the rack slots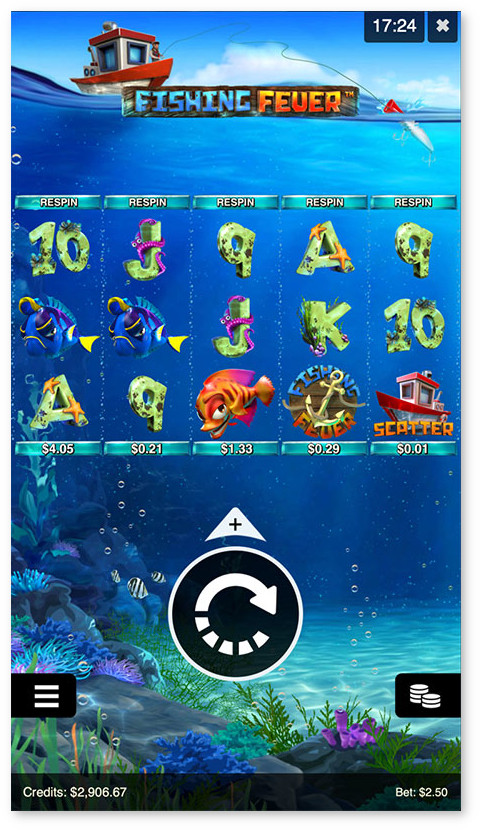 We took a look at Enchanted Oceans (9-lines, 15 free spins), Fishing Fever (243 ways, 15 free spins, buy respins), and A Tale of Elves (243 ways, stacked symbols, choice of bonus spins) and decided to look more closely at the latter first because of the choice in bonus spins.
Land three scatters to choose 8, 10, 14, or 18 spins with respective multipliers of 5x, 4x, 3x, or 2x. This is a fairly common choice and the decision - retriggers aside - is usually based on how lucky you feel at the moment. The lower number of spins (8) with the highest multiplier (x5) is the obvious choice for the high-risk player and vice versa (18/2).
However...
The choice also comes with an inverse number of stacked symbols with only three on the 8/5x and six on the 18/2x choice.
Decisions, decisions, decisions!
The 'buy respin' feature on Fishing Fever features an option to purchase a 'Hyperspin' to independently respin a reel of your choice. The cost is based on the odds and can be quite high. It's a great Hail Mary move when you're near the bottom of your bankroll or a nice way to spin off some winnings in the hope of collecting more.
The Final Analysis
Aurum Signature Studios is currently the latest addition to the Microgaming family of Studio Partners. They're in good company with the makers of some of the most popular games of today.
We were pleased to see that the studios contributed to the deadmou5 and Eurostar game featuring two songs from the EDM star.
While the potential for Microgaming to return to an occasional clone factory seems to exist with the Rizk/Immortal Romance similar slots, perhaps that's not such a bad thing after all. There are only so many mechanics and maths to mix for truly unique slots. While we will always herald the true innovators, I, personally, would choose The Immortal Captain Rizk over Immortal Romance every time.
Better, would be for them to create an AI that would access any file of your own images or any library and paint bespoke My Slots onto any of their engines along with your favorite soundtracks.
Read about their release of Jungle Mega Moolah.
Aurum Signature Studios Games
Currently, we have

casino games

available to play and over

casino software developers

. Let's get started!
Casino Games
&nbsp
Aurum Signature Studios powered online casinos
Loading...
There are no available casinos for requested criteria.

We're showing casinos that accept Aurum Signature Studios restricted by your country. To remove that condition click here
Something went wrong. Please try again later.