Slotmotion

To visit Slotmotion official website, click here.
About the Company
SlotMotion is an online casino game developer with offices in Malta. (formerly?) a part of the iGaming Platform (iGP), the studio is headed up by iGP founder and CEO, Giovanni Paticchio.
The Saint Julians-based firm was launched in 2017. Soon after their first game debuted, Al Capone had reached the milestone of €1,000,000 in bets - an average of €100,000 per day for the nascent slot's first ten days online.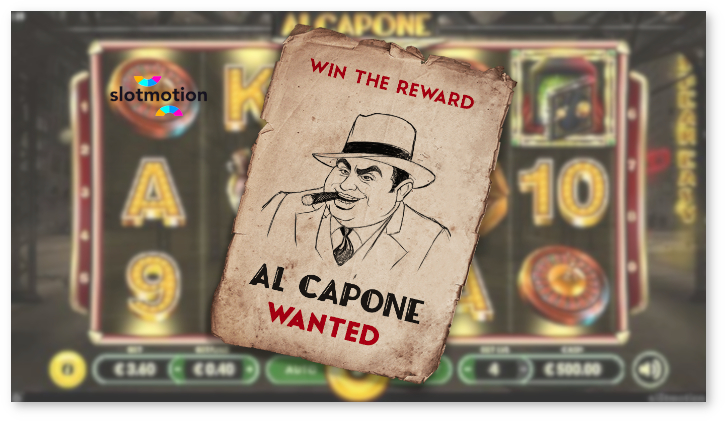 Paticchio and Project Manager Raffaele Rampini must have known they had a good thing going and they looked on track to produce 20 such games within their first year of active operations.
That volume simply didn't come out of the labs, and it's not clear why they have not met the goals on their roadmap. After about two years we saw less than a dozen slots in their online portfolio. However, they did manage to get the games into more than two dozen gaming sites at one time.
SlotMotion may be a company in transition...
As of review time, we were unable to find even their most popular title at any of the casinos that had formerly carried it. That's not to say it is no longer in circulation, but the firm's catalog seems to have, at least temporarily, been removed from most if not all internet gaming venues.
This can occur for a variety of reasons, benign or otherwise - including but not limited to contract/licensing disputes, intellectual property issues, or a host of other voluntary or involuntary actions. While many developers and property owners prefer to keep their brands live and in the gambling sphere during a sale or rebranding exercise, that is not always possible, nor is it always preferable for business purposes.
The website security certificate for slotmotion.com is still valid, yet the page attempts to run unauthorized scripts, which can simply be down to a coding error when a site is in transition.
In the past, we've seen several operators (and providers formerly associated?) with iGP rebrand, change licenses or otherwise reorganize operations. All have maintained quiet status quo and/or otherwise exemplary track records since that time.
The Final Analysis
While (forensic) research tells us that iGP was at least at one time intricately related to SlotMotion, the iGP site now only makes passing references to the brand in an interview ostensively written in 2016.
If and when the studio's titles are redeployed we'll take another look at the offering, until then, it will all likely remain a bit of a mystery.
Slotmotion Games
Currently, we have

casino games

available to play and over

casino software developers

. Let's get started!
Casino Games