Screenshots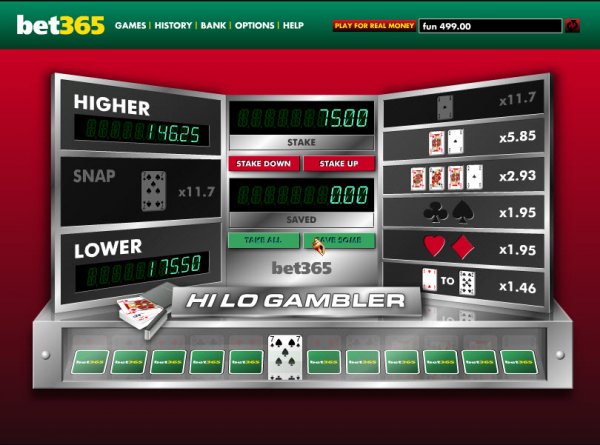 Hi-Lo Gambler
by Realistic Games LTD

Hi-Lo Gambler is very easy to play. The game will show 12 playing cards and your goal is simply to predict which one will be drawn. Choose a stake and decide on one of two ways to bet. The bets on the left allow a simple hi-lo-same choice, and the bets on the right let you predict if the next card will be Red, Black, King or Ace, Ace, a Picture card, or in a run from 2 through 9. Each bet will display odds so play it safe or go for the big returns.
Now you can collect your winnings or 'Save Some' of your winnings or 'Take All' by clicking the appropriate button.
Please check the help file associated with this game to know whether it is a fixed odds or fixed price version as one returns 2:2 and the other returns 1.95:2. Players should also note that free play mode may not behave the same as real money play.
Read more on the WCD Blog