giropay Online Casinos

Giropay is an online payment system in Germany that allows customers to transfer money from the bank accounts to online merchants including casinos. Similar internet payment systems in other countries include Interac in Canada, iDeal in the Netherlands, and Secure Vault payments in the U.S.
The company was formed in 2005 and is based in Frankfort. Most Sparkassen and cooperative banks, as well as Deutsche Postbank, participate in the system.
Most banks use the PIN and TAN system (Personal Identification Number, Transaction Authentication Number) for casino transactions rather than the more complicated two-factor authentication, such as a challenge-response access token.
Online casino deposits and other merchant transactions are instantaneous. Merchant payments are guaranteed for up to 5000 euros.
The payment method is simple, secure, and quick. Consumers who have an account with any of the participating banks can use giropay to transfer funds.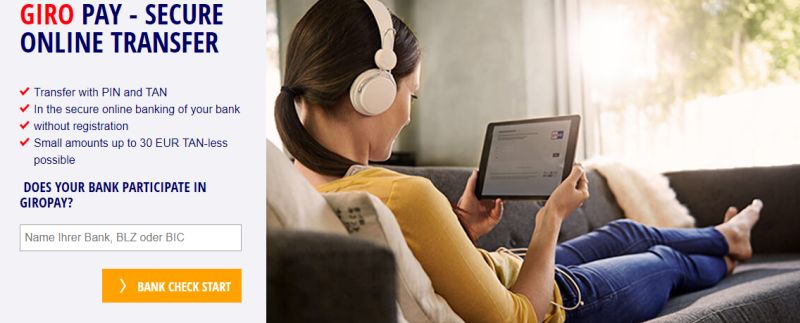 How to use giropay
Navigate to the banking or cashier section of your chosen online casino and enter the amount you wish to deposit
Choose giropay as your deposit method
Select your bank from the options listed
You will be directed to your secure online banking login page where you will enter your account number and PIN
You will be sent a TAN over another medium such as SMS or email (alternately, you will digitally sign for the transaction using the 2-step-token method)
Note: It's now possible to deposit 30 EUR or less without the need for a TAN
The transfer will be confirmed to the casino in real-time from the bank
The customer is returned to the casino banking/cashier page where the funds are visible and ready to be played.
Fees vary but are quoted at 0.9% to 1.2%, plus €0.08 per transaction.
Will giropay work with my bank?
Please visit giropay and enter your bank's name, BLZ, or BIC in the provided field to learn if you can use the payment method.
Do I need a giropay account?
No, giropay is payment gateway. As long as you have an account at a participating bank you can use the service.
Can I deposit in USD?
You will need to deposit using EUR.
Can I withdraw using giropay?
Some casinos will allow withdrawals while others will only accept it for deposits. Check the withdrawal page in the cashier or banking section or contact casino customer service to find out.
What are the fees?
The fees can vary based on transaction volume and other factors. Please visit http://www.giropay.de/ for details.
SHOW MORE
&nbsp
Online casinos accepting giropay as a payment method
Loading...
There are no available casinos for requested criteria.

We're showing casinos that accept giropay restricted by your country. To remove that condition click here
Something went wrong. Please try again later.