Screenshots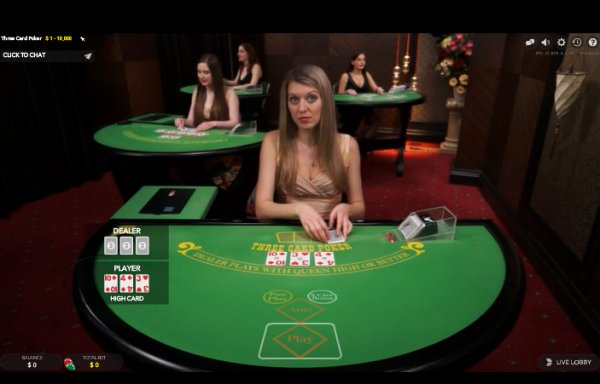 Three Card Poker Live
by Evolution Gaming


Evolution Gaming has developed a strong line of live casino games. One of them being Three Card Poker. They manage to take an otherwise boring game, and turn into a thrilling experience.
In three card poker, your goal is to beat the dealers three card hand. All players place an ante bet to start the hand. In Evolution Gaming's version, you can wager between $1, and $10,000 a hand. After placing the ante bet, the player receives three cards up, while the dealer gets three cards face down.
To continue with the hand, you must place a bet equal to the ante bet. If you feel your hand is not too strong, you can forfeit your ante bet and not risk losing any more money by folding.
If you do wish to continue, you place the continue bet and see the dealers three cards. If your hand is higher than the dealers hand your bets win. The dealer does need at least Queen high to qualify. If the dealer does not qualify, only your ante bet is paid at even money, and your play bet is considered a push.
When the dealer does qualify and you win, both bets are paid at 1:1. In the case of the dealer beating your hand, you lose the ante and play bets.
There also pair plus bets that allow a side bet that gets paid when a pair or better is made in your hand.



You can play Three Card Poker Live at the following casinos