Euteller Online Casinos

Euteller is the leading payment service provider in Finland. Many players there use the service to affect real-time online banking payments. Many online casinos accepting players from the Nordic region offer it as a payment method.
The company was founded in 2007 as a way for consumers to make instant payments directly from their online bank accounts. Euteller is authorized and overseen by the Financial Supervisory Authority of Finland (FIN-FSA).

All major Finnish banks support the payment method. The primary qualities of online bank transfers through the service include:
Safety and Reliability - Automated fraud and AML controls are under continuous development and refine to stay ahead of problems before they can occur
Easy Integration for merchants - All Finnish banks are integrated into a single, simple API
Efficient Support Services - Consumers are served in their native language and support is available 7 days per week
Mobile Payments - All devices including desktop, tablet, and smartphones are supported with a mobile-optimized interface that automatically adjusts size and orientation to any screen
The process of transferring money could not be more simple. Enter the payment method, choose your bank, login to your account, confirm the transaction with your PIN and the funds will be transferred instantly.

As can be seen in the graphic above, using Euteller is simple and straightforward. Follow these steps and you will be playing in no time.
Enter the casino cashier or banking section and choose the deposit option. If you see Euteller of the Euteller logo, the site accepts the payment method.
All participating banks will be listed. Choose the financial institution that holds your bank account and continue through the process.
Log in to your bank account and choose an amount to deposit within the casino's minimum and maximum amounts and Euteller's (€1 to €10,000).
Confirm the purchase using your PIN and your funds will be available in your casino account to play with right away.
---
Since the launch of service, the company has handled over a billion Euros in transactions in more than 15 million payments. Thousands of Finns use it on a daily basis.
Similar services internationally
Similar instant transfer services in other countries include Sofortüberweisung (Sofort) in Germany and Interac eTransfer in Canada.
System-wide integrations
Casinos running on the EveryMatrix platform have integrated the Euteller Application Protocol Interface (API) as have all the other casinos listed on this page.
Euteller Advantages
Ease of use
There's no need to enter long strings of card numbers or eWallet data to make a payment. Mobile banking is done with the use of your phone number. Consumers do not need to create or register any new accounts. The service works as a secure gateway between the consumer, their bank, and the merchant without the need to disclose any sensitive information.
Wide range of acceptable transaction amounts
The minimum transfer is 1 Euro and the maximum amount that can be transferred in a single transaction is 10,000 Euro.
Encrypted secure transactions
All transactions are protected by the EUTELLER-SSL payment mask (256-bit secure socket layer encryption) and a multi-stack firewalled gateway.
All Finnish banks are supported

Nordea, Sampo, Osuuspankki, Säästöpankki/Akita, Tapiola, S-Pankki, Handelsbanken, and Ålandsbanken all participate in the payment processing method
Disadvantages of using Euteller
No withdrawal facility
It isn't possible to withdraw winnings directly from a casino account into your bank account via Euteller. Players should be aware of other methods for getting their winnings out of the casino cashier.
Fees
Most online casinos will not charge any fees to deposit with this method. However, each payment will be assessed a 1.95% fee by Euteller. The minimum fee for any sized transaction is €0.8 and the maximum fee is €2.95. The transaction will appear on your bank statement as Euteller Oy.
Euteller Frequently Asked Questions (FAQ)
Do I need to live in Finland to use this method?
No. However, you must have an account at one of the banks that support it. In order to do this from outside Finland, you will need to request permission from Euteller.
Where can I register for an account?
There's no need to register an account with Euteller. Simply log in to your regular online bank account through the provided gateway and complete your transaction.
Can I use my handset or tablet?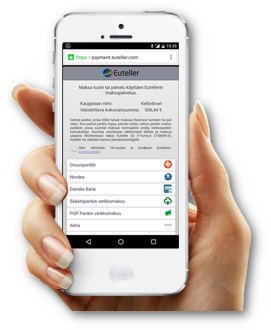 Yes. Euteller supports payments using any device. They have also recently added the Siirto mobile payment service which only requires your phone number to send or receive money. Upon launch, this service did not include withdrawals from casinos.
Are Euteller payments safe and secure?
Yes. It is one of the most secure payments available online. Rigorous oversight by and stringent adherence to the guidelines of the FSA, along with military-grade encryption over the 256-bit EUTELLER-SSL payment mask make the method virtually impenetrable. Added data security includes the fact that you will not be divulging your account number or PIN to the merchant, not even they can see the internal details of the transaction.

Does Euteller provide customer support?
Yes. Customer care representatives are available 7 days per week to handle any questions or concerns. Support representatives will respond in Suomi (Finnish) which helps make the experience more reliable. Support is available via telephone +358 (0) 400 564008; email support(AT) euteller.com, and through the website with an online contact form. Business hours are 8:00 – 16:00 EET.
Are there other payment methods available to me?
Yes. Please see our Finland page for more options designed specifically for Finland and the Nordic region or our payment provider main-page for all options.
Euteller Conclusion
Euteller is an excellent payment solution for Finnish players who have bank accounts in the country. Most denizens are already familiar with the method so there should be no learning curve or confusion for them. New users have a simple and straightforward process that takes less than a minute to learn and execute.
While some may not enjoy the fees, even the largest transaction will only cost €2.95. Players need to balance the cost of convenience along with the fact that withdrawals are currently not possible through the interface with the anonymous and secure ease of use.
SHOW MORE
&nbsp
Online casinos accepting Euteller as a payment method
Loading...
There are no available casinos for requested criteria.

We're showing casinos that accept Euteller restricted by your country. To remove that condition click here
Something went wrong. Please try again later.