Juegos de Blackjack en línea UNA GUÍA PARA JUGAR BLACKJACK
Entre los juegos de mesa, el blackjack se convertirá probablemente en el juego más activo con jugadores compitiendo de codo a codo. Una razón para explicar esta fuerte atracción por el blackjack en la comunidad de los juegos de azar es sin duda el factor ganador. Éste es uno de los aspectos más atractivos para el jugador en los juegos de mesa y de cartas. Eso solo genera que los clientes corran a la mesa más cercana. Sin embargo, se necesita más que suerte para progresar en este juego. La habilidad es también un componente importante para ganar.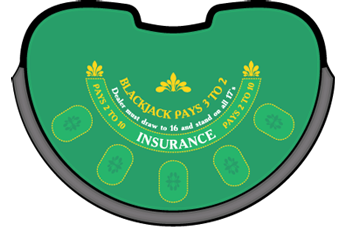 APRENDA LAS REGLAS BÁSICAS
lackjack o 21 como se lo conoce a menudo, es un juego de mesa jugado con cartas. Antes de que usted comience a jugar por dinero real en línea o en un casino tradicional, se recomienda entender la premisa básica del juego. El objetivo es vencer al crupier al acercarse a veintiún puntos sin pasarse de esa cantidad. Cada carta tiene un valor de puntos y la meta es alcanzar los 21 puntos o estar lo más cerca posible de ese valor.
Valores de Puntos:
Ases = 1 o 11
Cartas de la Corte (jotas, reinas y reyes) = 10 puntos
Cartas numeradas = valor nominal, es decir, el de su numeración
Hay muchas variaciones del blackjack, pero para empezar nos centraremos en los principios básicos. El crupier comienza a repartir dos cartas a todos los jugadores, comenzando con el jugador a su izquierda, incluido él mismo.
Después de que las cartas se reparten, el jugador que está a la izquierda inmediata del crupier comenzará a jugar. Dependiendo del valor de las cartas, los jugadores tienen la opción de pedir otra carta o plantarse. El jugador puede pedir otra carta todas las veces que quiera hasta alcanzar un valor cercano a 21 sin pasarse de esa cantidad. Si se pasa del límite, el crupier gana automáticamente.
Una vez que las manos de los jugadores estén completas, el crupier debe tomar otra carta si el valor de su mano es menor de dieciséis. Si el valor de la mano suma diecisiete o más, deben plantarse. Una mano de blackjack perfecta es lograr un as con cualquier carta de diez puntos.
CÓMO JUGAR ASES
El as es una de las mejores cartas de la baraja, ya que le da al jugador más ventaja. Sin embargo, también implica un mayor riesgo debido a los dos valores que representa. Dependiendo del valor de sus otras cartas, usted puede usar un as como un once si no supera los veintiún puntos. Por ejemplo, supongamos que hay un as y un 5 sobre la mesa, usted tendría lo que se llama o se conoce como un "dieciséis suave", lo que significa que todavía podría pedir otra carta sin el riesgo de pasarse de veintiuno. Si usted sacó una carta más grande que 5, no se ha pasado del límite porque el as se cuenta entonces como 1. ¡Ésa es la belleza del as!
Esta es sólo una visión general de cómo jugar. Para obtener más información sobre los detalles más específicos del blackjack, lea el artículo informativo Reglas de Blackjack Explicadas.
LOS CASINOS EN LÍNEA CON BLACKJACK AUMENTAN EN DIVERSIDAD
Hay una gran variedad de casinos que ofrecen blackjack a través de una legión de fabricantes de software que introducen una lista de variaciones. Es una de las grandes ventajas de jugar en línea, ya que el jugador tendrá mayores opciones disponibles. Podemos acceder a comentarios mediante el software que ofrecen instrucciones completas sobre cómo jugar varias formas de blackjack y también a través de una lista de casinos en línea. Mejore sus habilidades antes de comenzar a jugar por dinero real.
Además, para su conveniencia y goce, puede discutir o hacer preguntas sobre blackjack en casinos o simplemente sobre el juego en general en nuestro Foro de Blackjack.
Blackjack Games
Currently, we have

casino games

available to play and over

casino software developers

. Let's get started!
Casino Games
Frequently asked questions