eCheck Online Casinos

Introduction
When online casino players around the world are presented with no other options for depositing and withdrawing, eCheck is the solution they turn to, since this is a method that is worldwide used and accepted. As implied by its name, an eCheck is an electronic check which basically functions the same way as normal paper checks but is processed electronically. That's why it is incredibly convenient for users from all across the world to use and especially useful for online gambling transactions. Why choose eCheck as your online casino payment method?
About eCheck
As just mentioned, an eCheck is the electronic version of a regular paper check. And as such, it is a solution that is offered by any bank, from anywhere across the globe. Paper checks have been around since the very beginnings of modern finance; therefore, they are still irreplaceable and offered across banks. But the electronic checks are an advantage since to use them, you don't need to leave your house, but you can request a transaction with them digitally, using your desktop and mobile devices.
As an online casino method, this solution is incredibly useful because you don't need to create any new account to use it, but you use the money you have available on your bank account or are allowed to use by the bank. That's why it is convenient for deposits since you won't need to have a credit card or an eWallet, for instance, to put money on your casino balance. On that note, it is a great mean to use across casinos in the lack of other options, since you probably already have a bank account with at least one bank. So, you can just use the money in that bank account to start playing at a chosen casino right away, using your electronic cheque.
The way the electronic check functions is pretty much the same as paper checks do. These electronic checks also need to be processed by your bank, but since the process is done digitally, there are some third-party financial institutions involved in the process, to facilitate the transfer, as explained below.
How to Start Using eCheck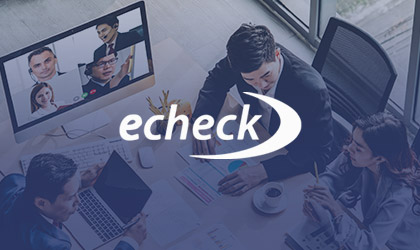 Electronic cheques are pretty simple to use, since all you need as a pre-condition is to have an existing bank account, with any bank in the world. As long as you do, and you have money on that account, all you need to do is request a transaction via eCheck, by providing your bank account information, such as account number and routing number, and you can sit back and relax knowing that the money will reach the desired destination in 2 to 3 business days.
Now, what you don't know is that there's a huge background process going on, which actually makes the waiting times that long. The thing is after you've requested a transaction, the first third-party institution takes it over. A service which will review your request and make it easier for the next-third party to process, by making it compact, a service like Authorize.net. This service receives your request and stores the transaction you requested in the "batch" with any other transactions you made for the day. At the end of the day, it sends it to a service like ACH (Automated Clearing House), which is a financial institutions network in the US. ACH then charges and clears your check, giving your bank a "thumbs-up" that everything is legit and ready to be processed. The eCheck system then waits for the green light from the bank, and in 2 to 3 days, the funds are transferred from your account to the desired destination.
Depositing and Withdrawing with the Solution
We should mention here that, although offered as a deposit method and deposits are possible with it, the electronic check is rarely used as a deposit method by players, due to the long waiting times. Online casino players usually prefer methods which allow for instant deposits, and you know that that's not the case with this solution. But when it comes to withdrawals, players are more than willing to wait a few days as long as their winnings arrive directly in their bank account, and that's why they choose eCheck as their favourite withdrawal method.
Now that that's out of the woods, it's time to mention eCheck's availability across online casinos. You should know right away that all well-respected and long-existing online casinos offer electronic checks as a payment method. Here on our site, you will find around 50 such casinos. Therefore, you'll have plenty of choices to check out to find the one that suits you most. Once you do, make sure you create your account with it.
To make a deposit using eCheck, do the following:
Locate its logo on the casino's Banking/Deposits/Cashier page.
Press the logo and a new window will open.
Enter the required bank account details as mentioned earlier.
Specify the amount of money you'd like deposited on your online casino balance.
Wait for the money to arrive

 

in about 3 to 5 working days.
We mentioned that the actual processing procedure takes 2 to 3 business days, however, depending on the casino you're playing at, the entire procedure may take 3 to 5 days before the deposit arrives on your casino balance, so be prepared to wait that long if you decide to use the solution as your deposit method.
The solution, as said, is mostly used for withdrawals, especially by US players. The withdrawal procedure is quite similar to the depositing one, so you'll still need to provide your casino with your banking details so that it knows where to send the money, and you need to specify how much you'd like to withdraw. Wait for the casino to review your request and the process to be put in motion, and watch the money arrive in your bank account in up to 5 working days.
Coverage and Restrictions
We mentioned the US when we explained how eCheck works, but don't be confused thinking that this solution is only available in the US. As mentioned, all banks from all across the globe process electronic checks; each country has an ACH-like network of financial institutions that facilitate the processing procedure, so don't worry about it, as electronic checks are still available to all players, from all over the world.
The only restriction is, or more of a condition, to have an active bank account with withdrawable funds to start making deposits with it across online casinos. And yes, an active bank account is also needed if you want to make withdrawals with the solution.
Fees and Additional Charges
When requesting a transaction with eCheck, you will be charged per transaction, meaning 0.75% of the transaction amount.
However, knowing that there will be no setup fee, as you won't need to register an account to use it, is reason enough to start using it, as this is one of the most cost-efficient solutions to use as an online casino player.
Make sure, though, to check with your bank and casino if any other fees or charges may apply. Each bank and casino have its own Terms and Conditions which you must respect, so before start using the solution, find out all about the charges involved.
Accepted Currencies
Since this is a global payment solution, available to literally anyone from anywhere across the globe with an active bank account, it goes without saying that transactions with all of the world's currencies are accepted. Bear in mind that no cryptocurrencies are accepted, only fiat currencies, as this is a solution that functions in line with the standard banking system.
Therefore, depending on your country of residence, you can use currencies like the US dollar, UK pounds, the Australian dollar, the euro, the Canadian dollar, the Brazilian real, Chilean peso, Danish krone, Indian rupees, New Zealand dollars, Polish zloty, etc.
Customer Support
For any questions you may have regarding deposits and withdrawals with electronic cheques, you should first contact the Customer Support team offered at the casino you're playing at. Its team should be able to help you out with questions regarding the technical aspect of how to request a deposit/withdrawal with the method.
However, for the financial aspect, you'd need to contact your bank's Customer Support team. Considering this is a standard solution offered by all banks around the world, you won't find one specific Customer Support team that you could turn to. Electronic checks are eventually processed by your bank, so you'll need to contact your specific bank, in your country, about any problems or inquiries you may have.
Nevertheless, banks today are getting more and more innovative and following the trends, so you can rest assured that you'll get several different communication means, including social media platforms, you can use to get in touch with their Support teams.
Conclusion
eCheck may not be your first choice when it comes to deposits, due to the long waiting times, but it could easily become your favourite withdrawal method. It is convenient to use, since it is available to anyone, from anywhere across the globe, with an active bank account. To use it across online casinos, you don't need to register an account or use your credit card; all you need to do is to provide your banking details and the transaction will be en route. Of course, the waiting times go from 3 to 5 business days, but that won't probably bother you for withdrawals, since most withdrawal methods have long waiting times.
The best part is, this is a method that is available in most, if not all, well-established online casinos, and only here at our site you have around 50 of them listed and reviewed. Therefore, you won't have any difficulties finding one that you'd like to join and use the solution at. 
FAQs
Is there an official eCheck website I could explore?
No. These electronic checks are universal, they are available in all banks all across the globe. So, in case you wish to discover more info about them, make sure you explore your bank's official website or visit the bank in person to talk about them with a bank employee.
Can I reverse a transaction made with an electronic cheque?
Once the check has been cleared, you won't be able to reverse the transaction. However, in the meantime, you might try to cancel the transaction and get your funds back, by contacting your bank directly.
Will I be able to make transactions with a foreign currency?
Sure, as long as you're willing to pay a currency conversion fee. The only way to avoid the currency conversion fee is to have a bank account which supports the foreign currency you wish to use.
Can I send money overseas, to US-based operators?
Sure, but the electronic check will be processed as an international transaction, and as such, it will be subject to a hefty transaction fee.
Are there any countries that do not process electronic checks?
Not to our knowledge, no. We haven't found any info about particular countries where electronic checks are not an option. So, you can rest assured that you'll be able to use them.
Screenshots
SHOW MORE
&nbsp
Online casinos accepting eCheck as a payment method
Loading...
There are no available casinos for requested criteria.

We're showing casinos that accept eCheck restricted by your country. To remove that condition click here
Something went wrong. Please try again later.