Dragoon Soft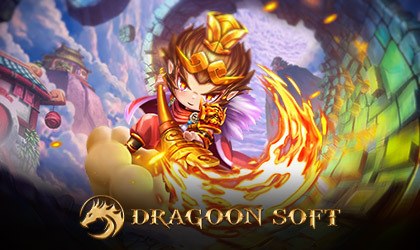 Dragoon Soft has been steadily increasing its reach ever since the company started operating in 2018. Originally hailing from China, they have grown popular all across Asia. As of late, the company has also expanded into western markets, bringing its own unique takes on casino gaming to worldwide audiences.
Availability in different languages and currencies is part of the deal, with a ton of customisation added as another possibility. Naturally, all devices and operating systems are supported. The three main categories of games are slots, arcade games and fishing games. Each offers a substantial number of interesting casino experiences to try out.
Casino Games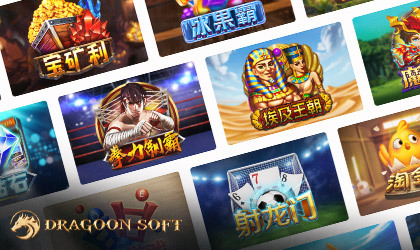 The slots that come from Dragoon Soft are numerous in their different settings. As you would expect, there are a lot of local flavours that the team has used as inspiration. Plenty of these have something to do with luck, whether that is lucky numbers, lucky animals, lucky people, or lucky legends. The latter also serves as themes in the sense of historical and mythological characters.
But it is also obvious that the team is aiming for international markets, with games that take their themes all around the world. Titles like Arab, Pirate King, Zeus, Great Lion, T-Rex, and Egypt Oracle lets players choose exactly the sort of entertainment they are after.
Is it all local flavour…
…of course not, simply trusting on themes that most other casino game providers explore as well isn't going to get you very far. There are other reasons why these games are sweeping the world.
These slots tend to combine basic gameplay, which to us means using five reels with a handful of paylines, with special features that launch the wins into the atmosphere. For example, in Dragonburst you have five reels, three symbols each, and just five paylines. But if you get lucky with wilds, they can add up multipliers that can pay over one hundred thousand times your stake.
Not all games go into such wins of course, and there is more than enough variation when it comes to how often you win, and how much you can win. Some games utilise just the basic bonus spins, others take them to the next level, and some games opt for using winways or other similar systems instead of paylines. We're pretty confident there's something for everyone in this extensive selection of online slots.
Fish and Arcade Games
Slots have long ruled the field when it comes to online casinos, or land-based casinos for that matter. In recent years, new game types have made their way into the mix. Arcade games are not to be confused with pinballs and other such machines of the 80s. Rather, they are a set of semi-interactive gambling games. The outcome is pretty much random, but you still get to take action beyond just spinning the reels. These games take a lot of inspiration from popular mobile and video games.
One example is Crazy Orb, where the player has to topple orbs to claim wins, much like on coin-pusher games of old. In Jump&Jump the goal is to jump higher and higher, with each jump costing a bet and coming with a possibility of a win.
Fishing games like Ocean Lord and Bingo Fishing work quite differently. These would probably best be described as shooting games, as no matter what the setting is the player fires a gun at different enemies. Or fishes, bingo balls or other objects. Naturally, the outcome of such shooting is again random, though the player does have a degree of freedom at what they are aiming for.
Conclusion
Dragoon Soft doesn't currently hold any gambling licences, but their games have been certified by Gaming Labs International. We surmise they might expand on that in the future, especially as the games become available in more and more online casinos.
As for the games themselves, the slots are without a doubt match for pretty much all the other software providers out there. Serving excellent themes and a variety of setups and specials ensures that there's an option for each and every player. The special games are something that you won't easily get your hands on from other gaming companies. Altogether, it's worth your while to at least take a look at the demo games.
External Links:
Dragoon Soft Games
Currently, we have

casino games

available to play and over

casino software developers

. Let's get started!
Casino Games
&nbsp
Dragoon Soft powered online casinos
Loading...
There are no available casinos for requested criteria.

We're showing casinos that accept Dragoon Soft restricted by your country. To remove that condition click here
Something went wrong. Please try again later.