casino technology

To visit casino technology official website, click here.
About the Company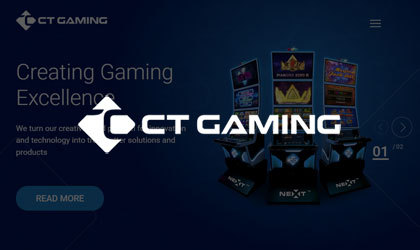 CT Gaming Interactive (Casino Technology 1999-2019) is a broad-spectrum online game developer and provider occupying the spaces of land-based casinos and mobile gaming as well as the realm between the two worlds.
Headquartered in Sofia, Bulgaria since the company's inception in 1999, the firm rebranded on January 1, 2020, to better reflect the company's vision for the future after two decades of successful operations.
A new corporate division was formed in 2012 in order to respond to the fast-evolving remote gaming sectors (Interactive). The division was tasked with helping new operators come online as well as to assist land-based operators in expanding or even shifting their operations online.
In addition to the home base, the company maintains offices and has distributors in more than a dozen countries. Their machines and servers are found in more than 50 international gambling jurisdictions.
Among the ISO 9001-2008 Certified company's bonafides are esteemed memberships in:
Association of Gaming Equipment Manufacturers (AGEM)
Gaming Standards Association (GSA)
Confederation of Employers and Industrialists in Bulgaria (CEIBG)
National Indian Gaming Association (NIGA)
Latin American Gaming Association
Quickly expanding beyond Eastern Europe, the company now has offices in North America, Central, and Latin America, Africa, The Middle East, and Asia.
Over 100 online real money gaming sites carry their animated random number generator certified HTML5 slots which number over 100 in the count.
Software and Games
Each component in the company's suite of solutions is named after a wild animal. In aggregate it is known as The Big 5 Suite and comprises:
Leopard - Online Gaming Platform
Elephant - RGS & Library of HTML5 games
Rhino - Land-based casino management system
Buffalo - Universal Jackpot Server for terrestrial and online
Lion - Online/offline/hybrid Money Management System
The Leopard and Elephant are most important to online players and most online operators.
Gaming Platform
The Leopard online gaming platform is what operators use to "be a casino". It's a turnkey solution with everything but a brand name. In addition to the delivery system and seamless lobby and wallet, operators can select, mix, or match different types of gambling offerings including:
Slots
Live dealers
Bingo
Sports betting
Virtual sports
Game Library
The Elephant is a remote game server (RGS) with a library of more than 100 HTML5 games. Now, the cool thing about this piece of the equation is that it can feed server-based kiosks on casino floors, video lottery terminals (VLT), or your online web browser through the Leopard platform or another.
Third-party content (games from other developers) can be delivered as well, to any online, mobile, or VLT kiosk - anywhere.
The games
Online gamblers in jurisdictions already served by CT Gaming will recognize many of their favorite machine-fed titles. For the rest of the world, there is a robust library of well over 100 games you have probably never played before.
According to the company literature, "Award winning graphic content based on inspiring themes and limitless variety of bonus concepts and math models make the offered content attractive for different type and generations of players."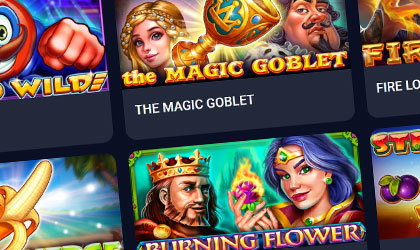 We'll take that into account as we test a few of the games. Of course, we can't describe how each platform handles the library of games but the company's website allows players to sort the titles alphabetically, by the number of lines, release date, and volatility.
They use the commonly accepted 5 position volatility index and the games do indeed range from one star to five stars in variance (volatility).
A single game bears one star, Purple Hot 2. It's a five-reel slot with 25 pay lines and a fruit theme. Line count is fixed in steps with choices of 5, 10, 15, 20, and 25. The maths are odd in that the paytable changes for each change of lines bet.
While betting all 25 lines, five Bananas pay 50.00 at 0.04 per line, but only 10.00 when betting five lines. This means the maths change with the number of lines selected.
If the payout is 1/5 at five lines it can only mean that you won't be able to adjust the volatility yourself by selecting fewer lines. The paytable is adjusted to payout based on the total stake rather than the bet per line.
This wouldn't change the theoretical or actual return to player percentage (RTP), rather it locks in the volatility so that no matter how you play the game it will achieve the theoretical RTP at the same rate, which would be very quickly based on the volatility rating.
RTP, hit frequency, percentage of RTP in the base game, and in the features, as well as the frequency of triggers, are not listed for any of their games.
All games load very quickly, even on a 3G connection and load time can be accelerated by choosing the "no sound" option. You can toggle it back on later if you choose to. The sounds are decent - not earth-shattering in originality or the way they give the games more presence, but par for the course and "industry standard".
Annoyance Note: All games have an optional doubling game for small wins (10x total bet or less). A few seconds must pass between spins if you don't choose the 2X game, even if you continuously hit the spin button.
In the 2-star volatility index zone, we find games with 3 reels and five lines, 5 reels and five lines, and 5 reels and 25, 50, and 100 lines along with bingo and animated scratchers.
More Dragons is a 5-reel, 4 positions, 40-line game with 3 out of 5 stars of volatility. It presents with nice colorwork and decent graphics. All 40 lines are required to be staked each spin with a bet range of 0.01 to 0.10 per line for a max bet of 4.00.
Stacked symbols, wilds, and scatters embellish the game. The reels slow, building anticipation for a five-of-a-kind win, scatters, and wild expansions.
Awesome feature: The wild golden Dragon symbol appears on reels 1 and 3 only initially. When it appears on the first reel, all symbols that are on its level or below (positions 1, 2, 3) will become wild on the second and third reels. When it appears on the third reel, the same applies to reels four and five.
Scattered Yin/Yang symbols appear on reels 1, 3, and 5 only and trigger 10 free games that can be retriggered.
Wild Seal has five out of five stars signifying very high volatility. Players can choose to bet on 1, 10, 15, 25, or 50 lines per spin. At 0.01 per line for all fifty lines, the top paying symbol awards 10.00 for five on a pay line, or 1,000x line bet. That payout rate remains the same no matter how many lines you choose, as is expected from any game.
This high-risk game has decent graphics and a winter arctic theme featuring polar bears, foxes, walruses, puffins, snow owls, and arctic hairs along with the wild Seal and scattered Sunrise.
The wild symbols appear on all reels. Scatters reside only on the central reels 2, 3, and 4. The value of lower-value symbols (not animals) is increased 1x after each non-winning spin. Retriggers are possible, however, the highest possible multiplier is 10x which would require 9 losing spins in a row before it occurred.
When sorting by the line count rather than volatility we find 3 reel and 5 reel titles with 5 lines as a minimum, and 5 reels with 100 lines as the maximum.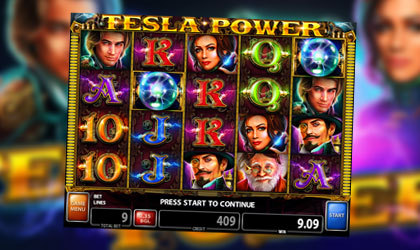 Tesla Power appeared to be a likely candidate for review and comparison. The graphics are top-flight and add to the vibrant energy of the game. all of the previously mentioned signature mechanics are involved such as wild symbols, scatters with free spins, and a slowing of the reels to build anticipation for important potential events.
One difference in this game is that the scatter is also the wild symbol and can appear on any or all five reels. Three, four, or five scatters bring up a second screen with the top three characters on it.
Players choose the character they want to become an expanding wild until the end of the free games. Each of the three appears with the same frequency as indicated by the paytable entry associated - they all pay the same so there are probably equal occurrences of them. There's no indication that any appear more frequently on the left or the right of the reel set.
The number of games awarded is 15 regardless of the number of scatters. Free spins can be triggered again within the bonus game.
Games conclusion
While we only tested a handful more than we reviewed here, all had essentially the same elements with slight variations. What we found odd was that some games with variable line count used a total bet model for payouts and others used the standard model. Tesla is similar to Purple Hot 2 - in these games, the fewer lines you bet, at the same stake per line, reduces the payouts - or the dynamic paytables were not functioning properly.
The whole point of playing fewer lines is that you can bet more per line than your bankroll might otherwise afford. You will lose a lot more spins because the volatility is increased, but when you do win it should be a higher amount by orders of magnitude.
It boggles the mind to try to imagine why increasing risk by reducing lines would result in a lower payout for the same combination of symbols - unless - the volatility is written in stone and the maths are based on a total stake rather than stake per line.
If that is the case they could only be fixed odds model games, or highly sophisticated animated scratch cards. Some would call that AWP, amusement with prizes - and it is an acceptable model for even the highly stringent standards of the UKGC - as long as the stated RTP is the same as the actual RTP within a certain range after a certain number of spins based on volatility.
The Final Analysis
CT Gaming is a longstanding company that is well-received in many parts of the world. US players may recognize some games from Tribal casinos, but they will not be able to play them online for real money at this point. We don't find the games in any of the State regulated online gaming sites such as in New Jersey, Delaware, etc.
The games do have a placement in manifold online gaming sites that accept players from elsewhere. However, we don't find them listed with Malta or the Gambling Commission in the UK. The games have been certified in other regulated jurisdictions such as Colombia, Spain, Italy, Bulgaria, the Czech Republic, Croatia, Latvia, Malta, Romania (ONJN), and Switzerland.
We will always find something annoying, or at least not to our personal liking. With this developer, it is the required wait time between a winning spin and the next one, especially in the free games when the software insists upon counting each winning line of a hundred-line game with expanded wilds. The other item is the inability of some titles to manipulate the volatility by choosing fewer lines. Aside from those two pet peeves, which are not shared by all players, the games check the boxes for good gaming entertainment.
We find the games to be on par with most, but not achieving greatness with innovative bonus features or base game mechanics. Wild symbols that may or may not expand, three scatters to trigger free games that can be retriggered, and a doubling/gamble game for small wins are standard fare and satisfying, but not necessarily gourmet comestible.
Some of the themes and artwork make up for any shortcomings in the advanced technical department and the variety of themes, line counts, and math models fill the rest of the gap to make the games well worth playing.
casino technology Games
Currently, we have

casino games

available to play and over

casino software developers

. Let's get started!
Casino Games
&nbsp
casino technology powered online casinos
Loading...
There are no available casinos for requested criteria.

We're showing casinos that accept casino technology restricted by your country. To remove that condition click here
Something went wrong. Please try again later.