Brite Online Casinos

Brite AB is an instant payment method for online transactions that can be used for casino deposits and withdrawals. It works with your bank or other financial institution. In a nutshell, it's a normal bank transfer, but it's instant!
Think Trustly PaynPlay, for example
About the Company
Brite is based in Stockholm, Sweden, the third largest FinTech hub in the world after Berlin and London. It is considered a second-generation FinTech company. Open Banking is their first mission. Developers and others in the company come from the most successful first-generation FinTechs such as Klarna, SOFORT, Tink, Trustly, and Qliro to name but a few.
They focus on direct bank-to-bank processes with a focus on their native Nordic markets.
The privately held company was founded in 2019 and employs somewhere between 35 and 50 team members. Our data indicates the workforce has grown by at least 30% in the last year alone.
The largest group of people on the team are developers because that's what it takes to create and constantly improve an innovative platform in full compliance with regulators to facilitate account-to-account payments through Open Banking APIs.
The vast majority of employees are located in Sweden with a major portion of them in Stockholm. Spain, Malta, and Gibraltar are where several others call home.
A shortlist of the founders would include CEO, Lena Hackelöer and Robert Arnesson. A deeper dive into the C Suite reveals important and formative positions in nearly all of the premier gen-one European FinTech companies.
About the Product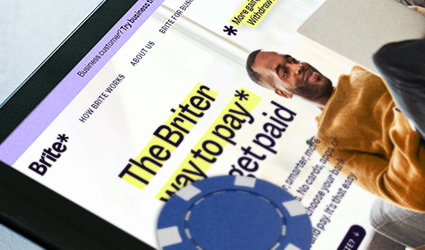 Calling Open Banking "second generation" may not mean a lot to online consumers. All we really know is that the financial services sector has been disrupted by innovation in the last 20 years and now it's easier than ever to handle our financial transactions digitally.
We want friction-free ways to get our deposits into casinos, pay bills, and purchase goods and services but we also demand a mirror image of the process on our end. If we can make a purchase instantly, we should also be able to be paid just as quickly.
With Brite, that becomes possible. The other thing we insist on is security, reliability, and affordability. We don't like fees. We've let casino operators know that too, so in most cases whenever there is a fee involved, we expect the operator to cover it as a cost of doing business. We just want to gamble and be paid quickly when we win - with no red tape.
That's another area Brite shines. Much like the pioneer in this type of payment processing, when you activate a payment from your bank through Brite, most or all of the KYC (know your customer) is completed for you. The fact that you can log into your bank account is enough authentication in most cases and while you are off to play, behind the scenes your bank is compiling and delivering the necessary identity verification, etc., so don't always have to verify documents before you cash out your winnings.
That's a burden on gaming site operators that is relieved too.  They can retrieve the data through an automated system and meet their compliance requirements without a lot of back-and-forths with you, the customer which can lead to frustration and worse - playing back your winnings because the cashout is too slow.
It also helps you get playing quicker because registering on a remote gaming site is automated and almost effortless - but you are still in complete control of your personal financial data.
Instant deposits
Online casino deposits and other purchases are accomplished instantly directly from your bank account. The merchant will see the transaction and even though it may take a few minutes for the funds to actually transfer, you should have access to your deposit to begin wagering immediately.
There's no need to input card details, and the transfer process only asks for simple details all users should have at the top of their minds anyway.
Instant withdrawals
Individual operators always determine the timing and speed of casino payouts. With Brite, they can get your winnings into your account instantly if they choose to. Processing is available 24/7/365 because it is all automated as soon as the operator initiates the transaction. No more excuses like "we have to wait for rollover to fund Skrill" or "Only premium Neteller members can use the service on weekends", etc.
The operator can, if they wish, completely automate the process so once your withdrawal is approved it will trigger a payment. They can also do it manually with a single click on the Brite interface on their end. No more excuses such as "We're unable to pay you the same way you deposited", or "You'll have to choose another payment method" or the like because the system default is to pay you the same way you paid in. Of course, when a different method is needed it can be changed easily on a case-by-case basis.
Who can use Brite
If you already have an online bank account or can get one with any of the following banks, you can use Brite! More banks may be added in the future and the payment processor might expand beyond the Nordics, but for now, we find the following financial institutions in the network:
OP

Nordea

Danske Bank

Säästöpankki

Aktia

POP

Oma Säästöpankki

S-Pankki

Ålandsbanken
Where you can use Brite
There is an up-to-the-minute list on this page showing online casinos that accept the payment method. More will be added soon as this is will become a very popular way for players to deposit and withdraw as it becomes more well-known.
How you can use Brite
Most operators will have the facility pop up in a frame so it doesn't seem as if you have left the gaming site. However, the frame is 100% secure and the data you enter is only seen by your bank and the automated encrypted Brite API.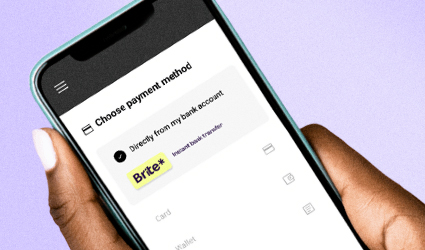 How To Deposit
Choose the deposit option and select or key in an amount

Press Deposit and a list of financial institutions will appear

Choose your bank

Enter your User name (make sure to check key lock application (Tunnuslukusovellus)

Log into your online bank account as you normally would

Depending on your bank, either confirm the amount or key in a new amount to deposit

Confirm the transaction
The online banking screen will disappear and the money will appear in your account. Now you can play right away, even if it was the first time you have visited the casino!
How To Withdraw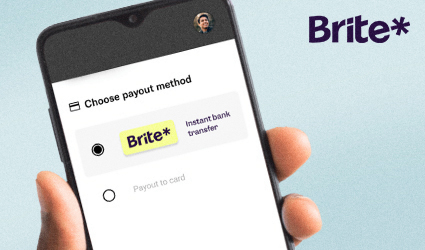 As we mentioned earlier, not all operators will allow instant withdrawals. Some have streamlined systems and cycle through requests constantly, some will do batches at certain intervals of the day, and some will only process bank transfers once per day. Nearly all operators have pending times, especially for a first withdrawal. If KYC didn't clear on the back end properly there could be a request for documents.
Otherwise, just like your deposit was instant, your withdrawal will be processed through Brite instantly as well. At most, it could take a couple of minutes but it can also appear in your account almost instantaneously.
To avoid any disappointment, check your gaming venue's terms and conditions for any potential pending times.
The process of cashing out is almost identical to depositing. To avoid delays, use the same bank and account you used to deposit. Simply select your bank, log in, choose an account if you have several, and complete the transaction. That's all there is to it.
Fee-free open banking
Brite will never charge you a fee for using their account-to-account service for deposits or withdrawals. The same cannot be said about every casino under the sun, however. Some operators charge a small fee for any transaction, but they are the exception rather than the rule. When this occurs it is usually for players that make many small deposits and withdrawals in a certain period of time whether weekly or monthly. Also, some operators only allow one free withdrawal per month - but that too is rare.
Along with being found in the operator's terms and conditions, the cashier section should also inform you if there will be any fees associated with your withdrawal. 
Brite Conclusion
The Nordics have led the way in 2nd Gen FinTech implementation at online casinos. One reason is that it is easy to use Bank ID et al to affect instant secure transfers and at the same time, reduce red tape for customers since Brite handles the KYC details for them in the background. Your account should be automatically and instantly verified just by the act of depositing.
The good news for players elsewhere is that these FinTech companies are working on hybrid solutions and things such as National IDs are not so uncommon - so it might not be too far in the future before the rest of the world catches up. For now, the method is mostly restricted to players at Swedish, Finnish, and Dutch-facing online casinos.
Players in the Netherlands and elsewhere with Bank-ID have sometimes been pigeonholed into using iDeal because they didn't have many other options. Brite adds to their choices and offers instant, secure, reliable, and free payment processing. Your Bank-ID verified account in NOK, SEK, or EUR is all you need along with a casino from our list.
Most of the properties listed also have in-depth reviews done by our gambling experts. Properties on the lists are also rated and ranked. This data comes from unbiased user reviews across the entire network of LCB.org sites and is updated dynamically every time you visit or refresh your browser. Stick to the top of the list if it becomes lengthy and if you feel the need to choose a lower-ranked operation, please read the review. Our reviewers include a section called Pitfalls in every summary because no gaming hub will be perfect for every reader, so we point out anything to watch out for.
Brite FAQ
Q: Is Brite regulated?
A: Yes. Brite is supervised by the Swedish Financial Supervisory Authority and is licensed in Sweden according to PSD2 2015/2366 as directed by the Swedish Payment Service Act (2010:751). All payments are processed under strict regulations and oversight.
Q: Do I have to register with Brite?
A: No. You don't need to create any special accounts or download any software to use Brite. Simply choose it as a payment option and follow the onscreen prompts to deposit directly from your bank account in a totally secure environment.
Q: How safe is it to use?
A: It is completely safe. The process complies with the same data handling and encryption that your bank does. Your credentials are never stored, they are simply transmitted to your bank to complete transactions. Nobody can come onto your computer or phone and conjure up an older session to repeat it as each incident is created and deleted with one use. Your banking credentials and two-factor authentication are required just like any other online transaction with your bank
Q: Is there anything in Brite's terms and conditions that prohibits online gambling?
A: We've searched the Brite T&C extensively on several occasions and have not found any gambling-related keywords. There are no tacit or implied restrictions on using your own money in your own bank account for online entertainment.
Q: What are the limitations?
A: The Brite AB service currently only supports users in the Nordic region. Online gaming sites without much northern traffic or those who have not quite gotten around to implementing yet are not supported. Users who wish to mask their gambling expenditures may want to use an eWallet or vouchers to deposit.
Q: Can I contact Brite?
A: Yes. However, it's highly unlikely you will ever need to. You can email them at support (a) britepaymentgroup (dot) com. The company suggests you contact the merchant first and if you aren't able to get the satisfaction they will answer the query within one working day. If you do contact them please be sure to include your name, the name of the merchant, your bank's name, payment reference message (this usually starts with RF), and your contact details.
SHOW MORE
&nbsp
Online casinos accepting Brite as a payment method
Loading...
There are no available casinos for requested criteria.

We're showing casinos that accept Brite restricted by your country. To remove that condition click here
Something went wrong. Please try again later.