Let Them Ride (Let it Ride)
- description of game by Playtech: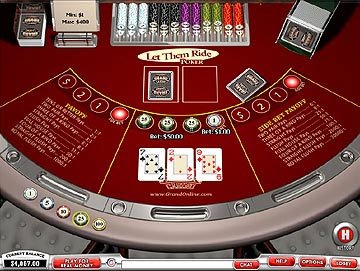 Playtech Let Them Ride - Game Review
Let them ride is Playtech's version of the popular land based casino game Let it Ride. Playtech's Let them Ride has a house edge of around 3.5%.
In addition online casino players playing the popular Playtech Let them Ride have the option of placing a side bet for $1. The side bet gives players additional winnings on certain combinations, and has a house edge of 13.8%.
To place your side bets, click the "Side Bet" option on the screen before clicking the "Deal" button.
 Online Casinos Featuring Playtech Let Them Ride:
If casino names are faded it means these casinos are not available in your country.
Screenshots
The following online casinos that have Let Them Ride (Let it Ride) are not available for players in United States