Top Online Casinos
Top online racebook
Horse Racing 101
Triple Crown England:
In England, where the term Triple Crown originated with West Australian's three wins in 1853, the three events included in the Triple Crown are:
Ireland Triple Crown
United States Triple Crown:
Horse Racing Around the World: Yesterday and Today
A brief history of horse racing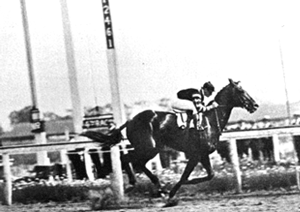 This photo shows Man O' War in his stretch run of the Stuyvesant Handicap at the old Jamaica racetrack in Queens, New York on June 22, 1920.
Horse racing dates back as far as 4500BC when prehistoric nomadic tribesmen of Central Asia are recorded to have first domesticated horses, horse racing has been one of our favorite forms of competition. Man and horse working together for a common goal. In fact, before people were even keeping records, horse racing was an organized sport. The sport was a part of major civilizations spanning from Central Asia across to the Mediterranean.
Ancient Greek Olympics dating back as far as 638BC included both Mounted Horse Racing events, and Chariot Races. Horse racing was also well known infatuation of the Roman Empire.
Horse racing today
Today, what once was a sport reserved for nobility is chosen by Americans as their second favorite and 2nd most attended spectator sport, beat out by only the all American sport of baseball.
So what gets so many people from their homes and out to the tracks to watch horse and jockey run as one? What is it about horse racing that brings together so many fans at local pubs and sports bars, or those choosing to place their bets at home, what gets them loggin' on? Just what is it that draws the human race to the sport of horse racing? Some say it's a deep inner yearning for power, the steal of the horse and the skill of the rider, others believe it's the tradition of the social event, the historic feeling of importance, and decadence of a day at the track.
However, most will agree that the legalized form of gambling provided by race tracks, sweaty horses, and thundering hooves, is the largest tie between mankind and the horse tracks from Canada, to South America.
Last year in Japan alone there were 288 Horse racing days, an average of 384,704,016 Japanese Yen was won during this period of time, per day.
There are a few major forms of horse racing, including:
Thoroughbred Horse Races
These races are completed over flat courses with distances ranging from 3/4 of a mile to as far as 2 miles long. Other races include:
1. Thoroughbred Racing
2. Harness Racing
3. Steeplechase Racing
4. Quarter Horse Racing
5. Endurance Racing (Arabian horses)


Toward the beginning of the 1900's horse racing was nearly stamped out in the land of the free, as an anti-gambling stance spread across the country. Nearly every state in the Union banned sports betting amongst several other forms of gambling. In 1908 only 25 race tracks remained. Also in 1908 however, Pari-Mutuel betting was introduced for the Kentucky Derby, this began a turn around in the horse racing world.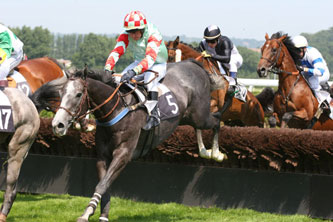 Steeplechase Racing at Hippodrome de Deauville - Clairefontaine / Ces photos sont à votre disposition libres de droit en insérant la mention hippodrome de Deauville - Clairefontaine.

Race tracks began to open again, state legislatures began legalizing pari-mutuel bets, for a cut of course. By the end of the first World War horse tracks were filling up again, bets were made, and horses like Man 'O' War were made famous. So famous in fact that more than 2000 humans attended his funeral.

Today horse racing is alive and well, as is the horse betting that accompanies it, the most popular pari mutuel races of course are the Triple Crown events, formally known as the Triple Crown of Thoroughbred Racing, but commonly shortened to the Triple Crown.

Triple Crown races consist of three races and are only available to three year old thoroughbred race horses. A horse that wins all three events and receives the 'triple crown' will certainly became a favorite, and one very famous horse.

Triple Crown Races actually originated in England, when a Triple Crown was won by a West Australian in 1853. There is more than one triple crown event held each year, in fact, there are a few all held in different countries, with the exception of Japan, where two Triple Crown events are held each year.
Online Racebooks
Software:
SportsBetting.ag is one of the "grandfather" betting sites on the internet having opened in 1999. Claiming over a million historic customers across their sports and race books, poker, and online casino, players can access...
Software: Proprietary Software
If you noticed Bodog leave the American online horse betting scene a couple of years ago you may have noticed a new player appear the same day. Bovada Racebook is operated by Meadway Leisure Limited (in the business since...
The following Racebooks are not available for players in United States
Popular Horse Races