Top Online Casinos
Online casinos
Mobile casinos
Information
Blacklisted / Rogue online casinos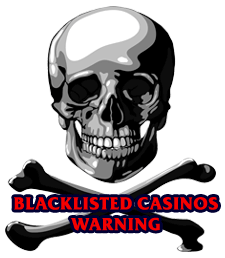 Unfortunately, welcome to the ROGUE - BLACKLIST page. It is a real shame we have this page, but people have continued to be .... "people" .... and while rogue casinos are the minority, some unscrupulous operators exist in the online gaming industry - just like there is scum in nearly every other industry - spoiling things for the rest of us. World Casino Directory has resisted the creation of this page but it is necessary. If a program or casino will not pay their marketing fees, we cannot safely assume that they will pay their players. While this may not be the case, we advise extreme caution playing at any of the following casinos.

Get me out of here, I want to see the trusted casinos.
Online Rogue (blacklisted) Casinos
The following Rogue (blacklisted) Casinos are not available for players in United States
Blacklisted and "rogued" online casinos - an explanation:
Ladbrokes - Although we do not promote Ladbrokes we do stand in solidarity with our webmaster friends who used to. I say used to because this casino has refused to honor contracts between themselves and their affiliates. They have lowered affiliate commissions without consulting or agreeing with affiliates and they have also increased the amount of players an affiliate must bring in to get higher commission tiers. One great read on this if you are interested is here: Ladbrokes takes advantage of affiliates.

Why is Red Hot Revenue and the casino's that it represents rogued?
This happened when Red Hot Revenue decided to not pay its affiliate marketing partners. That's people like me who spend our time creating websites in hopes to get paid via advertising for our efforts. If a casino cannot or will not pay it's legitimate bills, why would you trust them with your entertainment/fun money? I know I would rather spend my money with an operation that honors its agreements and has no grievance against it. The RHR casinos are: Royal Dice, Sierra Star, Giant Vegas and Nuts Poker. Want the gross details of what we consider a slimey operation?

Grand Prive is a rogue operation: Another shady operation that has refused to pay its bills. This always leaves you wondering whether the place is run by crooks or going broke. Either way not a good choice to place your money with these guys. For complete details, read the thread at: AGD. The casinos associated are: Jupiter Club (blacklisted), Grand Bay (blacklisted), Lake Palace (blacklisted), Road House Reels (blacklisted), Fortune Junction (blacklisted), Jackpot Wheel (blacklisted), Villa Fortune (blacklisted), Bella Vegas (rogue).


Cleaning up the Industry
BEFORE you pick on my PLAYERS say hello to my FRIENDS: