Blackjack Surrender
by Playtech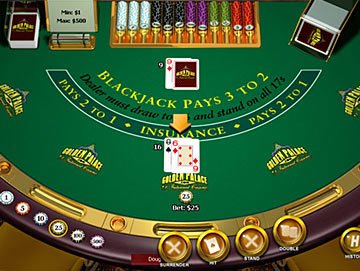 Playtech: Blackjack Surrender - Game Review
The popular surrender version of Blackjack, designed by Playtech is available to both single and multi hand versions and as with most blackjack games by Playtech, the rules are pretty standard, with a few Playtech variations. In the Playtech version of Blackjack Surrender, one of the dealers cards are dealt face up, leaving the other card face down, as the 'hole card'.
In addtion, players are only able to split aces one time. After the ace has been split, players will only be dealt one more card. Meaning that the player does not have the option to 'hit' or request another card, if you split an Ace and get a two, well, thats the breaks, better luck next time. Furthermore, if you are showing a split ace, and dealt a 10 or other face card, this is 21, not blackjack.
Playtechs Blackjack Surrender also allows players to split face cards that are not paired, for instance, a player dealt a king and a queen would have the option of splitting the hand. Players are eligbile to surrender on the first two cards dealt once the dealer has checked his cards for blackjack.
Blackjack Surrender by playtech does offer casino players insurance on a dealer ace, however many blackjack experts will consider this a waste of good money. Insurance pays 2:1 odds.
Online casinos featuring Playtech Blackjack Surrender:
You can play Blackjack Surrender at the following casinos
Online casinos offering Blackjack Surrender
Software: Playtech
Omni Casino was one of the very first online casinos in the world, established in 1997 under the Cryptologic gaming platform. During the past 10+ years, online gaming continues to grow at a tremendous pace and Omni Casino...
Software: Playtech, Microgaming, and 24 more
Bet365 is an online casino powered by Playtech software. bet365 is not only a casino but also a sport betting site, a bingo hall and a poker room. This review will focus on the casino part of the site and all it has to offer...
Software: Playtech
Since its debut in 2004, Casino.com has become the leading trusted global provider of online casino gaming services. Casino.com wants its casino players to enjoy the best gaming experience available, continuously working to...
Software: Playtech
Club777.com hasn't been in the industry long, but has already made a name for itself as its sole aim is to simply entertain its players to the greatest extent possible. It ignites players' senses with the click of a button...
Software: Playtech
Fly Casino is now open as of May 21st!! This casino comes to you from the same people who have accumulated a host of accolades and awards over more than 15 years of excellent service at Omni Casino. Players can expect to...
Software: Playtech, Ash Gaming, and 1 more
Titanbet Casino is owned and operated by PT Entertainment Services Limited with principal offices on Upper Church Street on the Isle of Mann. The casino holds an active license from the Gambling Commission of Great Britain....
Software: Playtech, Ash Gaming and 0 more
Europa Casino Review Europa Casino is an online casino established in 2003. The site holds a valid Preferential Seal from the Directorate of Offshore Gaming in the Jurisdiction of Antigua and Barbuda under the company name,...
Software: Playtech
Europaplay Online Casino may seem a like a brand new name to you, and that's because the casino's entry into the market is very recent. However, the name behind the casino is not. Europaplay is owned and operated by PT...
Playtech Game Menu
Playtech Blackjack