Deuces and Joker Wild
by Slotland Entertainment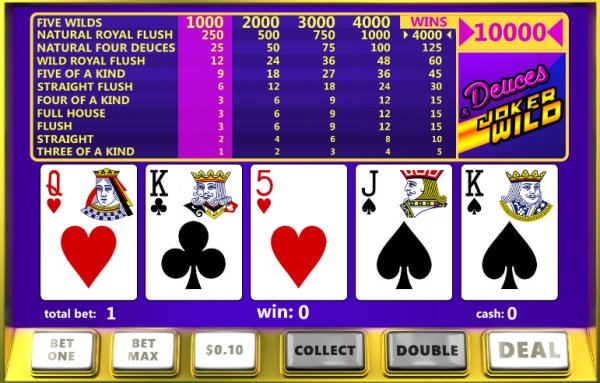 Video poker takes many shapes and forms, especially online. The general principle behind this casino game is the same across the board wherein youre playing 5 card draw and trying to make the best possible hand – and win money on top of that.
Slotland has taken video poker to the next level by not only making deuces wild, but also adding in a joker wild card. This gives you 5 wild cards for better chances at making stronger hands. It also adds one of the biggest top payouts I've seen in a video poker machine.
Other than this, the design is fairly standard and the game play is much like every other video poker machine.
Deuces and Joker Wild Rules
Deuces and Joker Wild video poker uses a standard 52 card deck with the addition of one wild joker card. This gives you a total of 53 cards. All 4 deuces are wild as well. The deck is shuffled after each hand with one draw allowed per hand.
This single hand video poker game has multiple betting options that lets you bet up to 5 coins per hand. The more coins you bet, the higher up the pay table you go. Coin values range from $0.10 a coin, up to a max of $5.00. The maximum bet using 5 coins would be $25.
Also available on Deuces and Joker Wild is the gamble feature. After any winning hand, you can click the double button to try and double your winnings up to 5 times. The gamble game is a simple hi-lo pick em style card game. You will see 5 cards, with the first one face up. Pick from the remaining 4 face down cards to try and find the card that is higher than the dealers face up card.
If you guess right, you double your win and can either collect, or try and double up some more. If you lose at any point in the gamble game, you forfeit all winnings from that hand.
How to Play Deuces and Joker Wild
All buttons are laid out on the bottom of the screen. You will see coin values, and coin amounts, as well as a bet max, collect, and deal button.
To begin a hand, select the coins and coin amounts to play, then click deal. 5 cards will be dealt out and now it's time to make a winning hand. To keep a card, you simply click on it to hold. Clicking the deal button again will deal new cards replacing the ones not held.
At this point, any winning hand is paid, and a new hand is dealt.
Deuces and Joker Wild Pay Table
Since it is easier to make a hand with the wild cards in the deck, the payouts don't start until you make 3 of a kind. On video poker games without wilds, the normal starting payout is a pair of Jacks or better in most cases.
The number of coins wagered will determine how much is won. For each coin played, your wins will double for each qualifying hand.
3 of a kind pays 1:1
Straights pay 2:1
Flushes, Full Houses and 4 of a kind pay 3:1
Straight Flush pays 6:1
5 of a kind pays 9:1
Royal Flushes using wilds pays 12:1
Natural 4 deuces (no joker) pays 25:1
Natural Royal Flush (no 2's or Joker) pays 250:1
5 Wild cards pay 10,000:1
The big addition to Deuces and Joker wild is the top payout. Many wild card video poker games pay a maximum of 4,000:1. In this version, you can get paid a maximum of 10,000:1 if you get 4 deuces and a Joker in one hand.
Deuces and Joker Wild Verdict
This form of video poker is quite new to the genre. It can only be found in select online casinos. Its definitely worth seeking out with its 10,000:1 top payout.

You can play Deuces and Joker Wild at the following casinos
Online casinos offering Deuces and Joker Wild
Rules
| | |
| --- | --- |
| Progressive jackpot | No |
| Multi-hand | No |
| Number of hands | 1 |
| Max coins | 5 |
| Lowest coin value | .10 |
| Max coin value | 5.00 |