Amazonia
by Slotland Entertainment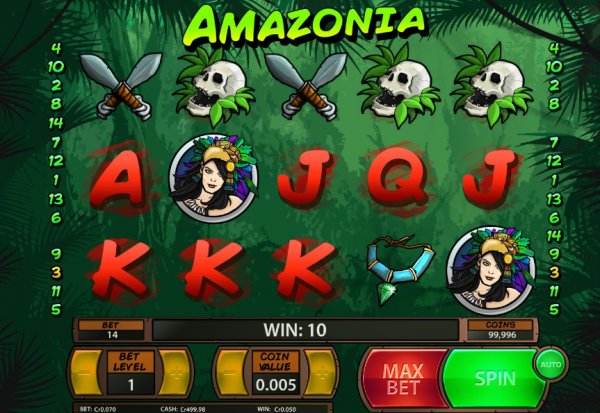 If the price of playing slots these days has blown your wallet and your mind, you're in for a real treat with the latest Amazonia penny slot from Betsoft Entertainment.
This is a true penny slot, that surprisingly has a lot to offer. Many slots in this niche are designed to be cheap and have little to offer the player. But with Amazonia, you get all the benefits and features of a big money video slot, at a fraction of the price.
Inside Amazonia, you will see that the developers did not skimp on the graphics and bonuses. No, the graphics aren't amazing and 3D, but they are up to par, if not better than average. As for the bonuses, you'll be excited to see free spins, and interactive bonus levels.
The theme revolves around the Amazon jungle as you may expect from the name. It's mainly a green background that resembles a rain forest and has a hypnotic soundtrack of rain falling, birds chirping and other animal sounds that make you feel you are in the jungle.
If Amazonia sounds appealing and you want to learn, you've come to the right spot.
Amazonia Rules
Amazonia is a standard 5-reel video slot with 3 rows of symbols. It has 14 pay lines that are fixed which means you can't choose how many to play. You must play all 14.
You can however choose your bet level and coins to play for each spin. Being a penny slot, you would expect the price to play to be rather cheap; and you wouldn't be wrong. In fact, the minimum bet is half a penny per line. If you are playing just one at this level, the minimum bet per spin is only $0.07.
You can choose to play between 1 and 5 coins up to a value of $0.50 per coin. Playing the max coins and max value makes the total maximum bet only $3.50 This is truly a game for low budget gamers. But don't let the low price tag fool for you. There's lots to play for, which you're about to find out about.
Consider Amazonia a value, not a cheap penny slot.
Amazonia Symbols
The symbols are half generic Jack through Ace. And the other half are theme related. In order of lowest to highest paying, the symbols are as follows.
Skull
Knives
Jewel Necklace
Amazon Woman
The Amazon Woman will pay up to 500x your bet if you get 5 or more. All symbols require at least 3 in a row to make a winning spin.
The one disappointing aspect of Amazonia is the lack of a wild symbol. Not sure why they decided to leave out a wild; maybe it got lost in the dense jungle of the Amazon. Who knows!
But, the presence of a scatter and bonus symbols does make up for not having a wild. The scatter symbol is the bonus symbol that will trigger the interactive bonus game. There's also a free spin symbol that triggers free spins. Well talk about that symbol right now.
Amazonia Free Spins
If you get 3 or more of the free spin symbols anywhere on the reels, you are instantly awarded at least 3 free spins. You can 5 free spins with 4 free spins symbols. And 10 free spins with 5 of that symbol.
During free spins, you can win additional spins for every free spins symbol that lands. I found that this happens quite often.
Amazonia Bonus Game
The bonus symbol will take you to the bonus game when 3 or more land on the reels. You will have 3 separate screens that show 3 different treasures on each. You get to pick one from each screen to reveal a prize inside each. This gives you a total of 3 cash bonuses during the bonus round.
Bang for Your Buck
Amazonia plays much like a classic penny slot, but feels like you're playing one of those fancy, high dollar ones. Its 2 bonus features absolutely make it a high value slot with a certain entertainment aspect that keeps replay value higher than average.

You can play Amazonia at the following casinos
Online casinos offering Amazonia
Rules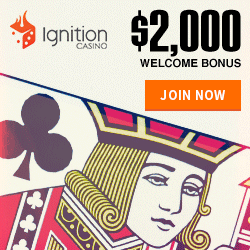 More slots
Types of slots
Slotland Entertainment Video Slots