Texas Hold'em Poker
- description of game by Sheriff Gaming: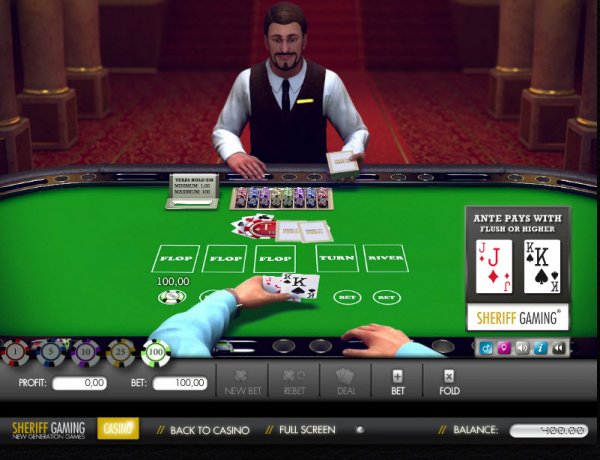 Texas Hold'em Poker
To add a little interactive excitement to your table poker gaming may we suggest Texas Hold'em Poker from Sheriff Gaming? Experienced players will enjoy the speedy game and smooth play while novice players will appreciate the rules being easy to access right inside the game. The object of the game is to build a five card poker hand that will beat the dealers in a standard poker hand ranking. You and the dealer will each be dealt two Hole Cards, at this point you can fold or bet – a bet will apply 2x your ante to the game. After betting the dealer will place three community cards in the middle of the table. The community cards can be used by either of you at the end of the game to form the best possible five card hand from the 5 in the middle, plus your 2 Hole cards.
With your hole cards and the 'flop' of three community cards you can now fold or check. A Check costs nothing and another card, the Turn, will be dealt to the middle of the table. A bet now or on the River will cost the same as your Ante bet. When all seven cards have been dealt you r hand will be compared to the dealer's and the highest ranking 5 card hand wins it all.
You can find Texas Hold'em Poker at the following casinos:
Screenshots