Pot O' Gold Slots
- description of game by Chartwell Games: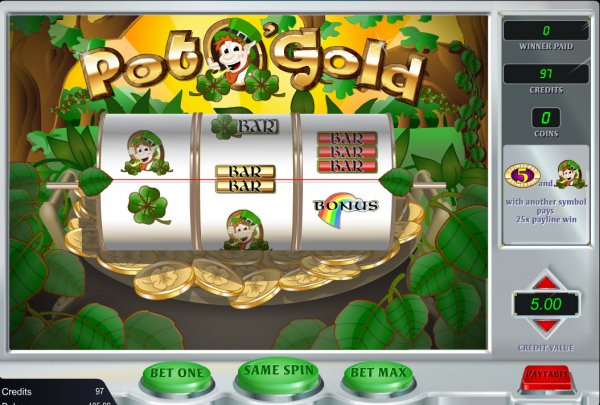 Pot O' Gold Slots
If you like 3 reel slots with wild multipliers be sure to try Pot O' Gold Slots from Chartwell Games. This 1-line game has two separate wild multiplier symbols and each will make the win line worth 5x more. Land them together with any other symbol to that symbol worth 25x! Rainbows, Shamrocks, Leprechauns, and of course Pots of Gold are among the symbols you can line up to form winning combinations. There are also several different BAR symbols and three of a kind, or a mix of any three will pay out as well.
Choose a coin size from 0.01 to 5.00 and bet one, two, or three coins per spin. Land a Bonus Rainbow anywhere on the payline when betting three coins for a free spin. Land three Leprechauns on the payline to win the jackpot.
You can find Pot O' Gold Slots at the following casinos:
Screenshots