Cherry Bomb Slot
- description of game by BTG Gaming: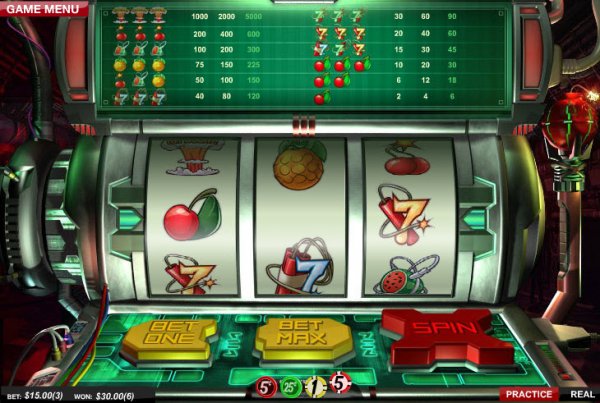 Cherry Bomb Slot
Cherry Bomb from BTG Gaming is a classic slot with three spinning reels. There is one payline and to win a spin you have to land 1, 2, or 3 Cherry symbols or three-of-a-Kind of any other symbol shown on the pay table. The pay table is always seen on top of the machine and shows 3 sets of payouts, The first is awarded for a 1 coin bet when you get that symbol, the next amount is how many coins you win when betting 2 coins, and the last column shows the payout for 3 coins. The payouts are equal like 2, 4, 6 or 10, 20, 30 for everything but the Jackpot symbol. Instead of 1000, 2000, 3000 the top prize is 5000 coins.
To play Cherry Bomb click on a coin chip on the bottom in the middle. 5c, 25c, 1, or 5. Each time you press the BET ONE button it adds a coin, up to 3 coins. Bet 1, 2, or 3 coins and press the SPIN button or just press BET MAX to get the reels spinning. A lot of spins will not pay anything, some will pay a little, and every now and then you'll get three-of-a-kind and win a big pay out.
You can find Cherry Bomb Slot at the following casinos:
Screenshots